Credit Problems?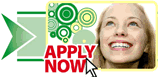 The demand for loans for people with credit problems in Canada has grown exponentially and a very specialized group of lenders has emerged to provide products and services targeting consumers with poor credit history.
Affordable payments
Warranty coverage
Most applications are approved
No need for good credit history
Get Started Now
In Ontario, you can take advantage of Car Finance Canada's Credit Rebuilding Program.
For residents outside of Ontario, use the search form below to find a dealer who specializes in financing customers with credit problems:
Good Credit?

Many dealers are equipped to help you find a low-rate car loan through their own lender relationships. If you have good credit, you can take advantage of this option and these benefits:
One-stop shop for purchasing and financing your vehicle
Dealers typically work with multiple lenders and can help you find the best rate
Fast Approvals