Two Tales of Turbocharged Transportation: We drive Mazda's newest recipients of a major power bump
Words by: Adam Allen
When we look back on the Mazda reviews we have written over the last decade, it's a bit like watching one of your kids grow up. We used to use adjectives like 'tinny', 'noisy' and 'flinty' when talking about the road manners and driving experience of the brand's contemporary offerings. That isn't to say that we haven't always loved Mazda offerings- quite the contrary- and we can't help but feel a quiet respect for a brand that moves very much to the beat of its own drum. Despite thumbing their nose to convention, Mazda has somehow managed to flourish despite its small footprint in the industry. Yet as the years have gone by those adjectives are no longer relevant, and lately we find ourselves saying things like 'substantial', 'quality' and 'hushed'. As Mazda continues its push into the premium brand space, we decided to take a look at the 2021 Mazda 3 and CX-30. Astute readers will note that we have examined these cars as recently as last year and may wonder why we're at it again. The answer is simple but kind of a big deal: Mazda has fitted its 2.5 litre turbocharged engine- that's right, the very same one that can be found under the hoods of the larger and heavier Mazda 6 and CX-9 models. Dropping a powerful engine into a small car is a surefire way of upping the fun factor, and we've always pined for more power from Mazda and they have risen to the occasion admirably. Because the Mazda 3 and CX-30 are so closely related, we couldn't resist subjecting them to going under the microscope together. Here, we take a deep dive into each model and try to answer a question on the minds of potential buyers: what are they all about, and which is the one to get?
2021 Mazda 3 Sport 100th Anniversary Edition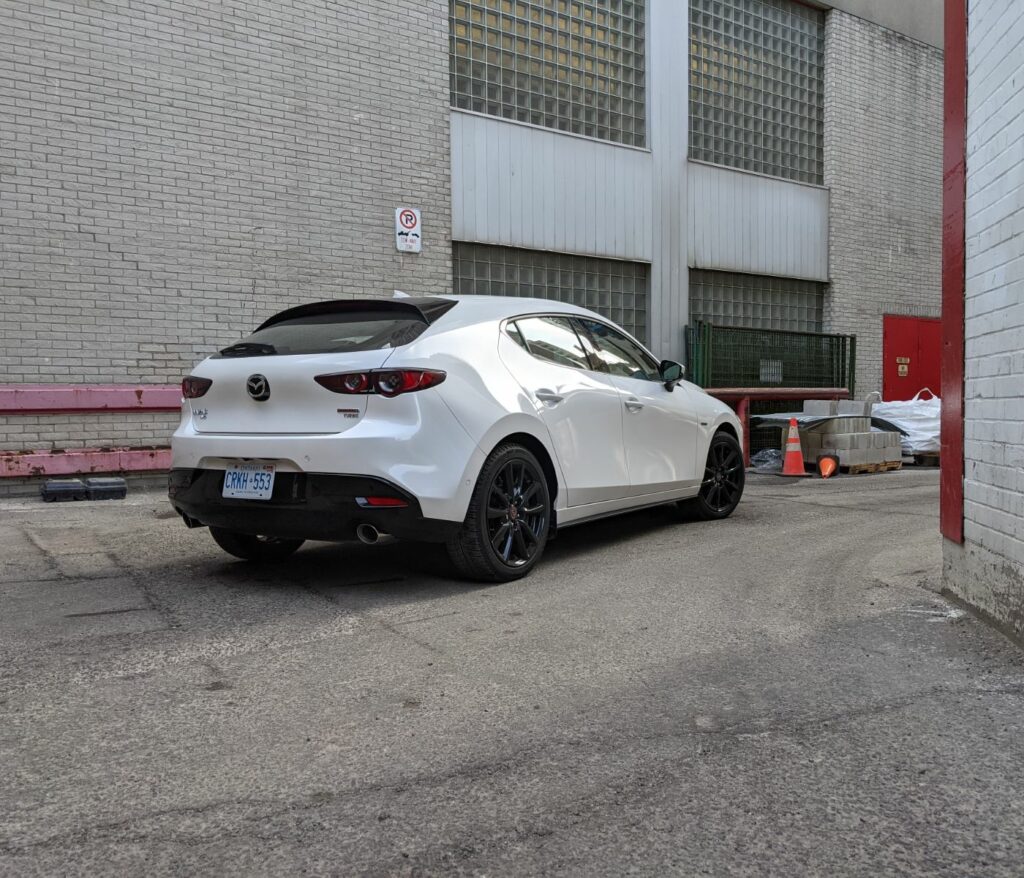 100 years is a long time, and Mazda is celebrating that milestone with a limited edition trim of the recently minted Canadian Car of the Year for the second year in a row. Let us first explore what you get when you select this uniquely kitted, top shelf model in the 3 lexicon. Aside from a couple of badges there isn't much- but you do get access to a killer color combo of Snowflake White Pearl on the outside and Garnet Red inside. With black wheels wearing the 100th anniversary badging it's a pretty fetching combination, one that should be coveted by dedicated fans of the brand.
This isn't the first time that we have driven the 3 with all-wheel drive, but it is our debut encounter with the company's 2.5 litre turbo inline four engine under the hood. This engine used to be found exclusively in the CX-9 family hauler but has since trickled down to the rest of the lineup save for the MX-5. Compared to its naturally aspirated counterpart, there is a welcome increase in horsepower and torque. Run it on premium fuel and you get access to all 250 ponies and a whopping 320 lbs./ft of torque the engine can muster. It makes slightly less on regular gas, but since most of us grew up in a time where installing an air filter promised a 5 to (gasp!) 10 horsepower jump for a few hundred bucks, switching to pricier fuel for a nearly 25 horsepower improvement (and 10 pound feet of torque) was a no brainer for us and we consider it money well spent. The turbo engine moves the 3 around with an authority it could only dream of before and the all-wheel drive makes sure that none of that thrust is lost to wheelspin and imbues the car with a surefootedness that will be very agreeable to those with the 3 on their shopping list.
Know what else is cool? The 3 employs a very slick bit of tech called G-Vectoring Control Plus which works invisibly to make the car more enjoyable to drive. Its basic premise is to imperceptibly back off or add throttle depending on your inputs to make turn in and handing overall that much sharper. Only those with insanely fine-tuned keisters will be able to feel GVC Plus at work but trust us when we say that it does make a difference. This could only have come for Mazda, a brand obsessed with constantly fettling the details with the goal of making their cars more fun and engaging to drive. Know who else is employing such technology for their own cars? Not one brand. That should tell you all you need to know about where Mazda's priorities lie from an engineering standpoint. Very cool stuff indeed.
We'll take this opportunity to clear some things up about the 3's newfound riches of horsepower. Making the kinds of heady numbers you would expect of a hot hatch, some people are taking to the interwebs claiming that this car was a missed opportunity to revive the Mazdaspeed sub brand. We aren't sure why that is. Mazdaspeed cars have always been pointier and more rambunctious than the cars on which their based, and our 100th anniversary 3 tester is not that. This is a car that is focused on delivering a mature yet premium experience and having that badge adorn the rear hatch would be misguided.
So while this may not be the hot hatch you have been clamoring Mazda to build, it would be hard to maintain that this isn't the best looking car in its segment. We went so far as to call it 'sensual' the last time we had a Mazda 3 holding court in the Carpages Garage. We understand that some buyers can't stand the thought of a hatchback and so Mazda continues to placate those by offering a sedan version. We struggle to understand why anyone would choose that model and body style over the beguiling Sport, but car buyers are a fickle bunch, aren't they?
2021 Mazda CX-30 GT Turbo AWD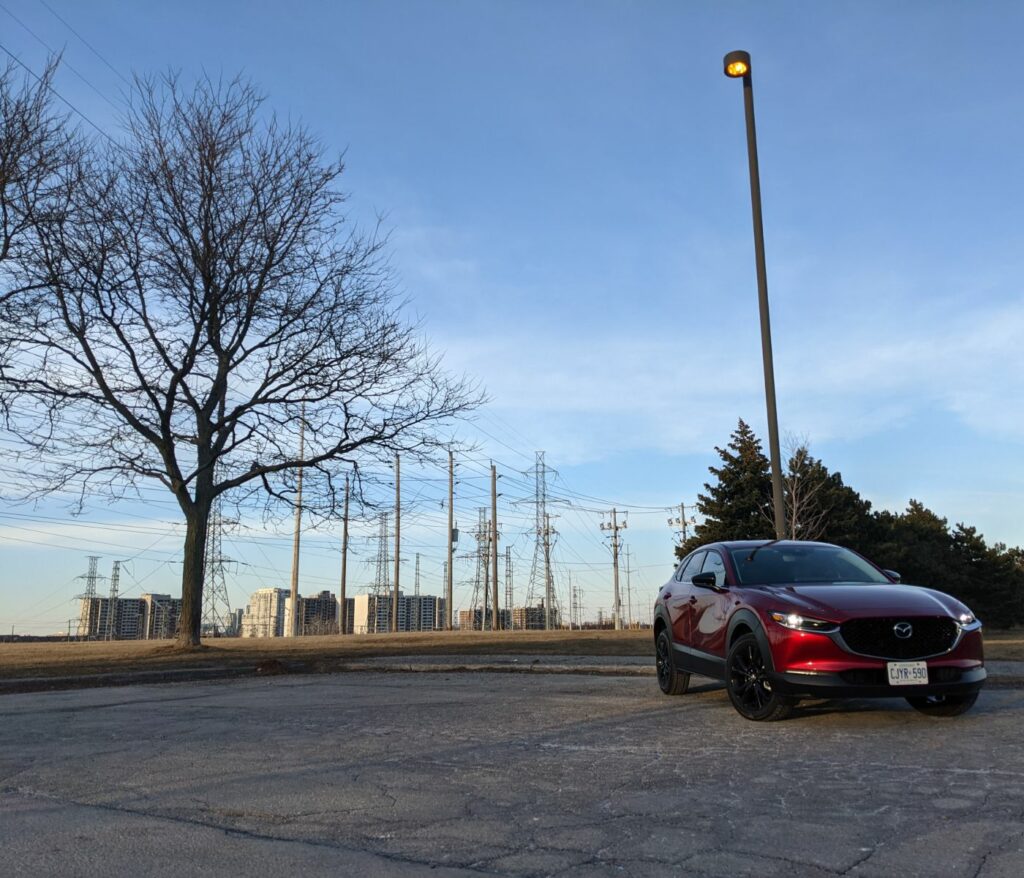 There is no special edition badging or trim on the CX-30 we tested, but the addition of the turbo four is enough cause for celebration. It endows the CX-30 with the same fleet of foot behaviour its premium competition can only dream of. A friend of ours recently bought an Audi Q3 and since it is a direct competitor on paper- heck, Mazda must be tickled pink to even be mentioned in the same sentence as the German brand- and came away with renewed admiration for the CX-30. Obviously, it has the diminutive Audi licked in the horsepower and torque departments which makes it much faster and much more enjoyable to wring out. Some will point out that the CX-30 makes do with only six speeds in its transmission, correctly noting that its rivals, premium and otherwise, employ eight speeds and in some cases, dual clutch technology. The truth is, it doesn't need either. The 6-speed auto has carefully considered ratios, so it never hunts among multiple gears and is intelligent enough to always be in the right one- doesn't matter if you are goofing around or simply driving in hilly areas. Part of the drivetrain's acumen can be traced the blown 2.5 litre four. Some bemoan its grumbly soundtrack and that it runs out of steam above 5,000 rpm. One of our staffers commented that it 'lacks character.' Maybe so, but 320-foot pounds of torque goes an awfully long way of making you forget about character. Inside, the interior is nicely trimmed, more so than the dour confines of the Audi- it is more comfortable too. Did we mention that the Q3 costs more money than the CX-30? The push upmarket Mazda has been trying to pull off is called into clarity when you stack it up directly against its fancy rivals.
Crossovers are all the rage these days, and despite the CX-30 being so closely related to the Mazda 3, it combines all the stuff we love about cars with a nod to the stuff buyers expect these days. You get increased ground clearance-but not too much- and there's butch cladding around the fenders and along the rocker panels. The rear hatch is power actuated, and it offers the same i-Aciv four-wheel drive system found on its Mazda 3 stablemate. The CX-30's version has a trump card called Off-Road Traction Assist that gives it an edge in navigating rough terrain. It maxes out the turbo four's thrust to the rear wheels on step off and if the driver finds themselves traversing a path that lifts a wheel or two off the ground, the system will individually brake the airborne rollers to send drive torque to the contact patches with the most purchase, turning a pucker moment into forward momentum. We think that this is more than enough trickery to get CX-30 owners our of any trouble they find themselves in. Is it good enough to tail your pal's Wrangler into the bush? No. But most folks never find themselves in such circumstances anyhow, and it should be more than enough of a safety net for most.
If the chassis and exterior styling give off a truculent vibe, the opposite is true of the interior. It is the same mixture of thoughtful, high quality materials that are screwed together with palpable care. It is comfortable and quiet. It also has several high-end touches that spoil its occupants- a banging 12-speaker Bose system that somehow makes Sirius XM radio sound good, heated seats and steering wheel and Mazda's latest infotainment system quarterbacking most of the vehicle functions. If you were blindfolded it would be nigh in impossible to tell whether you were in a CX-30 or a 3- there are no silly off-roader themed baubles here, just high-quality premium feeling stuff.
The CX-30 is a stark reminder that crossovers do not have to be dull to drive. It may have more ground clearance than the Mazda 3- which gives it cushier ride quality- but throw it into a corner and it will obediently, even enthusiastically, follow your intended path. Like its car sibling, it too is equipped with GVC Plus. Does a crossover need tech like that? Probably not, but Mazda insists on doing things its own way and the CX-30 is better off for it.
Which one should you buy?
You really cannot go wrong with either, although we give a slight edge to the Mazda 3 simply because it handles better, is slightly quicker and looks incredible. Before our Road Test began we thought that there would be a clear answer of which one we'd find superior, but a concrete conclusion proved elusive. What we did find was that the infotainment system on both cars could use a rethink in terms of its menu layout. We also wondered why Mazda insists on making all the electronic nannies and heads-up display default to on every time you fire either one up- why can't we choose to leave them off and call on them when needed? Gripes aside, Mazda has two winners on its hands, even though they are more like one another than they are different. If the last time you experienced a Mazda was with a Protégé or a Tribute SUV, it's high time to see what a monumental difference 20 years makes- you might wonder if the Mazda 3 and CX-30 even came from the same brand as those two relics from the past.
We said earlier that car shoppers are a fickle bunch, and we see proof of this every time someone mentions to us that they went with a prestige brand instead of something with a little less cachet despite it being a better choice. While we do not agree with that methodology, and we accept that one's prerogative is their own. If Mazda can get those people to put their preconceived notions of what a premium car is and get their butts into one of the supple leather covered buckets to see what's what- these two are poised to continue to do very, very well.
2021 Mazda CX-30 GT Turbo AWD- Specifications
Price as tested: $38,650
Body Type: 5-door, 5 passenger Hatchback
Powertrain Layout: Front engine/All-wheel drive
Transmission: 6-Speed automatic
Engine:  2.5-litre turbocharged inline-four, DOHC, 16 valves
Horsepower:  250 @ 5,000 rpm (91 Octane Fuel), 227 @ 5,000rpm (87 Octane Fuel)
Torque (lbs-ft.): 320 @ 2,000 rpm (91 Octane Fuel), 310 @ 2,000rpm (87 Octane Fuel)
Curb weight: 1,592 kg (3,510 lbs)
Observed Fuel Consumption: 9.9L/100km (24 mpg)
2021 Mazda 3 Sport 100th Anniversary Edition- Specifications
Price as tested: $38,850
Body Type: 5-door, 5 passenger CUV
Powertrain Layout: Front engine/All-wheel drive
Transmission: 6-Speed automatic
Engine:  2.5-litre turbocharged inline-four, DOHC, 16 valves
Horsepower:  250 @ 5,000 rpm (91 Octane Fuel), 227 @ 5,000rpm (87 Octane Fuel)
Torque (lbs-ft.): 320 @ 2,000 rpm (91 Octane Fuel), 310 @ 2,000rpm (87 Octane Fuel)
Curb weight: 1,533 kg (3,380 lbs)
Observed Fuel Consumption: 11L/100km (21 mpg)