Handsome looks and a punchy V6 make this a compelling luxury package; the price helps, too.
Often, during the time we have to test cars, we tend to be on the lookout for the car we're driving and so we think we see more of them on the roads. This, of course, is often an illusion.
There is nothing illusionary, however, about how many Mercedes C-Class models we see on the road on a daily basis. I could be driving a Subaru, a Honda, a DeLorean DMC-12 or a Rolls-Royce Phantom II and I'd still see at least 10 of these on any given drive.
The C-Class is one of Mercedes' best sellers; there are many trim choices over two body styles (sedan and coupe) and it means you can get a three-pointed-star on your hood for less than 40 grand.
Our car undercuts that 40-grand benchmark, but just by a bit, mind you, at $39,990 before option packages. That's over five grand less than the same model cost at base in 2012.
AMG styling package provides special rocker panels, twin oval tailpipes and rear diffuser; looks good
That "300" suffix means our tester was fitted with a 3.5 litre V6 that puts out 248 horsepower and 251 pound-feet of torque. Even with the added weight of the 4MATIC all-wheel-drive system, the C300 is not an especially heavy car and that power can really be felt no matter where you are on the rev band (peak hp does come at 6,500 r.p.m., if you're interested)-–the lack of any kind of forced-induction helps here.
100 kilometers-an-hour comes at around seven seconds, and because of the engine's reach, you'll be at none-too-legal speed quickly if you don't watch very closely.
Having said that, there is a driver-selectable "ECO" mode that deadens throttle input a little and asks the seven speed 7G-TRONIC PLUS automatic transmission to hold on to ratios that much longer. It really does make a tangible difference, too, as the throttle pedal definitely gains a more wooden feel when in this mode. Also included with this feature is an auto start/stop function, whereby the engine management system can sense if you're in stop-and-go traffic and automatically shut the engine off accordingly.
As far as near-illegal forward progress goes when not in ECO mode, it doesn't help that being a Mercedes, the C300 is such a smooth-riding car that maintains such low noise levels in the cabin—I was honestly surprised when I first heard the V6 after giving it some real poke—that you may have a hard time noticing how quickly the scenery is blurring; this is compact luxury at its best.
If more power is required, then there's always the option of the C350, which gets you 302 hp and 273 ft.-lb. for an additional seven grand or so.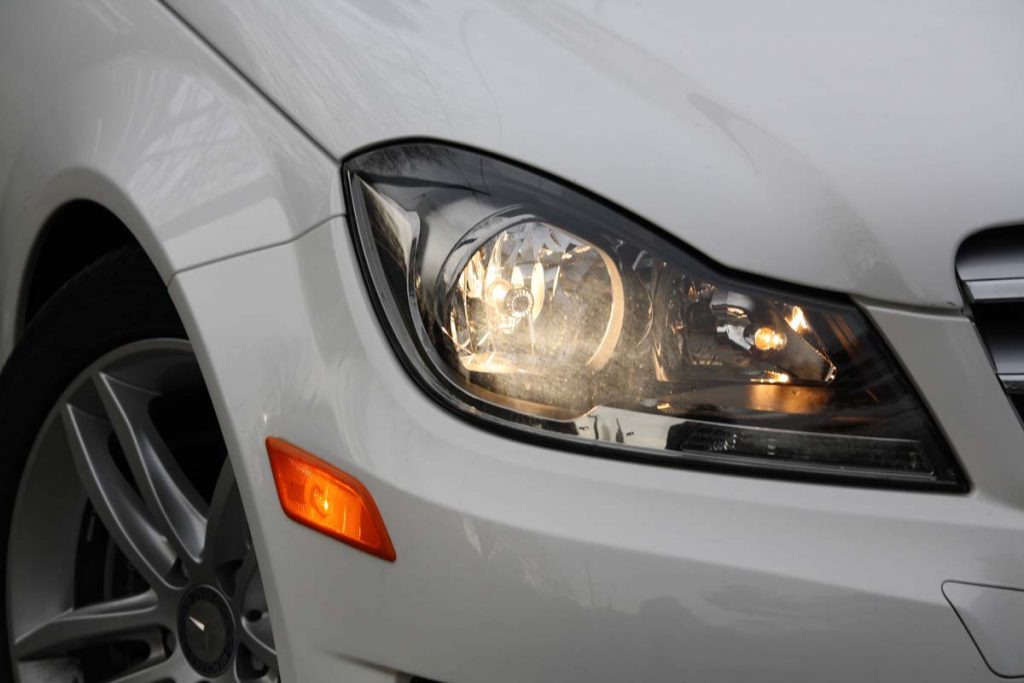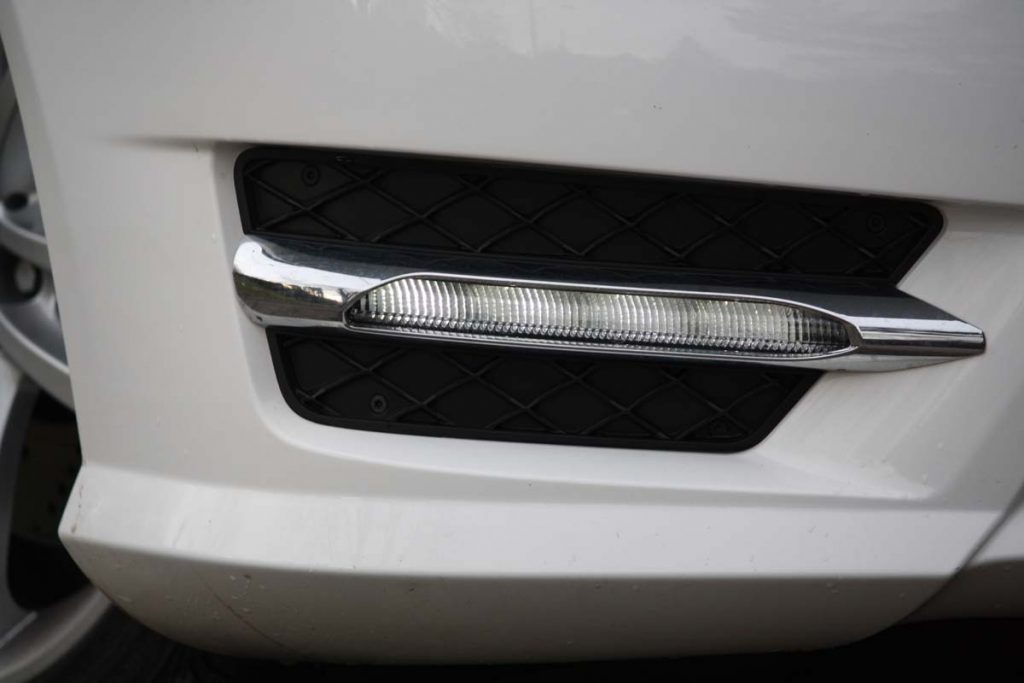 The three-link independent suspension up front is complimented by a multi-link set-up at the rear helps in this regard, but it's the standard auto-adjusting Agility Control damping system that manages to keep things smooth without keeping them overly soft. It kind of plays into the nature of the C-Class, which is a little more athletic than it appears at first blush; after all, how can a car that sells this well across so may buying groups manage to adequately maintain its performance credentials? I mean, people that buy en masse like this just want good fuel efficiency and AWD-inspired confidence on wet roads, right?
Well, from a styling standpoint at least, I beg to differ.
This is an edgy, muscular and handsome-looking car that does well to move away from the previous-gen model, which had gotten very soft around the edges, as Mercedes was wont to do with a few models in the low-mid 2000s.
It starts up front, which provides those great squared-off edges to the hood, which is bisected down the middle by a subtle crease that hints at there being a little more too this car than what meets the eye (like a near-250 hp engine, perhaps).
The upswept beltline, meanwhile, does well to add a little flare to what is essentially a three-box design, the likes of which we have seen for many years in this segment and others. Here, it gives the impression that the car is canted forward just a bit and has a little bit of hot rod in it. Adding to this impression is the AMG styling package that adds a special louvered-grille (very nice), an air intake to the front bumper, special rocker panels and molded rear diffuser that have the C300 appear to hover just above the tarmac.
The rear fascia also gets a set of twin oval-shaped tailpipes (another AMG perk), a subtle trunk spoiler and LED taillights to help keep the image athletic but classy at the same time. This is a well thought-out styling package, and one that still manages to eclipse that of the BMW 3 Series, even though that is actually a newer car.
Then you step inside your brawny little luxury compact and are once again reminded that this here is a Mercedes-Benz, and Mercedes-Benz knows how to do interiors. The seats are comfortable yet still supportive, the steering wheel is chunky and grippy (I maintain that MB makes some of the best wheels in the biz, from the C-Class all the way up to the M-Class and beyond) and even the shift lever is given a nice, leather-wrapped shift knob that actually has it looking like something you'd find in a car with a manual transmission as opposed to the auto.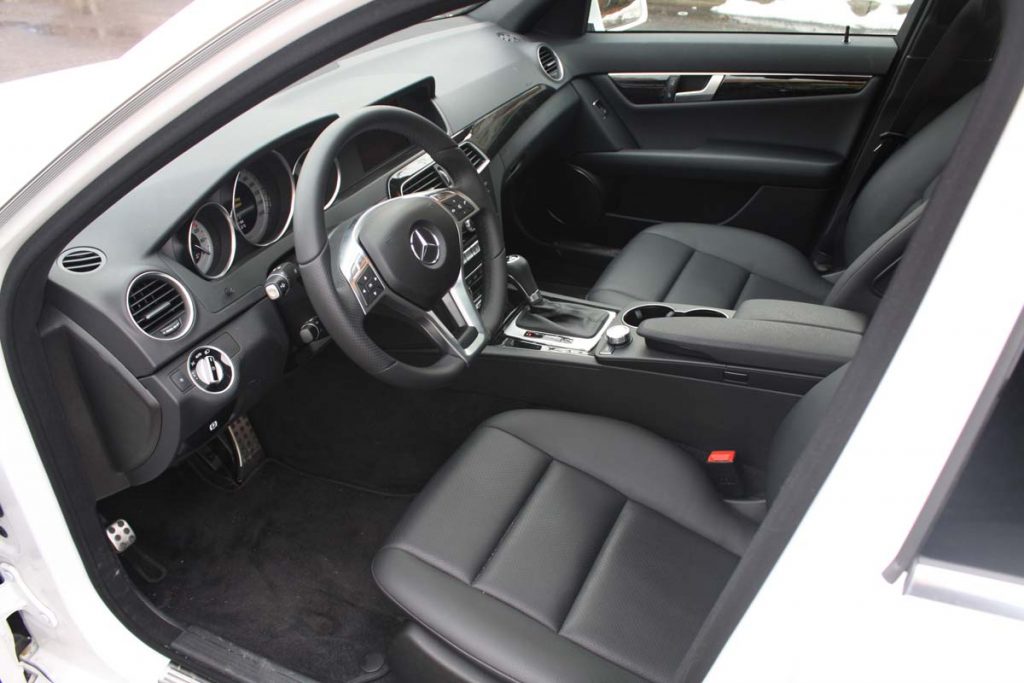 Our car featured the COMAND Navigation Package, which provides an TFT screen mounted on the center console as well as a hard drive-based navigation system that features graphically-represented traffic updates to make it easier to plan your routes.
It's a good interface that's easy to navigates and so forth, but when it comes to the high-techery in the car it's the smaller TFT screen mounted between the tachometer and speedometer. It's sharp, colourful and host to all manner of info from directions to phone controls. It's smart; you spend a lot of time looking at your speedo and tach, so why not provide other info there a well? It's much safer to look there and control the on-screen goings-on with wheel-mounted buttons as opposed to looking over and reaching towards the centre console.
It's not all roses in here—the back seat's a little cramped and I would have liked a bigger trunk opening but these are pretty nit-picky complaints. This is one very well-sorted automobile and for many, the fact that it allows you to get a sedan with the three-pointed star on the front for less than 40 grand is worth the price of admission all its own.
2013 Mercedes-Benz C300 4MATIC Sedan — Specifications
Price as tested: $45,790
Body Type: 4-door, 5-passenger sedan
Powertrain Layout: Front engine/all-wheel drive
Engine: 3.5-litre V6, DOHC, 32 valves
Horsepower: 248 @ 6,500 r.p.m.
Torque (lb-ft): 251 @ 3,400-4,500 r.p.m.
Transmission: 7-speed automatic
Curb weight: 1,695 kg (3,737 lbs)
Claimed fuel consumption:
City: 10.5L/100 km (22.4 US mpg)
Highway: 7.3L/100 km (32.2 US mpg)