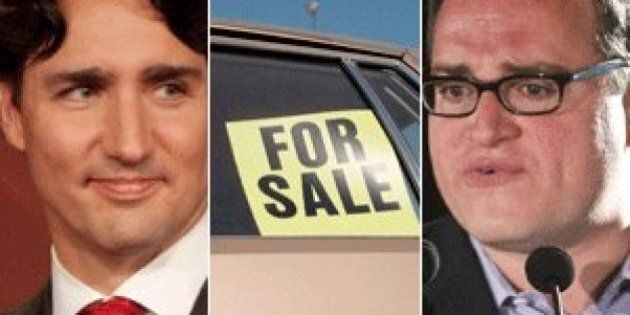 Many of you no doubt saw a news clip of federal Liberal leader, Justin Trudeau, on Tuesday comparing Canadians' mistrust of politicians with what he apparently thinks is another untrustworthy group, "used car salesmen". Though he acknowledged that politicians ranked below car salespeople in trustworthiness, the fact that he saw fit to single out our industry in his comments was yet another demeaning swipe at the used vehicle business by a public figure.
Below is a letter written to Justin Trudeau by Warren Barnard, Executive Director of the Used Car Dealers Association of Ontario.
Dear Mr. Trudeau,

I watched your press scrum on the CTV National News on September 17 and wanted to thank you for pointing out that used car salespeople indeed rank ahead of politicians for honesty and trustworthiness in the eyes of Canadians.

To use your words, "I think we are now ranked below used car salesmen."

Mr. Trudeau, you are right.

I don't doubt your intent in making this comparison was to deride the tens of thousands of hard working men and women … yes Mr. Trudeau, thousands of women are involved in the sale of used vehicles …. in the retail automotive industry in Canada. There are almost 25,000 registered salespeople in Ontario alone.

These are the women and men represented, through their employers, by the Used Car Dealers Association of Ontario. Over 4,700 registered Ontario motor vehicle dealers are part of our organization.

I'm sharing this letter with each of them.

You may not be aware of our organization and the role it plays in promoting ethics and professionalism in our industry. Feel free to visit www.ucda.ca to learn more.

You likely are also not aware that Ontario implemented sweeping changes to modernize regulation of the automotive sales industry in 2010. Our members supported this initiative and I'm proud to say that Ontario ranks among the strongest jurisdictions in North America when it comes to ethics, professionalism and protection for consumers buying or leasing new and used vehicles.

Next time you choose to compare politicians with "used car salesmen", you now have some background with which to do so.

I might also suggest using the far more appropriate term "salespeople" in the future, so as to be inclusive of everyone in our business.

Yes, Mr. Trudeau, politicians do rank behind used car salespeople. Our members and their employees have known that for a long time. Yours truly,

Warren N. Barnard
Executive Director

cc The 4700 Member Businesses of the Used Car Dealers Association of Ontario
Update #1: Justin Trudeau apologizes on Twitter:
Sorry @AutoDriveCanada, poor choice of comparisons. I respect the hard work you all do and thanks for doing it. #sorryforcomparingyoutoEzra

— Justin Trudeau, MP (@JustinTrudeau) September 19, 2013
For more information about the hashtag, #sorryforcomparingyoutoEzra, check out this article on the Huffington Post.
Update #2: Justin Trudeau apologizes in writing:
In response to the letter sent to Justin Trudeau by the UCDA, Trudeau sent the following formal response today:
Dear Mr. Barnard,

Thank you for your letter regarding a comment I made during a press conference earlier this week.

I am truly sorry for my poor choice of words. I in no way meant to offend hard-working Canadians in the used automotive sales industry.

Our automotive sector has and continues to be an important, economic engine in this country; I have the utmost respect for it and those that make their livelihood from it.

Yours sincerely,

Justin P.J. Trudeau
Member of Parliament for Papineau