An end of summer road trip to Muskoka in a car that was worth the wait
Patience is a virtue. Granted, we find ourselves in short supply of that far too often but what little we admittedly posses is about to be rewarded. The GR Supra we are about to drive had a gestation period of twenty years, and perhaps there is a subliminal 'good things come to those who wait' message here in the subtext. That turn of phrase was elusive to us as we hastily scribbled our information on Toyota's public relations department paperwork with one eye trained on the car that so many, including us, have waited so long for.
With the silent handoff of summer to fall happening before our eyes, we decided to take the Supra to Muskoka, Ontario to spend the waning days of warmth taking in the gorgeous colours of the season. Since the roads in the region are by and large impeccably maintained and have more squiggles than a graph depicting the nation's economic performance we decided that the Supra would be an excellent choice for the journey.
We could have spent a day or two just getting lost among some of the lonely secondary highways and unfurling two lane blacktops that pepper the region, but there was a problem. Because of the rabid demand of seat time from our fellow journalists and Toyota's swollen calendar of various media events, they asked that we not exceed 500 kilometers during our time with the Supra; a challenge given Muskoka's distance away from Toronto and the relentless temptation to explore the roads less travelled. We managed to stick to the plan, and along the way learned a few things about the GR Supra that we think you should know.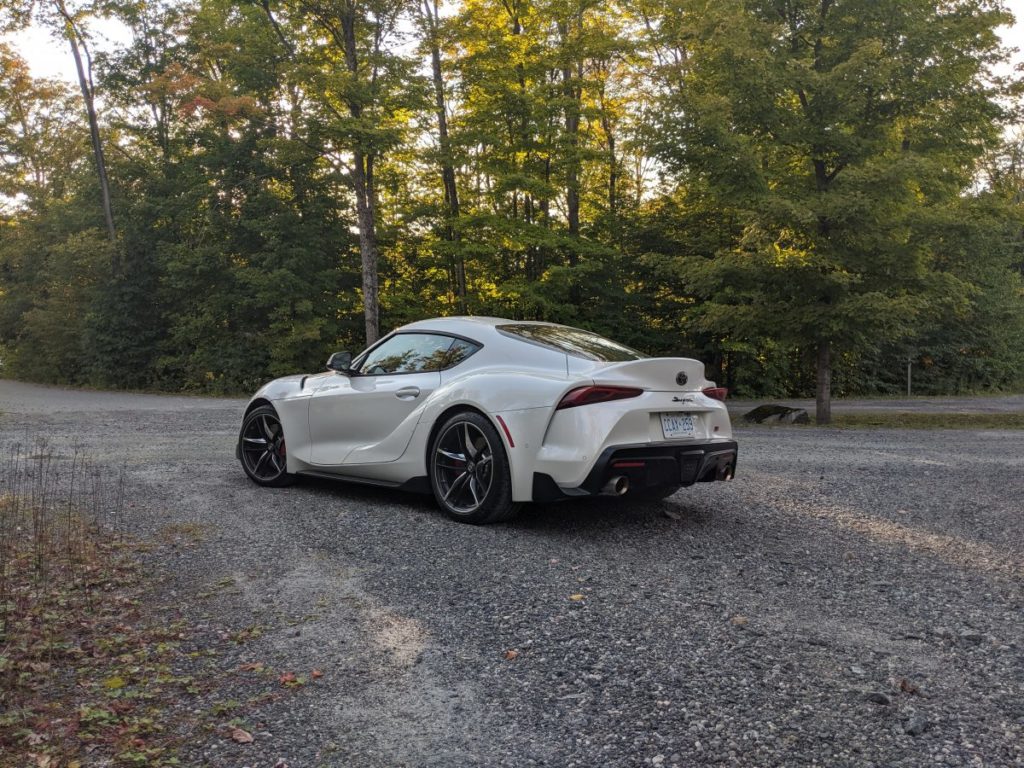 Kilometre 0
We've heard reports that some people are less than enamoured with the Supra's styling. Those people likely haven't seen the car in person. The voluptuous fenders, the stubby proportions and the aggressive stance are somehow dumbed down by the camera's lens- it just all works in the flesh. Thanks to its Absolute Zero white livery it reminded us of an unlikely cross between a Storm Trooper and a smaller scale Viper GTS Coupe. As we grasp the door handle- plucked directly from BMW's parts bin- we're reminded how closely this car was developed with the German marque.
In this somewhat unlikely alliance, Toyota didn't concern itself with designing and manufacturing various components both minor (those door handles, key fob, shift lever) and major (engine, transmission, brakes, infotainment system) and so anyone familiar with contemporary BMWs will feel right at home. Same thing with the seats, driving position and steering wheel- they're all cribbed from Munich's production line.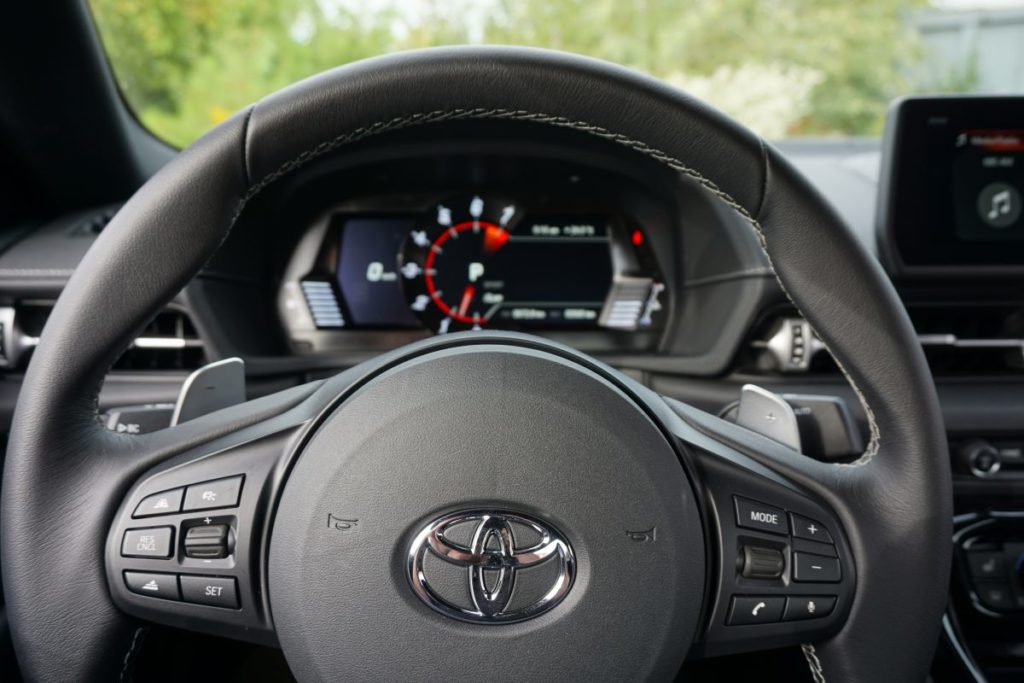 It doesn't take long before we find an agreeable perch and get all the mirrors adjusted and phones paired. With that, we pointed the Supra's snout north and hit the road.
Kilometre 117
Barely free of the clutches of rush hour traffic, we take stock of our surroundings. Considering the seats are mounted so low and that they are of the aggressively bolstered sport variety, we note a soothing feeling of comfort and look forward to arriving at our destination refreshed. If not for the Toyota badge on the steering wheel and small nuances in differing design, we felt as though we could be behind the wheel of a BMW, which we kind of are.
This is not a bad thing. Ergonomically, everything is as it should be and since all the interior functions are controlled by a Toyota-skinned version of BMW's latest iDrive generation. The user experience is pleasant, and any learning curve is virtually nonexistent. Imbued with BMW's highway pedigree, the Supra is unsurprisingly a refined and accomplished cruiser. The inline six settles into a faint background hum, the suspension remains composed and only a tad too much wind noise spoils the party. Another miscue results from the spectacular styling- our first few lane changes require intense concentration because the blind spots don't do you any favours; eventually we got used to it.
The confines are very intimate and there isn't much room for your stuff. You won't dwell on those issues- a good twitch your right foot is enough to make you forget as you surge past the RV chugging along in the right lane on an unrelenting wave of power courtesy of the 3.0 litre turbo six.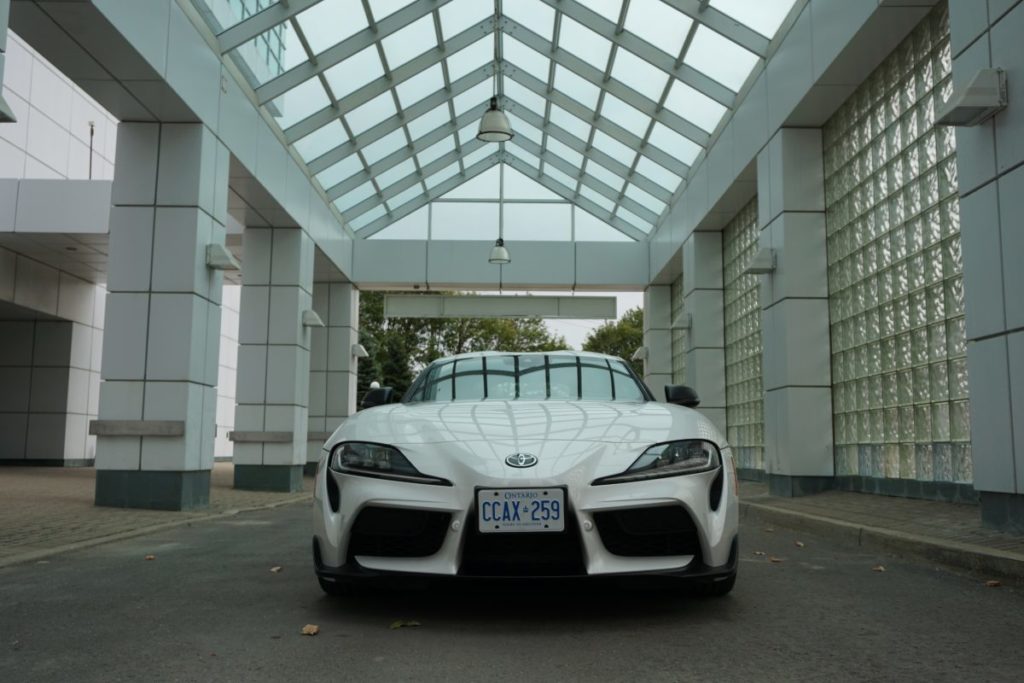 Kilometre 203
The B58 BMW-sourced inline six is by now very familiar to us. Still, we never tire of marvelling at its smoothness and linear power, not to mention the serenade emanating from the dual exhaust. The same thing goes for the ZF 8-speed automatic. It slickly shuffles ratios when you want to relax and wakes up to willingly bang home shifts when you feel frisky.
Despite the Supra and the Z4 sharing suspension componentry and the same Michelin tires, the fingerprints of Toyota engineers are all over the tuning to the point where we think the Supra rides a smidge better than its German counterparts but doesn't give up anything in terms of grip. We begin to think of the Supra as the BMW Z4 Coupe the folks in Munich won't build and applauded the lower price tag of the Toyota.
Kilometre 336
The minutiae of the Supra experience begins to reveal itself. When powering out of a low speed corner, we notice that the cleverness of BMW's limited slip differential has remained a constant, carefully divvying up the grunt to each rear contact patch allowing a satisfying slingshot on exit.
Hitting the console drive selector to sport mode changes to the behaviour of the diff to allow for more aggressive locking behaviour and when the rear end does break free you're able to rein in the slip angles with ease. Handling in general is excellent- this is in no small part to the Supra being the shortest wheelbase/widest tracked car around, according to Toyota.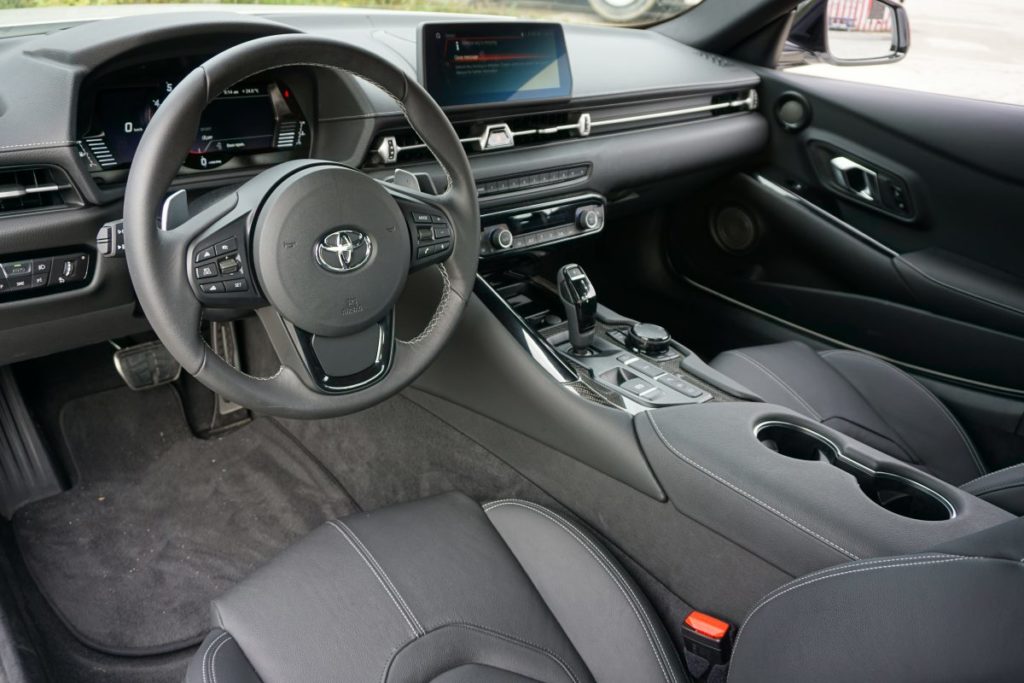 The chassis is also vastly stiffer than the brand's own 86 funster (a car that is no cooked spaghetti noodle in its own right) and so directional changes happen right now– excellent steering helps here as well.
A couple of other interesting things we noted: you had better use caution when pulling into a parking stall because the front splitter is very low to the ground and juts forward like an aristocrat's chin.
Also, during a brief downpour we activate the windshield wipers and are surprised to find they stutter across the windscreen clunkily while occasionally making noise in protest. They worked fine; it's just that we were a bit stunned to see this kind of thing from two companies that are so obsessive about engineering down to the smallest detail.
Kilometre 362
We discover that we only have 138 kilometers left before our limit arrives. This makes us sad.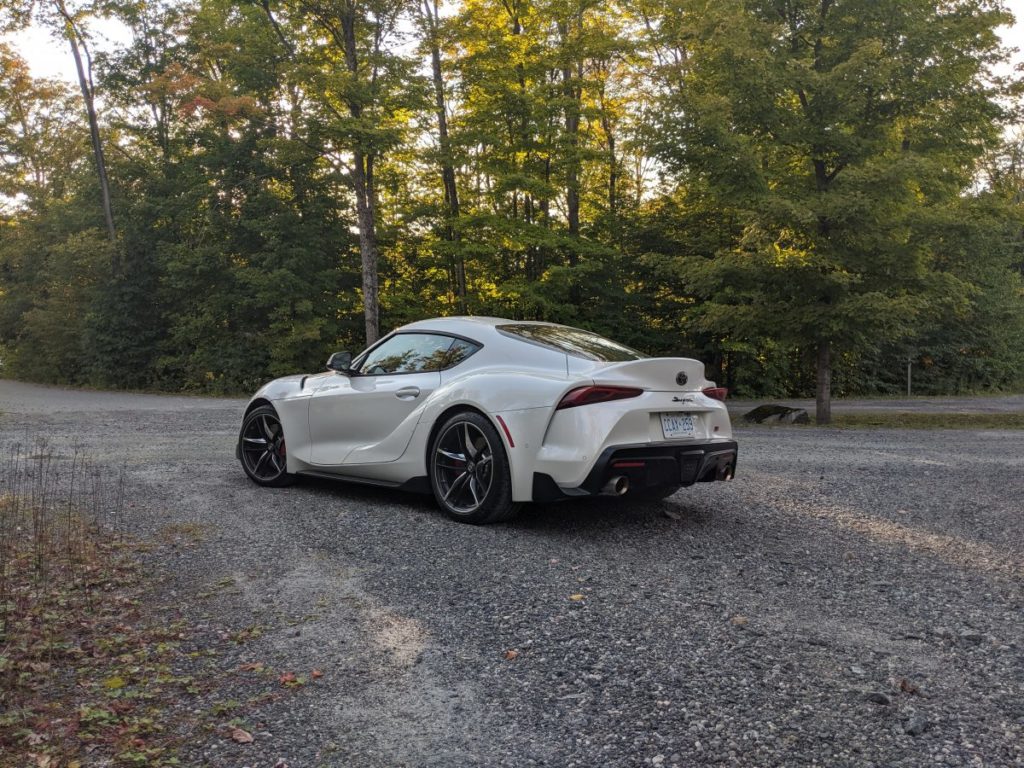 Kilometre 457
We set off to return the Supra back to Toyota HQ. The GR proved to be the perfect tool for slicing up the best roads of Muskoka with the backdrop of the autumn leaves alive with colour. It also proved adept at plastering smiles across our faces; this very well could be the best sports car from Toyota ever. And that got us thinking- what would the Supra have been like without such a tight alliance with BMW? Surely Toyota, one of the world's largest automakers with a formidable racing pedigree that covers everything from rally cars to Formula 1 could have crafted a Supra on their own that would have made a significant impact.
We imagine it could have had an evolution of the legendary 2JZ inline six from the last time the Supra roamed streets under the hood. Perhaps it could have even be equipped with a manual gearbox, a piece of kit this car practically begs for (there are firms in the U.S. that can make that happen.) Reveries aside, this is a truly exceptional car that was worth the wait; we're glad that it finally exists.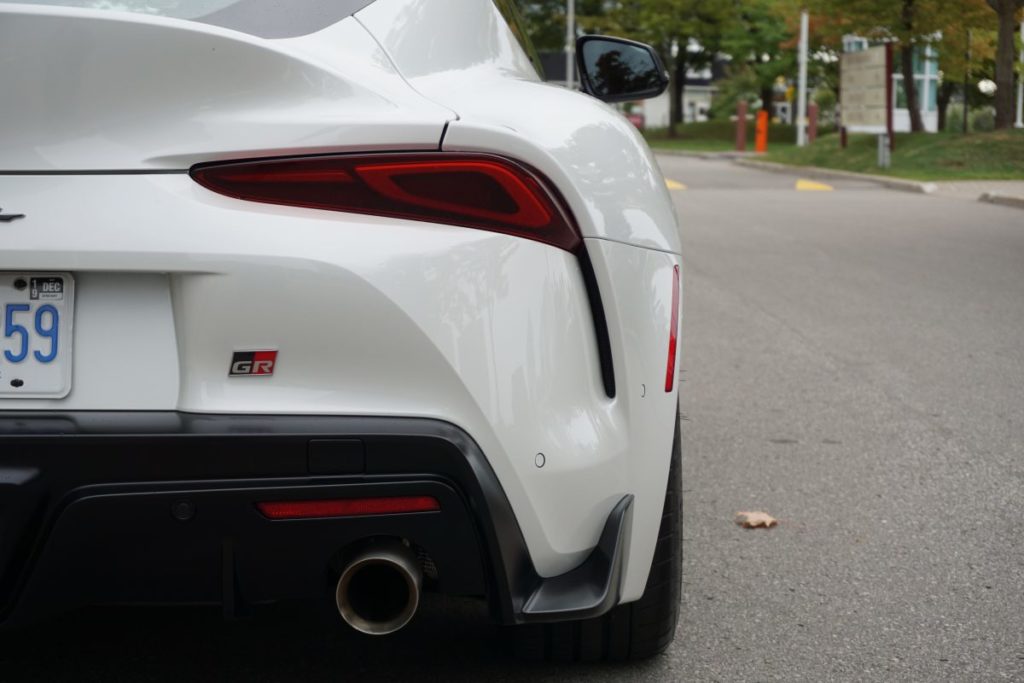 2020 Toyota GR Supra – Specifications
| | |
| --- | --- |
| Price as tested | $66,862 |
| Body Type | 2-door, 2 passenger Cpe |
| Powertrain Layout | Front engine/rear-wheel drive |
| Engine | 3.0-litre turbo inline 6, DOHC, 24 valves |
| Horsepower | 335 @ 6,500 rpm |
| Torque (lb-ft.) | 365 @ 1,600 rpm |
| Transmission | 8-speed automatic |
| Curb weight | 1,541 kg (3,397 lbs) |
| Observed Fuel consumption | 9L/100km (26 mpg) |
Find 2020 Toyota GR Supras for sale in your area right now. Book a test drive today!
*All Pictures and words by Adam Allen.