The 2-series has long been admired as the car that bridges the gap between Current BMW to Old School BMW. What that means is it possesses some of the old hallmarks of what used to define the Ultimate Driving Machine brand, stuff like a playful chassis, and seemingly perfect size- not too big or small. It also features the kind of equipment expected of a contemporary BMW, like all comprehensive suite of tech and safety features and the inclusion of xDrive all-wheel drive. We admit to feeling a little apprehensive when the subject of a follow up performance where the 2-series is concerned would come up- would BMW see fit to keep their little funster relevant, placating its legions of fans or would it be cast off in favor of the current front-wheel drive Gran Coupes wearing 2 badges?
Like us, those in a similar position of worry can breathe a sigh of relief- the 2-series is back and it looks to be better than ever.
If you're reading this, you didn't come to this space for a deep dive into the history of the 2 model range, so allow us to cut right to the chase. Like any sequel, there are good and not so good talking points that need addressing and since the news cycle in general these days isn't exactly uplifting we shall start with the good.
Before we do that it would be best to get this out of the way- if you are amongst the group of drivers who put an M2 (in Competition guise or otherwise) in their driveway you should probably skip over this part. That's because our tester comes with a 3.0 inline-six turbo that makes 382 horsepower and 369 pounds feet of torque. Nothing too remarkable there, but before you shrug and point out the higher output of those M-tuned cars, you should know that the acceleration numbers laid down by our M240i tester are but a few eyeblinks slower than those full-fat M predecessors. That leads us to conclude, drawing on our formidable and intimate knowledge of drag racing, that when a car that puts up these kinds of numbers it is undoubtedly sandbagging- for the uninitiated, that means the B58 engine's output is very underrated. We can't say the exact number this velvety engine spits out but bank on it being easily north of 400 horsepower. Which means one thing: The new 2 is very fast.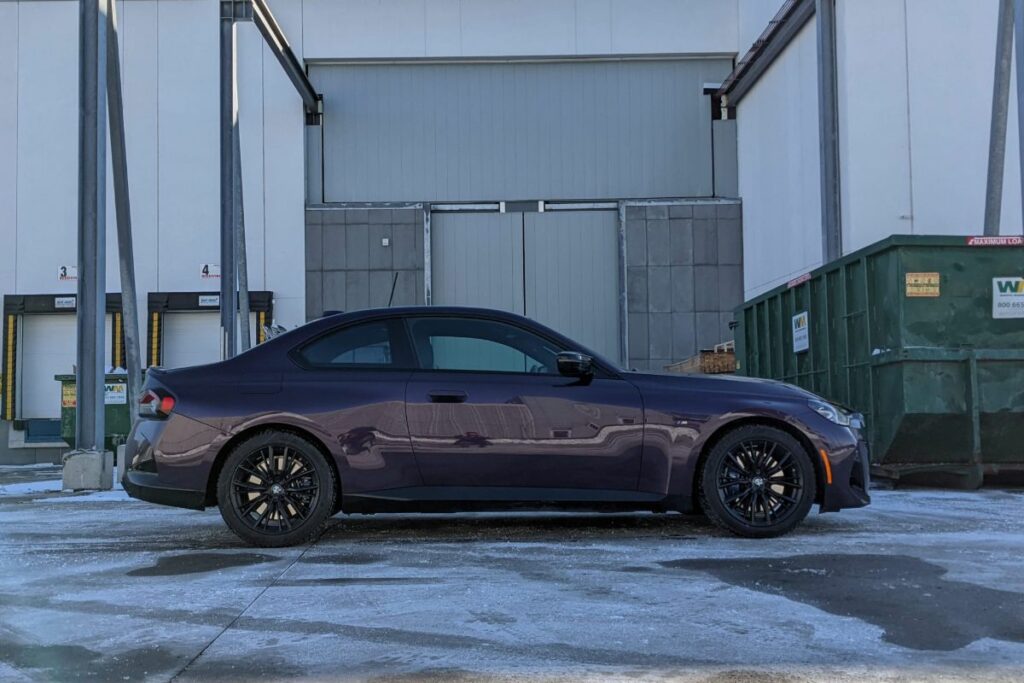 And it's efficient as well. Our fuel consumption clocked in at 10.5L/100km over the course of our week which is a very respectable figure for a car making so much power, especially so given that we were not exactly hypermiling during the M240i's tenure in the Carpages Garage.
It also handles better than we remember. Those stubby dimensions mean that this little scamp dives into corners with enthusiasm and alacrity and the chassis is just as willing as before to get into some apex slaying hijinks. Our tester's contemporary xDrive system allows the M240i to feel like a rear-wheel drive car most of the time, only stepping in when the limits of traction are exceeded. We flogged the new 2 through a mild snowfall and not only was the car unstoppable, it was loads of fun too- it allows for some playful oversteer while allowing the driver to safely and confidently rein in the rear end. Then there is the styling, which we discovered is surprisingly polarizing- we found two equal camps where its looks are concerned, but you can put us squarely in the camp that likes it quite a bit. The new front and rear lighting elements are particularly handsome in our estimation.
Which brings us to the not-so-good stuff. You've heard us gripe about the current state of BMW steering racks, wistfully noting the chatty feedback and laser accuracy they used to provide. The car can still be placed on the road with appreciable precision- but don't get offended when you want to get in on the conversation of what is happening at the front contact patches and you find the feedback coming through the meaty steering wheel rim is on mute. While we are on the subject of mechanical bits, we will seize the opportunity to whine about BMW's decision not to include a manual gearbox on the menu (or the option for rear-wheel drive here in Canada.) This is a car that is practically crying out for one.
Here's another gripe- since the new 2-series is a marginally bigger car than before, how come it has become smaller inside? The room up front is cozier but not that remarkably different from its predecessor- but the rear seat and trunk have indeed shrunk. Parents with child seats, take note; it is a royal pain in the butt to try and get your kids installed back there, and that is assuming your particular model of car seat will even fit to begin with. We expect cars to grow in size from one generation to the next- they almost always do- but we cannot fathom why the feisty 2-series weighs in at 1,759 kilos. How a car of this size is so heavy escapes us to the point where we crouched down for a closer look at the undercarriage, expecting to find welded iron plates or depleted uranium or some other unexplained ballast (there wasn't any, of course.) If a fully loaded, automatic equipped Ford Mustang GT Cabriolet tips the scales to only a slightly lesser degree, we have questions. Surely there must be a way to pare a few hundred kilos from the curb weight?
Like so many other great cars out there, the M240i is not without its faults. We would not go so far as to say that any of these issues are deal breakers, but they are cause for mild concern. We found our reserves of tolerance were still at acceptably high levels whenever we would head out for a drive; if keeping the flame of Old School BMW burning bright comes at the expense of a few quibbles, that's something we can get behind. There is also the way this pint-sized coupe piles on the speed that floods your brain with endorphins and you find yourself having way too much fun to care about much else. If the blistering acceleration and rewarding handling of our M240i are such as they are, we cannot wait to see what the upcoming M2 will bring to the table- it certainly has a tough act to follow.
2022 BMW M240i xDrive – Specifications
Price as tested: $68,595
Body Type: 2-door, 2+2 coupe
Powertrain Layout: Front engine/all-wheel drive
Engine: 3.0-litre inline-6 turbo, DOHC, 24 valves
Horsepower: 382 @ 6,500 rpm
Torque (lb-ft.): 369 @ 1,800 rpm
Transmission: 8-speed automatic
Curb weight: 1,759 kg (3,877 lbs)
Observed Fuel Economy: 10.5/100km (22 mpg)