Sport Utility Vehicles haul passengers plus their gears and tow trailers that no other minivan can manage. Notably, not all models of SUVs are rated equally for towing. Which towing package do you need for your activities?
Towing capacity tends to vary from one vehicle to another. Therefore, before buying an automobile, you need to know more about its towing details. Unfortunately, suppose you happen to overload your car by going beyond the maximum towing capacity.
Stay tuned as we discuss the top 5 SUVs that are best known for towing. Are you ready? Let's get started;
#5 2021 Jeep Grand Cherokee - 7,200 pounds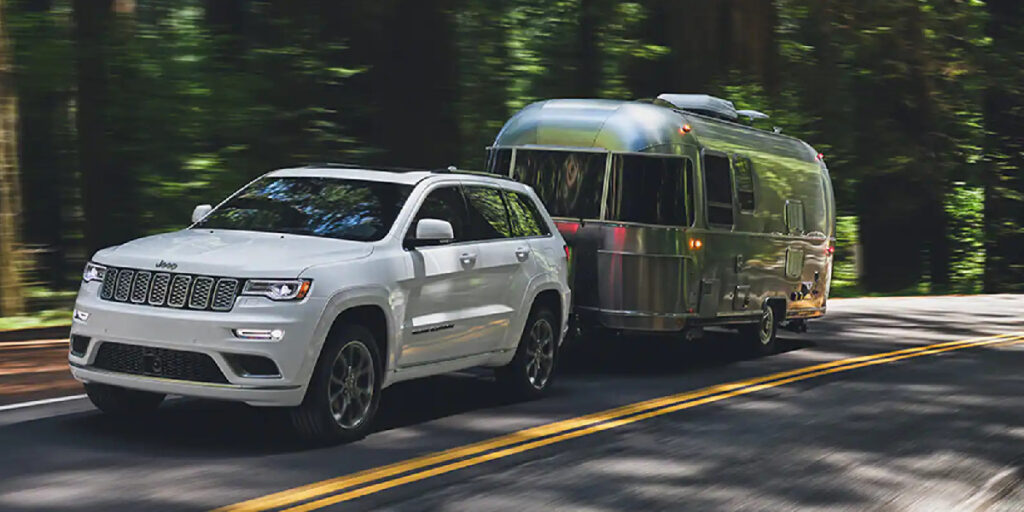 The Jeep Grand Cherokee is a great midsize SUV for 2021. It has a luxurious interior with supportive seats, an intuitive infotainment system, and ample room for passengers in both rows.
The Grand Cherokee's base V6 engine provides ample power for everyday driving, while a trio of powerful V8 engines is also available. The versatility of the Grand Cherokee is its greatest asset. From the off-road-ready Trailhawk to the high luxury Altitude Trackhawk, there's trim for everyone.
With a V6 engine plus the Class IV towing package, the Jeep Grand Cherokee can tow up to 6,200 pounds. However, when adequately equipped, 2021 Grand Cherokee V8 versions can tow up to a maximum of 7,200 pounds.
The 2021 Jeep Grand Cherokees is a capable SUV with the credentials to prove its performance. Power and strength are in its DNA, from its optional Best-in-Class towing capacity of 7,200 pounds to the famed 4x4 capabilities.
2021 Jeep Grand Cherokee For Sale
#4 2021 Audi Q7 - 7,700 pounds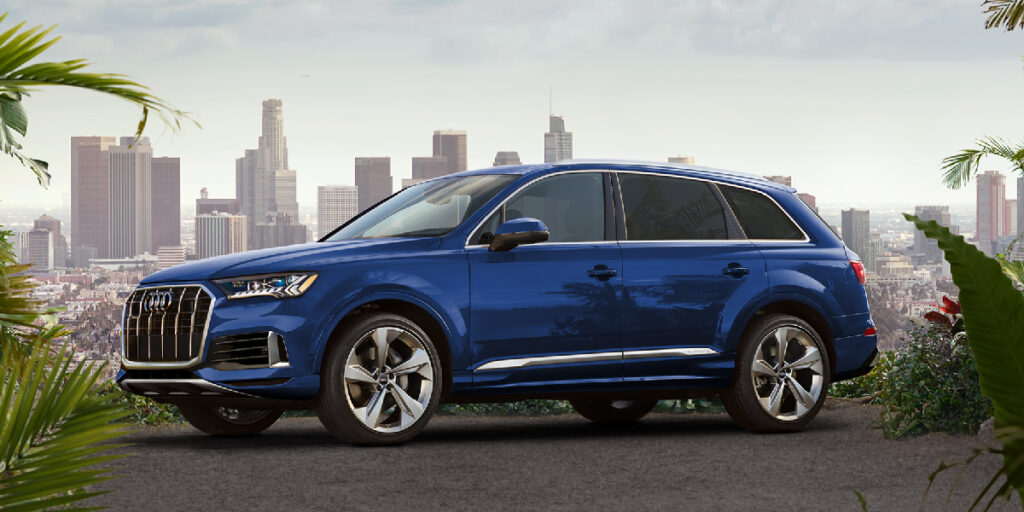 Following a substantial redesign for 2020, the Audi Q7 for 2021 remains a three-row crossover SUV capable of transporting families in luxury, technological sophistication, and ultimate comfort.
Audi provides a turbocharged V-6 engine and 4-cylinder options for the Q7, with an 8-speed automatic gearbox and the standard Quattro 4-wheel-drive.
The V-6 engine in the Prestige level produces 335 horsepower and 369 pound-feet of torque. The drivetrain has 48-volt electrical system support fueled by a 9.6Ah lithium-ion battery. Therefore, the 2021 Audi Q7 is a mild-hybrid electric vehicle.
Comfort, Individual, Auto, Dynamic, and Allroad are among the driving modes offered by the 2021 Audi Q7 Drive Select. According to Audi automobile company, the 2021 Audi Q7 accelerates at 60 mph within 5.7 seconds, has a peak speed over 130 mph, and has a maximum towing capacity of 7,700 pounds.
#3 2021 Chevrolet Tahoe - 8,400 pounds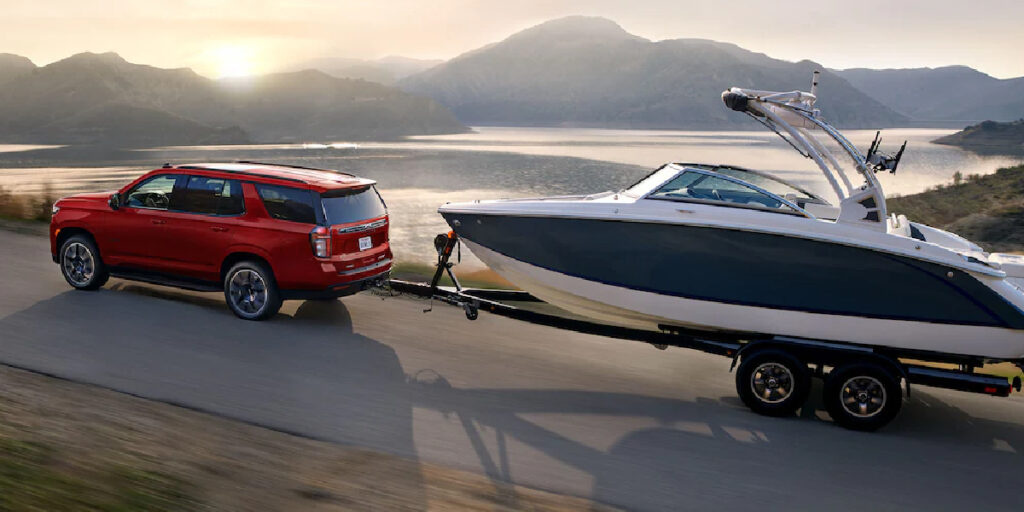 The 2021 Chevy Tahoe has an 8,400-pound towing capability, making it an excellent Sport Utility vehicle for lightweight trailers and modest items. Although the 2021 Chevy Tahoe cannot tow as much as the larger vehicles, they offer several advantages for camping and vacation, particularly when traveling with larger groups.
Chevrolet Tahoe is a full-size SUV with three rows of seats that accommodate up to nine passengers. The Tahoe is a fantastic family vehicle because of the high number of seats and the car's overall safety and comfort properties.
The SUV can also be used for towing because it's tough and capable of traversing various terrain. 2021 Chevrolet Tahoe is also a popular camping vehicle since it has a large towing capacity and plenty of cargo space.
2021 Chevrolet Tahoe For Sale
#2 2021 Nissan Armada - 8,500 pounds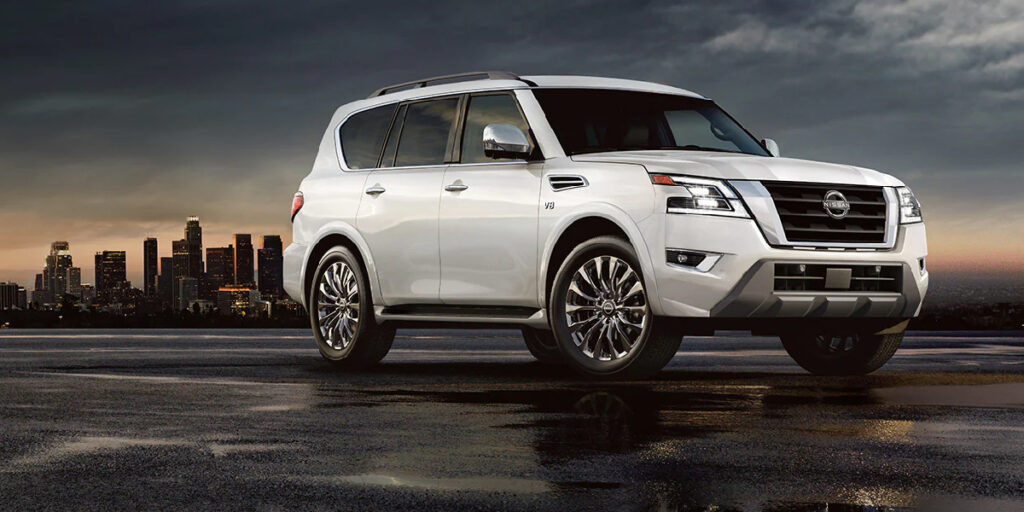 The 2021 Nissan Armada is now the family-friendly Sport Utility Vehicle with spacious seating for eight passengers. It also has plenty of cargo space. AutoPacific recognized the 2021 Nissan Armada with the best-in-class car satisfaction award for big SUVs.
2021 Nissan Armada has a max towing capability of up to 8,500 pounds and a max payload capacity of 1,634 pounds. The tongue may weigh up to 850 pounds. The figures indicate that the 2021 Nissan Armada can easily haul 20-30 foot yachts weighing between 4,000-8,000 pounds. To put it another way, it can pull a lot more than your typical metropolitan household baggage.
The Nissan Armada for 2021 comes in four trim levels and two drivetrain options: 2WD and 4WD. All trim levels have a basic Gross Vehicle Weight Rating of 7,500 lbs. The cargo capacity and curb weight of each of these vehicles vary.
2021 Nissan Armada For Sale
#1 2021 Ford Expedition - 9,300 pounds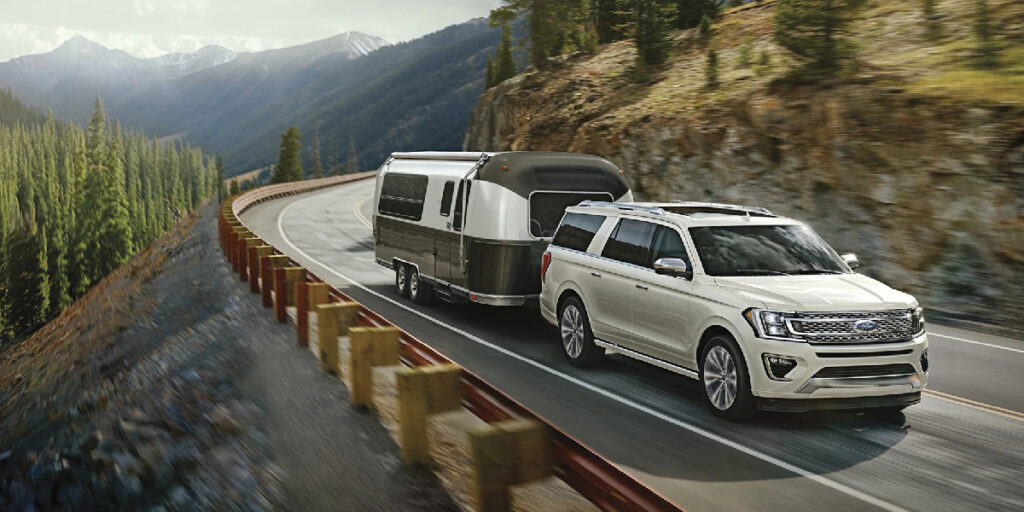 The 2021 Ford Expedition ranks towards the top of large SUVs, thanks to a powerful engine, well-balanced driving, and spacious interior. In addition, it remains as the unchallenged SUV for towing. When optimally equipped, the 2021 Ford Expedition can haul up to 9,300 pounds considering the payload of up to 1,758 pounds.
The roomy and comfy cabin of the 2021 Ford Expedition appeals to its fans. The second-row seats are comfortable and include various zones of lumbar support. The third row is a touch cramped, but adults will have plenty of room.
Behind the third-row, there are 20.9 cubic feet of cargo space, with a total storage capacity of 104.6 cubic feet. It's simple to install kid seats, and there's plenty of storage for your belongings.
Android Auto, Apple CarPlay, and a 4G LTE hotspot are all included on the 8.0-inch infotainment system. There's also an entertainment system at the rear seats to keep the kids occupied.
In the second row, captain chairs are provided. In addition, each model features a power-folding third-row accessible from the cargo area. The second and third rows of seats may also be folded flat to provide a level cargo floor.
The 2021 Ford Expedition operates with a standard 3.5-L V6 engine that produces 375 horsepower and 470 pound-feet of torque. The XLT Platinum level comes with 400 horsepower and 480 pound-feet of torque. A 10-speed automatic transmission has a connection with the vehicle's engine.
2021 Ford Expedition For Sale
In Conclusion
Many SUVs designed for towing have valuable features like trailer sway control and integrated trailer brake controller. In addition, there are other high-tech technologies in modern vehicles that make pulling a trailer even more manageable.
Vehicles that haul beyond the maximum towing capacity typically record damages that include overheating the engine, undue stress at the framing, weakening of the suspensions, malfunctioning transmission, and unresponsive braking systems.
---
About the Author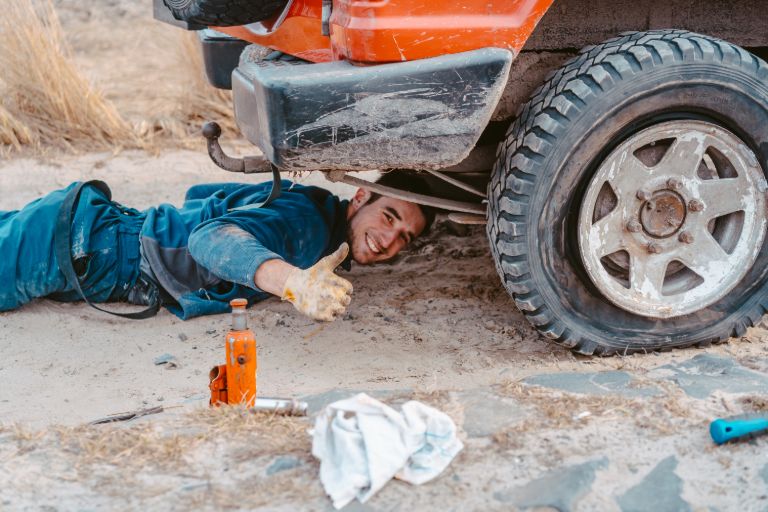 I'm Lucas, a car mechanic, and blogger. I created off-roadinternational.com – an off-road blog to share Tips & Trick for Off-road vehicles and review top off-road-related products.
I have over 5 years of experience in the field and now I want to share it with everyone who has the same hobby off-road.