If you want to survive a weekend of camping with minimal discomfort, you've got to make sure you have all the right gear. But besides the obvious stuff, you also have to make sure you have the right car. One that can bring you, your camping buddies, and all your gear to your destination conveniently and (more importantly) safely!
Below, you'll find 17 cars, trucks, SUVs, and vans that are perfect for camping.
What Makes A Good Car For Camping?
But before we get to our list of the best cars for camping, let's talk about what really makes a car good for roughing it out in the great outdoors. It doesn't matter whether you want to buy a used car or a brand new car, as long as you consider the following factors first:
Ample Cargo Space
Think about how much camping equipment you'd like to haul. Tents, sleeping bags, mattresses, cooktop, cooking supplies, food, water, cameras, headlamps, toiletries, swimming gear…whatever and however much you want to bring along on your trips, you have to make sure to find a car that has enough cargo space to fit everything you need.
Sedans and hatchbacks are far more fuel-efficient than trucks, vans, and SUVs, but their trunks just can't carry the same amount of cargo as their larger counterparts. Vans and SUVs tend to be roomier than trucks cabin-wise (which means a more comfortable trip for passengers), but trucks with large beds win when it comes to cargo space. The biggest downside to trucks? Your gear is always exposed to the elements.
Roomy Cabins
Spacious interiors are important for two reasons: so that all passengers are comfortable on the ride over and so that you have a cozy sleeping area for campers who aren't too keen about sleeping on the ground.
If you're set on camping with a small car, go for a hatchback instead of a sedan. The former will usually come with rear seats that can fold down into a sleeping area. Meanwhile, SUVs and vans can be cozy as long as you don't stuff the trunk with too much junk. As for trucks, the trunk can be converted into a literal bed at nighttime while the interior cabin stores all your important items.
AWD vs 4WD
Both all-wheel-drive and four-wheel-drive systems indeed drive torque to all four wheels at a time. However, there are some differences between the two.
Firstly, AWD is found on most SUVs and modern passenger cars, as it helps vehicles move through slick road conditions, such as muddy, wet, or snow-covered pavements.
On the other hand, 4WD is ideal for primarily off-road conditions. It isn't always on, unlike the all-wheel-drive system, and must be engaged by the driver when needed. When 4WD is engaged, the front and rear driveshafts are locked together, making it easier to go over serious mud and snow without slipping and making it harder to turn on paved and grippy surfaces.
So, which one is best for camping? If you're heading out into mostly paved, gravely, or developed trails, you don't need super complicated systems. But if you see yourself heading into off-road territory, 4WD would be a big help.
Towing Capacity
Want to bring your boat out to the nearby lake? Or perhaps you want to tow a mobile home, so you don't have to rough it outdoors. Both AWD and 4WD help trucks haul large cargo in wet and steep conditions. But drivetrains aside, if you want to tow heavy cargo, make sure to check a vehicle's maximum towing capacity.
Safety Features
If you're shopping for used cars, keep in mind that newer models come with more advanced safety features. However, it doesn't mean you have to compromise your safety if you're interested in older cars.
There are several sites you can consult regarding vehicle safety and learn more about car safety ratings. The US National Highway Traffic Safety Administration has a 5-star car safety ratings program that "evaluates how vehicles perform in crash tests." You can head to their website to look up the safety ratings of a specific make, model, and year. Another option is to check Transport Canada's database of motor vehicle safety recalls.
Our Top 17 Cars, Trucks, SUVs, And Vans For Camping
1. Jeep Cherokee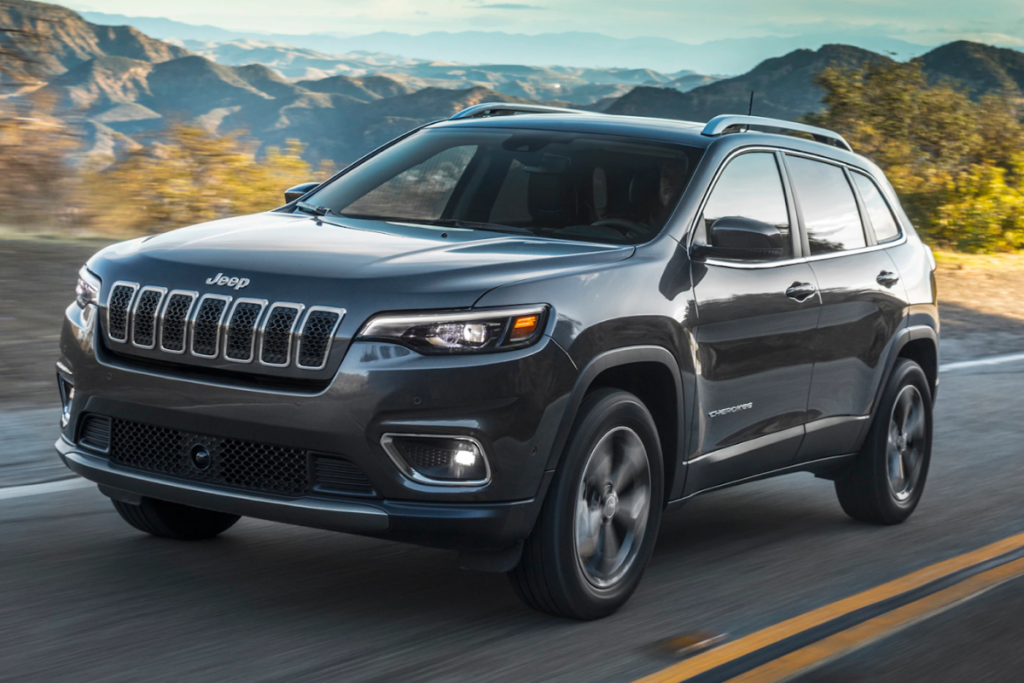 An SUV that's both comfortable and rugged, the Jeep Cherokee is as capable on the pavement as it crawls over some rocks. According to the Kelley Blue Book, the Cherokee has a maximum towing capacity of 7,200 pounds – enough to haul most travel trailers today.
Best feature: The Grand Cherokee comes with a powerful V8 engine that you won't find on most similar SUVs.
2. Jeep Wrangler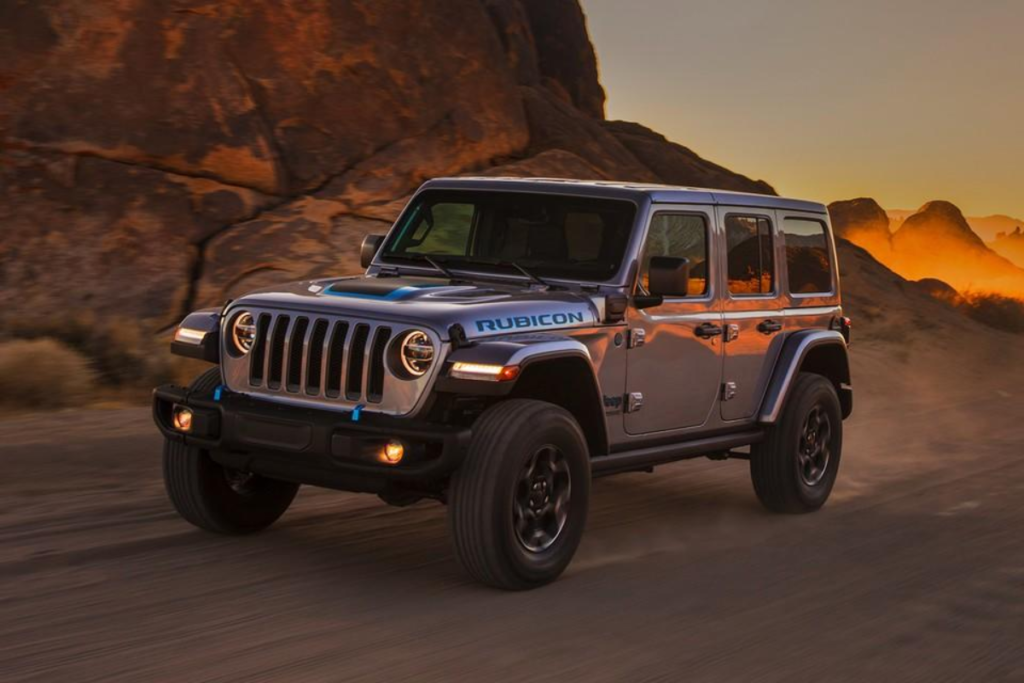 The Wrangler is one of the most popular off-road vehicles in North America. While it's not the most spacious vehicle on this list, it makes up for it with impeccable handling, whatever the conditions.
If you're looking for the hardiest Wrangler ever made, most fans would suggest the Rubicon. It comes with Dana 44 front and rear axles, a 4:1 low-range gear ratio, 33-inch all-terrain tires, hill-descent control, steel bumpers, and a whole range of features that make this Jeep as close to indestructible as you can get.
Best feature: Of course, we have to mention its removable doors – the Jeep Wrangler is the only vehicle on the market with removable doors and side panels.
3. Toyota Sequoia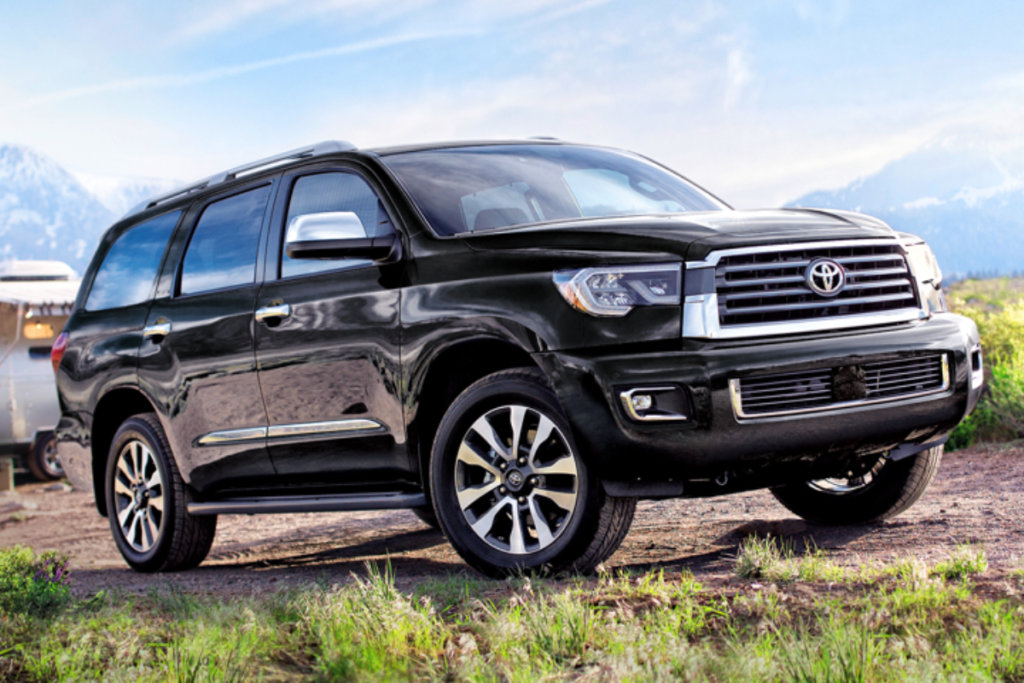 With one of the largest cargo areas in its class (66.6 cubic feet with the third row folded down) and ample passenger space, this full-sized truck-based SUV is a good fit for large families with a lot of cargo to haul. However, if you're looking for a solid off-roader, go for the TRD Pro – it comes with Rigid fog lights, a standard 4WD system, and a V8 engine.
It's not the most modern of vehicles, but it seems hardy enough to survive a zombie apocalypse.
Best feature: It's got surprisingly comfortable seating, despite its appearance.
4. Toyota Land Cruiser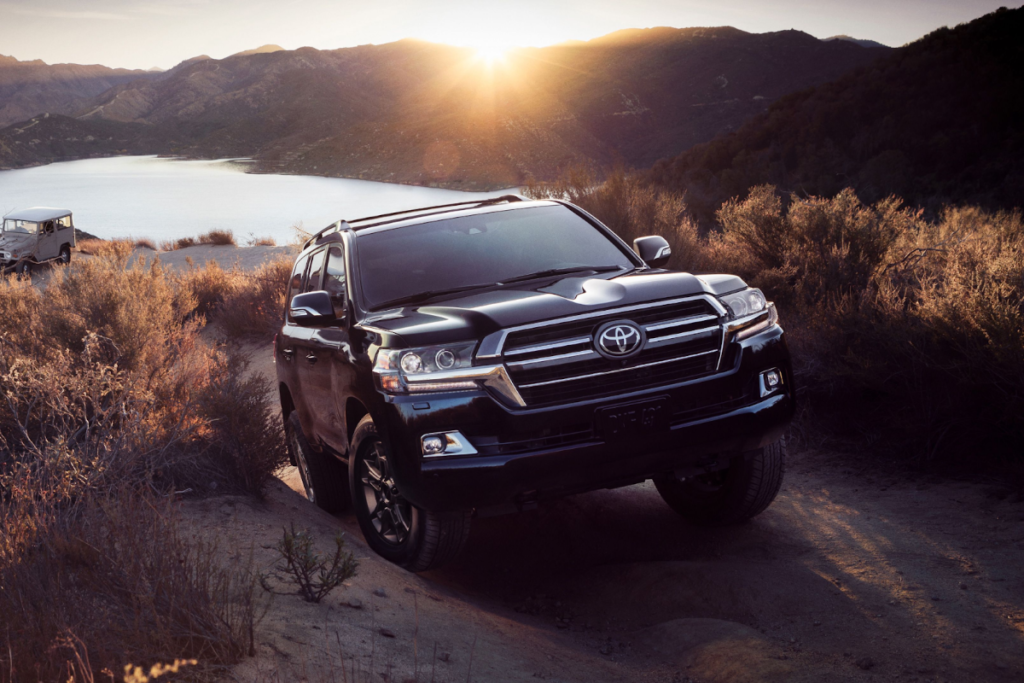 Here's another Toyota that's got a reputation for being "basically bulletproof" (as stated by the folks at Kelley Blue Book). Like the Sequoia, the Land Cruiser is a full-size SUV running on a V8 engine. In addition, its towing capacity – 8,100 pounds – is even bigger than its competitor, the Jeep Cherokee. And it boasts 82.8 cubic feet of cargo space. All in all, the Land Cruiser is a legend among camping cars.
Best feature: Its powertrain and off-road geometry make for a smooth ride, even on rugged terrain.
5. Toyota 4Runner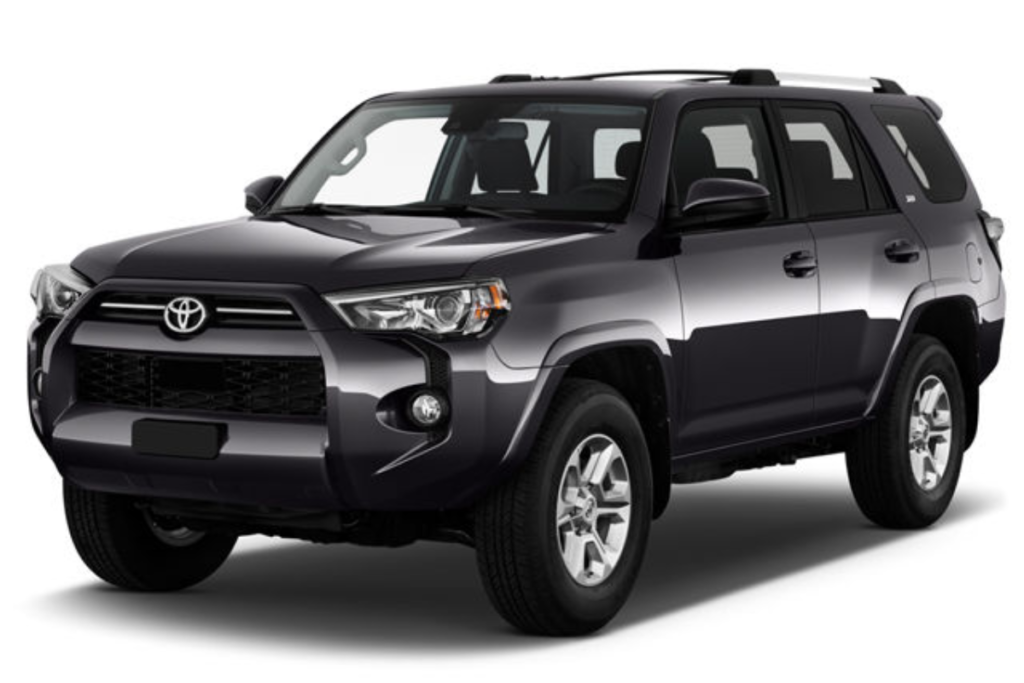 89.7 cubic feet of cargo space, 4WD, a body-on-frame platform, and 9.6 inches of ground clearance (on the TRD Pro) – all these camping-ready features have made the Toyota 4Runner the benchmark for a solid, reliable camping car.
However, like the Land Cruiser and Sequoia, the 4Runner is a little dated. Even later models lag behind their contemporaries when it comes to interiors and tech features.
Best feature: If you can get your hands on the Trail Special Edition model, you also get a neat Yakima roof rack and a cooler that's uniquely Toyota.
6. Toyota RAV4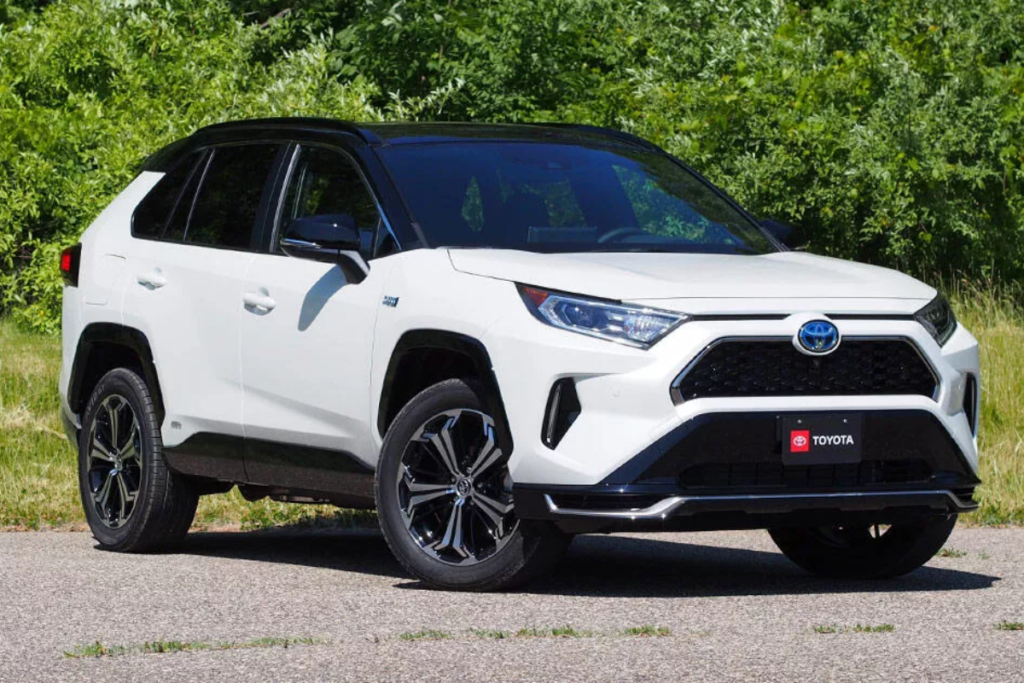 This SUV may be small in stature, but it's got all the makings of a good camping car. It's 37.6 cubic feet past the rear seats, but if you fold them down, you can enjoy up to 69.8 cubic feet. On top of this, the interiors are spacious, and it provides a sporty and comfortable ride to boot.
It's got decent economy for an SUV too. So if you'd rather not drive a gas-guzzling truck, perhaps the RAV4 poses a good alternative. Better yet, there is a hybrid version for the most eco-conscious campers.
Best feature: If you want something smaller than the 4Runner or the Land Cruiser but with similar capabilities, the RAV4 is the one for you.
7. Honda Element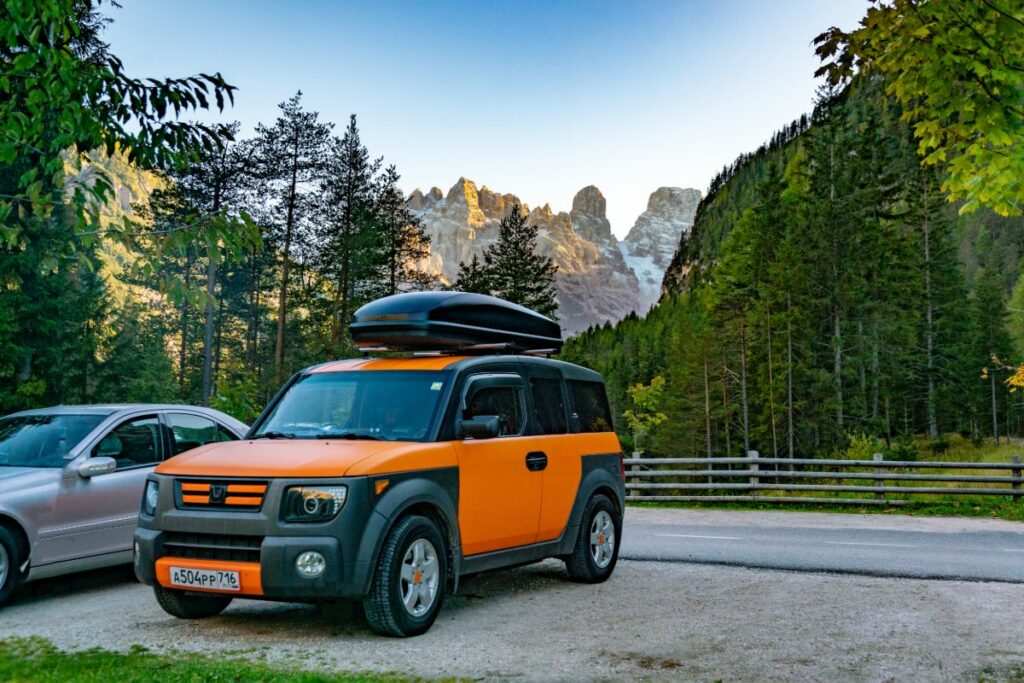 Honda Element is a boxy SUV with all the makings of a great camping companion, more van than a crossover. With a sizable ceiling height (allowing storage of large items like chairs and grilling equipment), washable floors, stain-proof upholstery, and removable rear seats, the Element's interiors are pretty much made for camping. Get one with AWD, and you're set for some casual trails.
Best feature: Rear-hinged doors that make loading even the largest equipment a breeze.
8. Chevy Silverado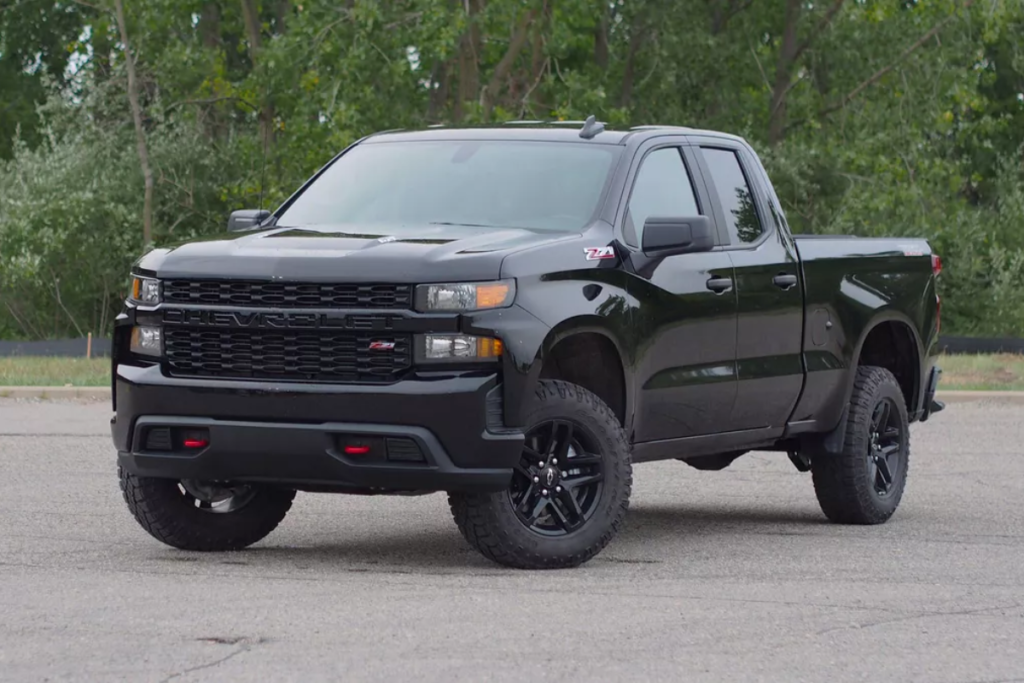 There's a lot to love with the Chevy Silverado, from the variety of engine options (V6, V8, or 3.0-liter Duramax diesel) to its massive towing capacity of 13,000 pounds. It's a cargo hauler that's almost up to par with the best pick-up truck on the market today, the F-150.
For a pick-up, it's got a roomy cabin with a ton of headroom, though you can't count on it for being the most comfortable out there.
Best feature: It's not quite the Ford F-150, but with a lower-than-average price tag than other vehicles in its class, it's a good affordable alternative.
9. Ford Ranger XLT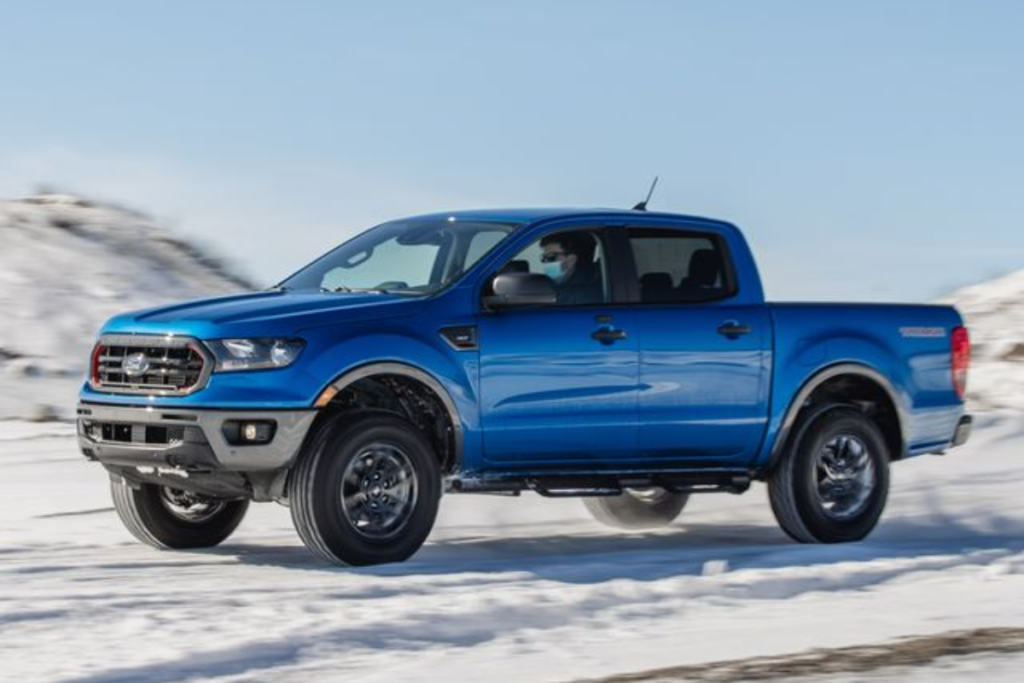 This mid-size pickup is relatively new, having debuted in 2019 after a long break from the scene. But in the short amount of time that it's been back, it's impressed us with its towing (7,500 pounds) and hauling (1,560 to 1,860) pounds capabilities, as well as its impressive handling over varied terrain.
Best feature: For a pick-up, it gets decent mileage!
10. Land Rover Defender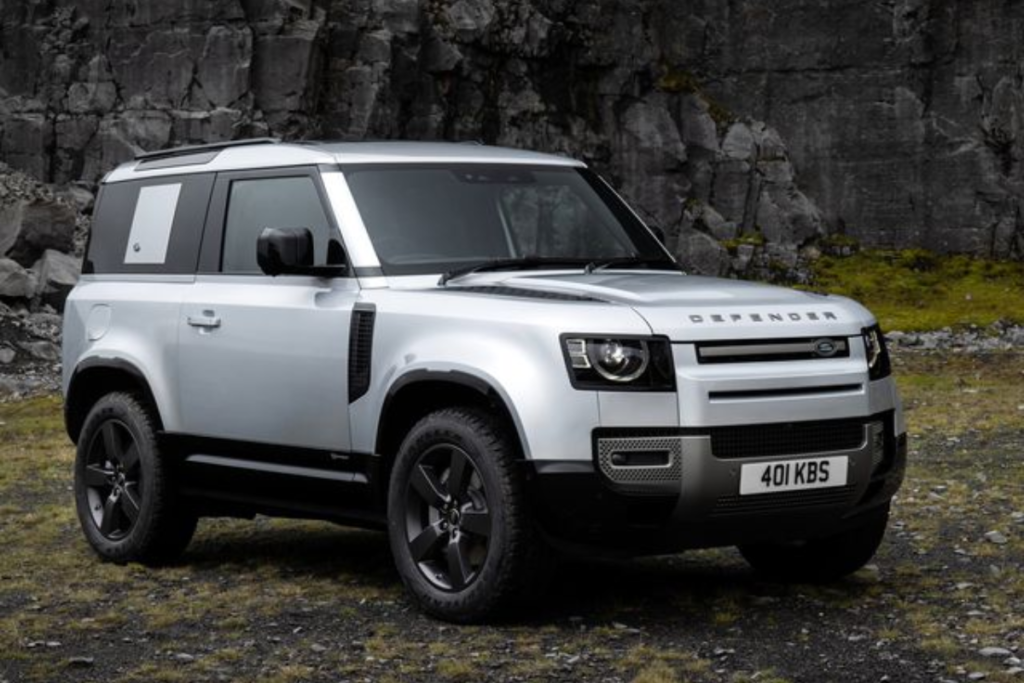 The 2021 Land Rover Defender is a sleek and stylish SUV dubbed Land Rover's "most off-roadable" model. It's got 4WD and off-road drive modes that make it a champion on rough roads and an impressive towing capacity of over 8,000 lbs. Think of it as a luxury version of the Jeep Wrangler.
Best feature: The 2022 model boasts a V8 engine that can push the Defender up to 60 mph in just 4.9 seconds.
11. Volvo XC70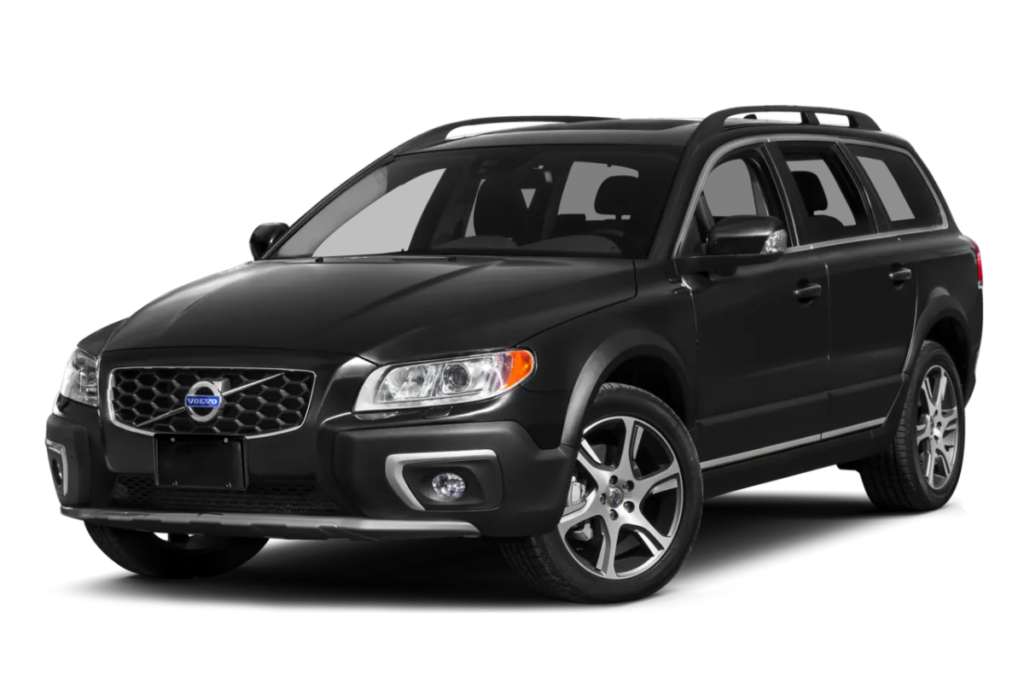 This genre-defying wagon disappeared after 2016, but if you can get your hands on a used XC70, you won't be disappointed in what it has to offer. It's a luxury vehicle, yes, but it has the capabilities to do some light-duty off-roading. Equipped with AWD, a raised suspension, and a spacious rear cargo that can compete with SUVs', the XC70 won't conquer huge rocks, but it's good enough for a quick out-of-town trip.
Consider the XC70 the weekend warrior's plushy ride, if you will.
Best feature: The XC70 has a lower-than-average roofline than most crossover SUVs, so it's easier to load gear like kayaks and bikes.
12. Subaru Outback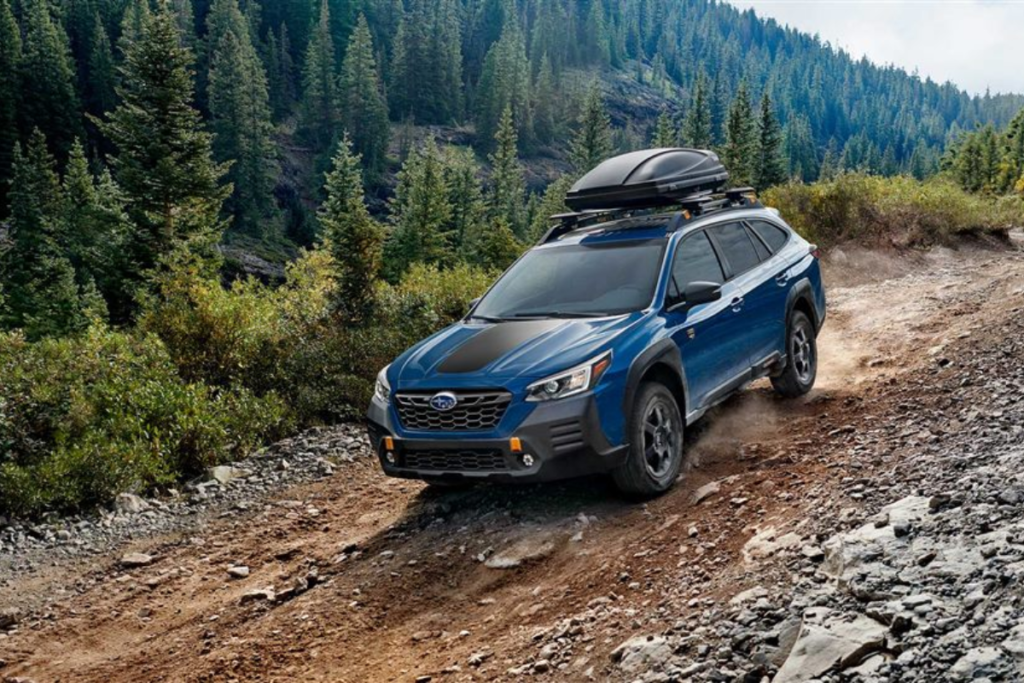 Folding the rear set of the Subaru Outback results in 75 cubic feet of cargo. That's more than you get from a Sequoia and a RAV4, but a bit less than a Land Cruiser. With ample (but not groundbreaking) clearance of 8.7 inches and a steady towing capacity of 2,700 pounds, the Outback isn't going to be the #1 SUV for camping. But with decent fuel economy and agile handling, it stands as a good choice for those who aren't looking for massive haulers anyway.
Best feature: The 2022 Subaru Outback Wilderness is said to come with a roof rack capable of supporting 700 pounds of static load. That means you can set up a rooftop tent for two!
13. Ford Galaxy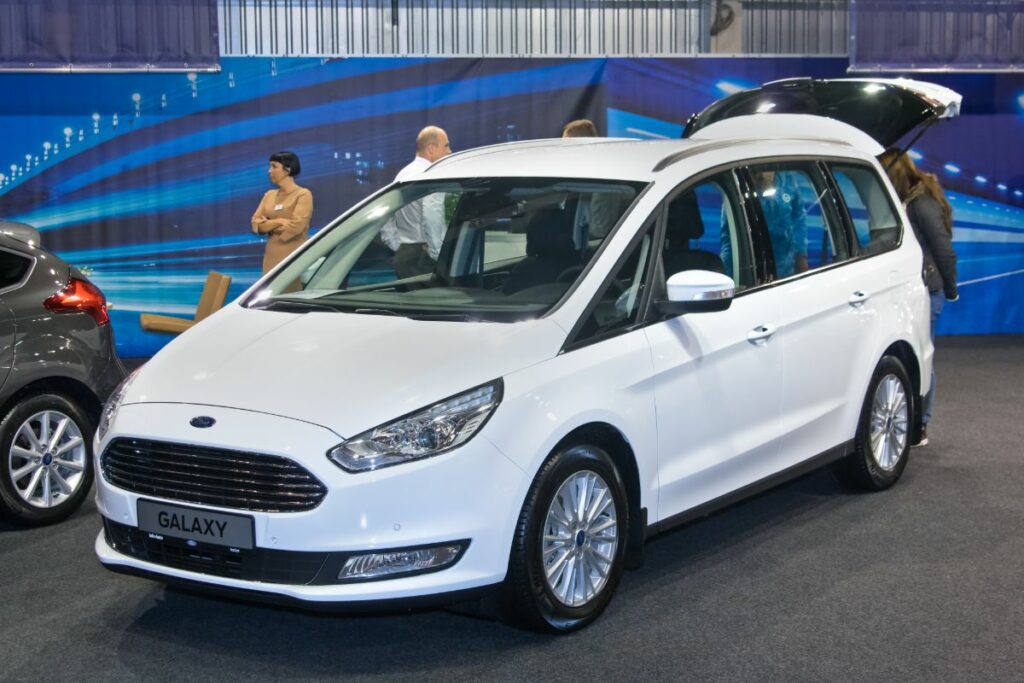 The only minivan on this list, the Ford Galaxy offers a lot of space, decent engines, and, well, a lot of space – 82.6 cubic feet, to be exact. In addition, this seven-seater van boasts seats that drop down electronically and comfortable steering, perfect for family vacations with little kids.
Best feature: The Ford Galaxy was awarded five stars when it was crash-tested by the Euro NCAP. This, plus a range of other safety features, makes this minivan an excellent option for driving young ones.
14. Mini Countryman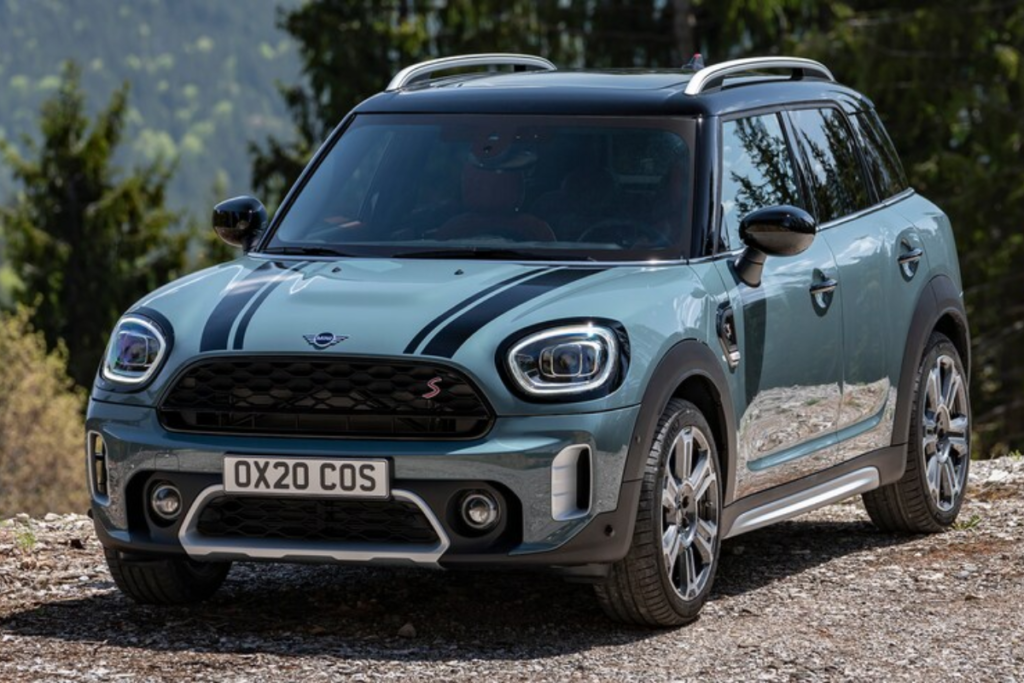 Mini's only SUV, the Countryman, is pure joy distilled in a car. The SUV is fun to drive, sporty, and 4WD/AWD-capable, but unfortunately lagging in the cargo and cabin department. Its charm lies more in its look than its engine performance or cargo capacity, so if you're looking for a utilitarian vehicle, the Countryman is definitely not for you.
Best feature: It's a downright stylish car from a legacy brand! Its interiors are quite handsome, too.
15. Kia Sorento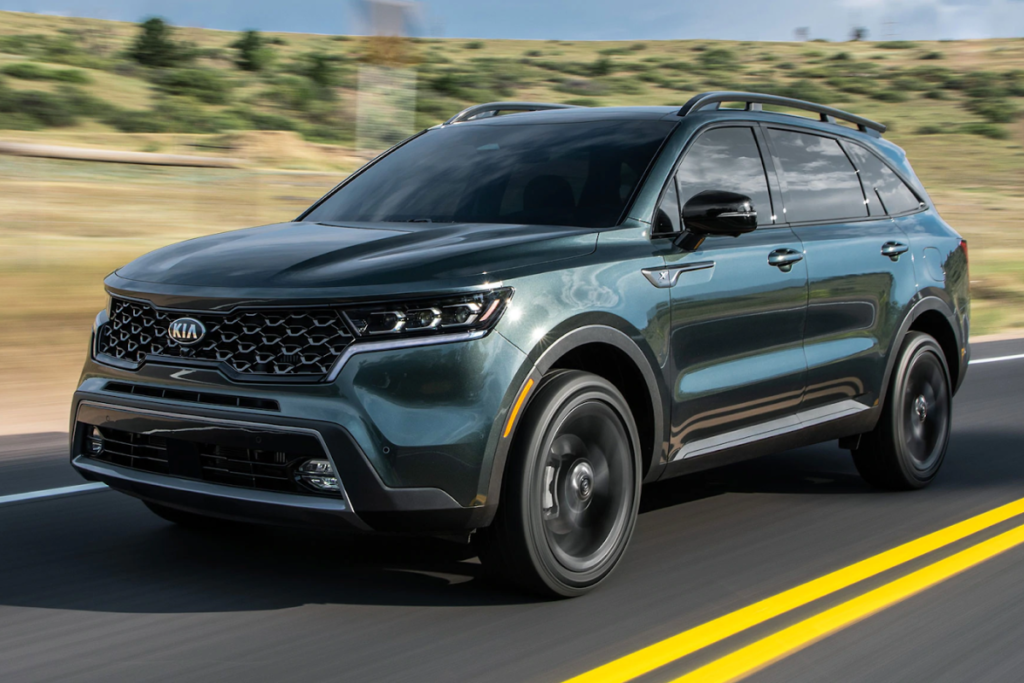 As a midsize crossover SUV, the Sorento is an outlier in that it's pretty compact next to bigger models, but it boasts three-row seating that's rare in vehicles of its size. However, we'll be the first to admit that the third row isn't the most comfortable while it's an ambitious move. And there isn't a lot of cargo space behind it either.
But don't let this define the Sorento. It drives well and has impeccable handling. Plus, if you lower the last row, you can still get a decent amount of cargo space. All in all, it's an impressive ride that outpaces its contemporaries.
Best feature: The Sorento offers some neat tech features, including a 10.25-inch touchscreen infotainment deck and a reliable blind-spot camera system.
16. Audi A4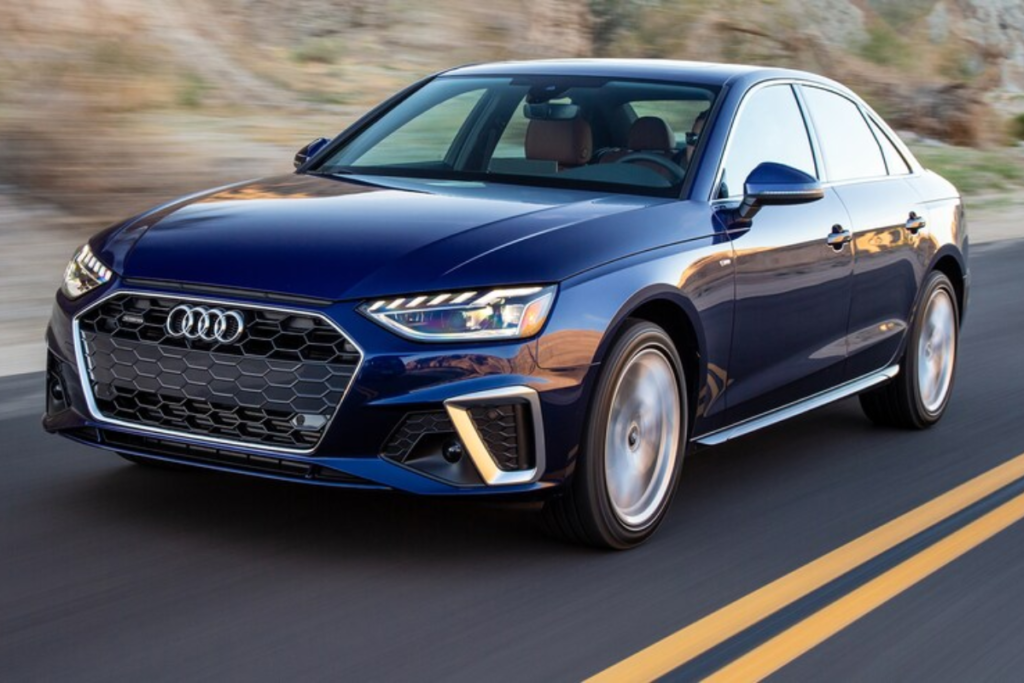 With a stylish exterior and a beautiful, well-appointed cabin, this sedan is one of the more luxurious options for hitting the great outdoors. But the Audi A4 is also known as one of the most reliable cars of all time, boasting all-wheel drive, sporty handling, and decent engine performance.
The Allroad version has more cargo-hauling capabilities than the standard model but not more than most other sedans in its class. Overall, it's a beautiful, luxury sedan that can hit the grave once in a while – perfect for occasional vacationers.
Best feature: Lots of impressive driver-assist technology, from lane-keeping assist to adaptive cruise control.
17. Porsche Cayenne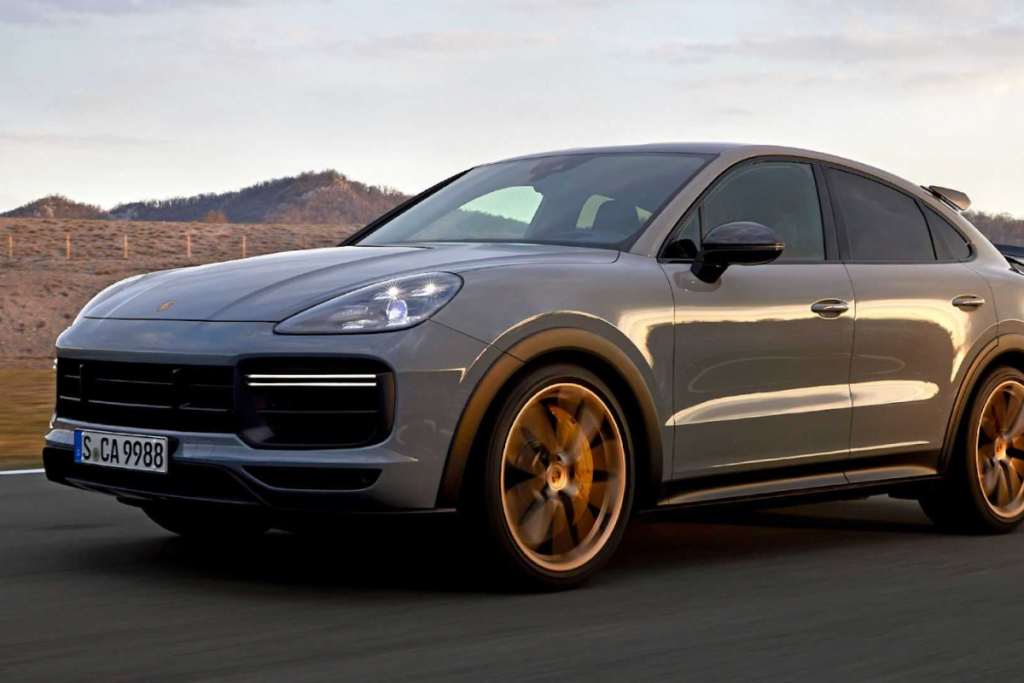 Top Gear called the Porsche Cayenne the "king of driver-friendly SUVs." And we can see why. There is a V8 version too, and of course, you can expect impeccable handling from Porsche. With up to 60 cubic feet with the rear seats folded down, it's not the most spacious SUV. But again, it's a Porsche. What it sacrifices in space, it makes up for in performance.
Best feature: Porsche offers various engines with its Cayenne line, so you can choose how fast and far you want to go.
The Bottom Line
We hope you've found this list of the best cars for camping to be helpful. So now, get out there and enjoy some time in nature! And if you've yet to find your dream camping car, you can find thousands of listings on our website – check it out today for fantastic deals and super steals!