Are These The Best Pickup Trucks In 2021?
Looking for a vehicle that's practical, reliable, and has a ton of storage space? Then, a pickup truck might be what you're looking for! These sturdy vehicles are one of the most popular vehicle types in Canada. Whether you're looking to haul snowboarding equipment in the winter, go camping during the summer, or simply move around items, a pick-up truck is a great choice for many.
But with such a wide range of options, it can be difficult to know which pickup is right for you. Whether you're buying a brand new pickup truck or shopping for a used car, we've put together this list of our 11 favorite pickups on the market today to help you decide.
What To Look For In A Pickup Truck
Pickups are popular for their versatility and all-around dependability. You can think of them as the jack-of-all-trades of cars – the best ones have got the cabin space of an SUV and the towing and cargo capacity of a truck.
With that in mind, it's important to remember that not all pickups are made the same. The best pickup truck for you is a truck that suits your needs, be it hauling a trailer, transporting cargo, or traversing rough terrain. So when comparing pickup trucks, it pays to know what to look for.
Here are a few key factors to consider when shopping for pickup trucks:
Truck Size
Pickups come in a variety of sizes and classifications. There are mid-size pickup trucks (think Toyota Tacoma or Ford Ranger) and full-size pickup trucks like the Ford F-150 or the Chevy Silverado.
Mid-size pickups sacrifice cab size, bed size, and towing capacity for easier maneuverability, fuel efficiency, and a lower sticker price. Meanwhile, full-size trucks, which come in light-duty and heavy-duty variants, have greater towing and hauling capabilities. Obviously, a heavy-duty truck will be better at pulling heftier items, but they suffer in the handling and comfort department.
Cab And Bed Size
Before you start shopping for a pickup truck, you should figure out how much space you need both inside and out. There are three cab sizes – regular or single cab (two doors, no rear seats), extended (two to four doors, cramped rear seats), and crew (four doors, spacious back seats).
There are also quite a few bed size options, including short (around five feet), standard or regular (between five and 6.5 feet), and long (up to eight feet).
Fuel Efficiency
Pickup trucks don't get the best gas mileage, so if fuel efficiency is a priority, bear in mind it's slim pickings in this category. However, few pickup trucks perform better than others, such as the 2016 GMC Canyon, which can get up to 31 mpg on highways. If you're buying a used vehicle, you will also want to check the odometer reading for any signs of rollbacks and avoid scams. The odometer reading also helps you to understand the efficiency of the vehicle based on how many years it's been on the road.
Engine And Drivetrain
Most pickup trucks on the market are sold with either a four-, six-, or eight-cylinder engine and a choice of either two-wheel or four-wheel drive. When deciding on a powertrain (that's the combination of an engine plus a drivetrain), you'll have to weigh factors like fuel economy, towing capacity, gas vs diesel, and price, as well as the weather and terrain you'll generally be driving in.
Towing And Hauling Capacity
This much is obvious: If you want a towing vehicle, a pickup is your best bet. But how much a truck can pull and carry depends on its size and classification. In a nutshell, full-size, heavy-duty trucks have the highest towing/carrying capacity, and mid-size ones have the lowest. You'll also have to think about things like axle ratios, gross vehicle weight rating, and gross combined weight rating.
Best Pickup Trucks
Now that you know what to look for, let's take a look at our top 11 picks for the best pickup trucks on the market today:

1. Toyota Tundra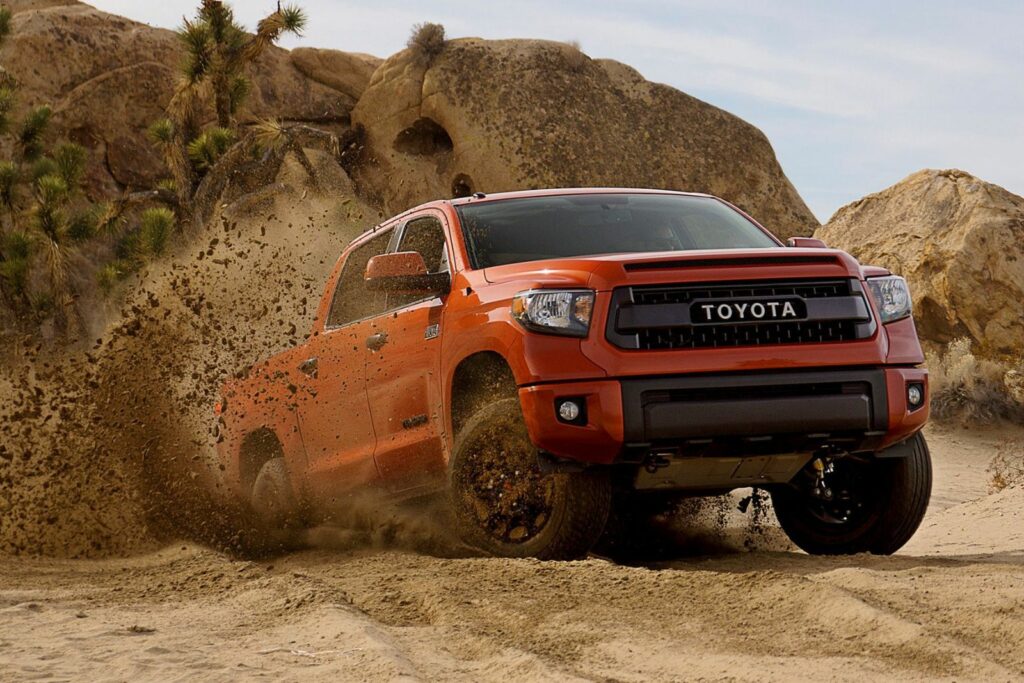 The first Toyota Tundra debuted in 2007, making it relatively old in car years. And while its outdated interiors, lacking infotainment features, and rough handling reveal its age, it still stands as a reliable option. After all, it boasts a powerful V8 engine, smooth six-speed automatic transmission, and plenty of cab space. Perhaps, that's why it's stuck around for so long.
2. Toyota Tacoma
Consider the Tacoma as the Tundra's more talented little brother. This mid-size pickup might not be the best at being a pickup – its V6 engine has generated mixed reviews and its towing capacity, at a max of 6,800 pounds, leaves much to be desired.
However, it has received a cult following of sorts among Toyota-loving off-roaders. As Car and Driver put it, it's a "rugged and reliable" truck whose TRD models are great for "tackling trails and playing in the mud."
3. Honda Ridgeline
With premium interiors, a smooth ride, a cavernous cabin, and impressive safety scores, the Ridgeline is more SUV than a pickup truck. In fact, when the second-gen Ridgeline was released in 2016, critics said it wasn't truck-like enough. It makes sense – it's got a unibody construction and runs on the all-wheel-drive too. But if you're the type of person who needs a truck but doesn't like the look or feel of a truck, the Ridgeline might be the machine for you.
4. Nissan Titan
The Titan boasts a quiet interior, a solid V8 engine, and a hefty range of driver-assist features. It gives you a choice of two-bed lengths – a 66-inch Crew Cab and a 78-inch King Cab. You get a choice of five trim levels for the Crew Cab and three for the King Cab. And depending on how much you're willing to cough up, you can opt for standard rear-wheel drive or four-wheel drive.
All in all, the Nissan Titan is a pretty solid pickup truck. However, most of its more popular rivals, like the Ram 1500 and the Ford F-150, just outperform it on most fronts.
5. Chevrolet Silverado 1500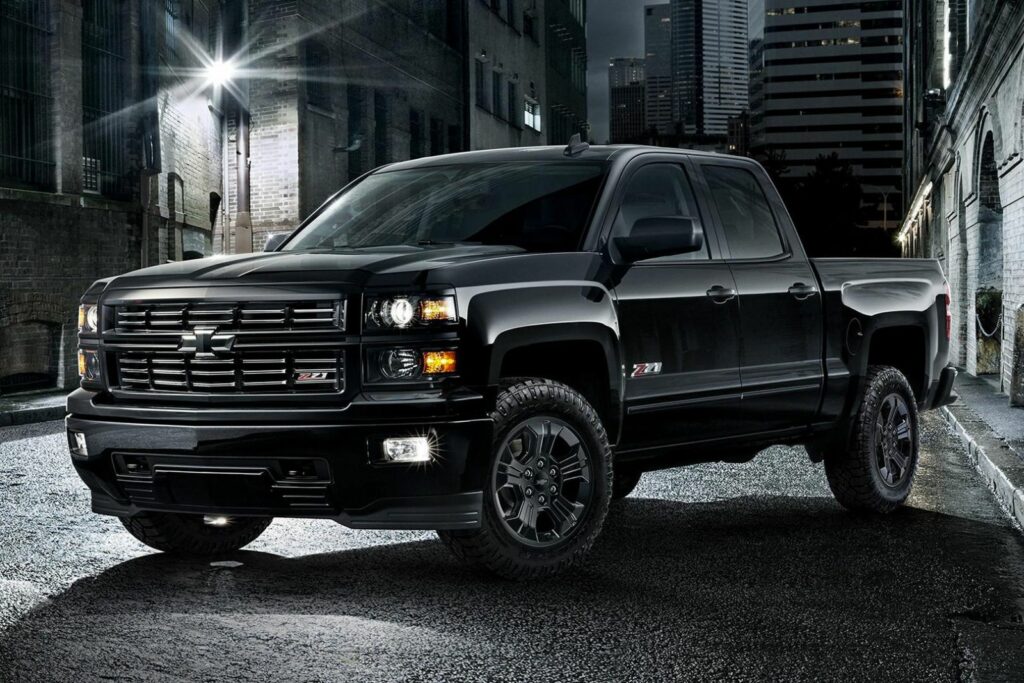 If you're a fan of pickups, you'll know that this Chevy is one of the more popular models out there. And we think it deserves the attention.
Chevy offers a wide array of engine choices for the Silverado, including one V6 option, two V8s, and a 3.0-litre Duramax diesel. So whether you want something punchy and powerful or a tad more fuel-efficient, there is a Silverado for you.
It also boasts a max towing capacity of 13,000 pounds, hitting a middle-ground between the front-running F-150 and the slightly weaker Ram 1500.
All in all, the Chevy Silverado is a practical dream.
6. Chevrolet Avalanche
The Avalanche was discontinued in 2012, so if you're looking for brand new models, you're out of luck. But, you're sure to find reliable used Avalanches online or in your local dealership, as these trucks tend to have a long lifespan.

The Chevrolet Avalanche is based on the Silverado's platform, so if you're a fan of the latter, you'll enjoy this truck. It comes with a neat Midgate feature, which means that the passenger compartment can be opened up into the bed to increase cargo space if need be. In Chevy commercials, the truck was touted as "the most flexible vehicle out there."
However, though modular innovation proved to be a versatile and practical feature, some critics found it clunky and a hassle to use.
7. GMC Sierra 1500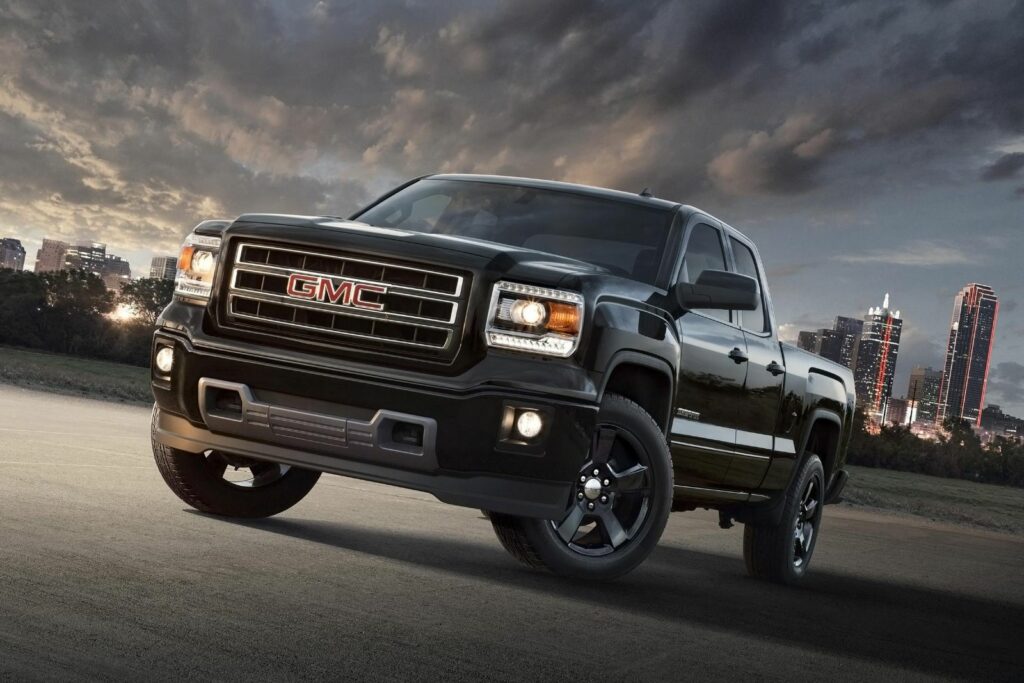 If pickups could be ranked by design alone, the GMC Sierra would come in first place. With a gorgeous body and premium interiors, this truck is made to be paraded around.
It's similar to the Silverado in many ways, but the Sierra is more about convenience and comfort.
Buyers have five choices when it comes to the engine, from a 285-hp V6 base setup to a 355-hp 5.3-litre V8 engine that goes with a six or eight-speed automatic transmission. Steering is pretty responsive compared to the Ram 1500, and the towing capacity is at 12,200 pounds max.
8. Ram 1500 TRX
Driving.ca called the TRX the "ultimate performance truck experience for Northerners." The pickup is a super fast and powerful machine, thanks to its 6.2-litre supercharged V8 engine – that's 702 horsepower and 650 pound-feet of torque.
Its max towing capacity isn't enough to write home about – it can support about 8,100 pounds – and its styling is a bit rough, but the TRX isn't a workhorse. It's a long-distance cruiser with comfortable interiors that can take on some rough roads, all while hauling cargo.
In a nutshell, it's great for road trips and getting to your destination fast.
9. Ram 1500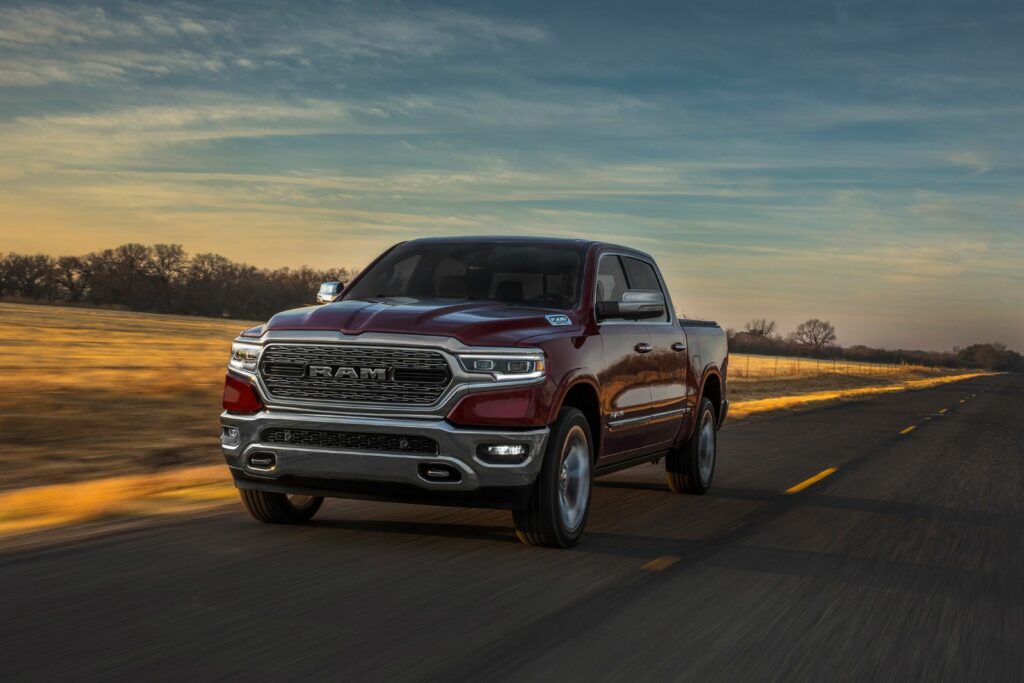 Luxury interiors, a nice smooth ride, and impressive safety features put this pickup in the range of luxury, premium cars. With the Ram 1500, you forget you're driving a vehicle that's in the same category as the bouncy farmhands your grandpa used to drive.
The base model Ram 1500 comes with a turbocharged and DOHC 24-valve diesel V6 engine, eight-speed automatic transmission, rear or 4-wheel drive, and a sweet, cozy cabin.
10. Ford F-150 Raptor
According to Car and Driver, Ford's F-series is the "alpha dog" of full-sized pickup trucks – for every Nissan Titan, and Toyota Tundra sold, there are 11 F-Series' sold by Ford.
The Raptor is pretty similar to the F-150 in tech and safety features, but it diverges from its younger brother when it comes to size and off-road features. This big, brawny truck is fitted with 35-inch or 37-inch BFGoodrich K02 all-terrain tires, off-road cruise control, Rigid LED off-road lights, and a Fox Live Valve internal bypass damper – making it great for desert trails.
11. Ford Super Duty
With a diesel engine option that can generate 1050 lb-ft of torque and a towing capacity of 37,000 pounds (on fully equipped trucks), this heavy-duty pickup is a beast of a truck.
On top of these impressive feats of physical prowess, the Ford Super Duty also has a super-sized crew cabin, a generous infotainment package, and a wide array of driver-assist tech – including a blind-spot monitoring system that works even with a trailer in tow.
Conclusion
What are the best pickup trucks on the market? We've gone through and compiled a list of 11 of our favorites. You can find thousands more new and used pickup trucks on our website, so if you don't see what you want here, feel free to browse our listings.