If you have owned a car, then you're likely familiar with the dreaded check engine light. Internal combustion engines have a lot of vital parts.
Unfortunately, nothing is perfect, and all of these parts are prone to wear & tear and random failures. When certain issues arise the check engine light (CEL) is triggered. What are the reasons for a check engine light? Does it always mean there is an issue?
In this article, we address these questions and discuss the most common reasons for a check engine light.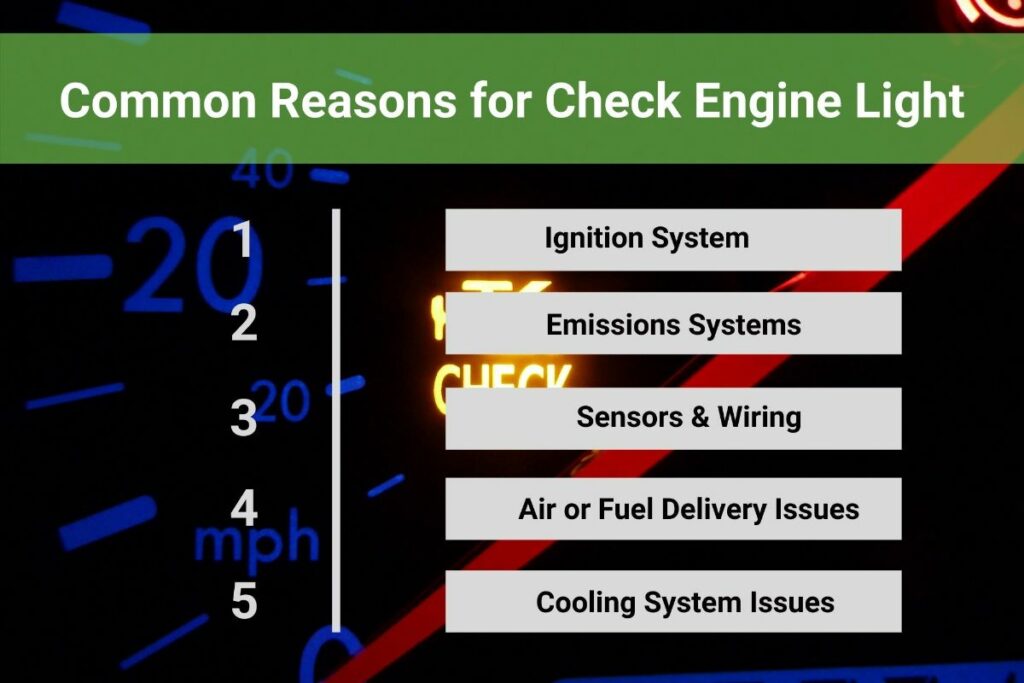 Check Engine Light Causes
Some of the most common causes of check engine lights include:
Ignition system
Emissions systems
Sensors
Air or fuel delivery issues
Cooling system / Overheating
Before discussing each of these check engine light reasons it's important to add a few notes about check engine lights. There are a lot of various causes and sometimes it can be hard to diagnose without professional help. An OBDII scanner can also help narrow down the issue at hand.
That said, a check engine light doesn't always mean something is seriously wrong. It could be a small, simple fix. It may even just be a weird hiccup that corrects itself. Looking at the common reasons for check engine lights will help clarify this further.
Ignition System
The list of reasons for a check engine light isn't in a particular order. However, if it were in a certain order, there would be no better place to start than with the ignition system. Spark plugs and ignition coils are two primary parts of an engine's ignition system. They're wear and tear items that can be common reasons for a check engine light.
Spark plugs and ignition coils are standard maintenance items. Spark plugs often require replacement every 40,000 to 100,000 miles. Ignition coils last longer at about 80,000 to 150,000 miles. Some performance engines require replacement even sooner, especially turbocharged engines.
Why do spark plugs and ignition coils cause a check engine light? As plugs and coils wear down, they can no longer create enough spark to fully ignite the air/fuel mixture. This can cause misfires which leads to the check engine light flashing or illuminating. Check out this helpful article for more information on engine misfires and the ignition system.
Emissions Systems
Another common reason for the CEL is issues with emissions equipment. There is some overlap here with the sensor topic that's coming up next. Anyway, issues with catalytic converters, oxygen sensors, or other emissions equipment can cause a check engine light.
Most emissions system issues aren't urgent. However, any problem with emissions is likely to cause the vehicle to fail inspection or emissions testing.
Sensors & Wiring
Modern cars use dozens of engine sensors along with a lot of wiring throughout the engine. Mass airflow sensors, crankshaft position sensors, cam position sensors, and O2 sensors are just a few of the many. Sensors often become brittle, dirty, and clogged with age and mileage.
With the number of sensors on engines they're without question one of the most common reasons for the check engine light. Depending on which sensor fails the car may not be drivable or it may be a safety concern to continue driving.
For example, a fuel pressure sensor failure could cause fuel delivery issues. This might cause a situation with no start, stalling, or other serious drivability issues. As always, use your own judgement as to whether it's safe to continue and err on the side of caution.
Air or Fuel Delivery Issues
The previous example with the fuel pressure sensor failure could tie into this topic too. Engine systems are all intertwined, especially when it comes to sensors. A throttle body, throttle position sensor, or fueling sensors can cause air or fuel delivery issues. The same can be said for oxygen (O2) sensors.
There are a lot of common causes of air-fuel delivery problems that can trigger the check engine light. A leaking or failed fuel injector or fuel pump can cause severe fueling faults. Dirty air filters, loose air intake piping, throttle body, and airflow sensors can all cause air delivery issues.
Air, fuel, and ignition are three keys to engine operation. Without proper air and fuel flow the symptoms may be severe. Air or fuel delivery issues can cause no start, stalling, and very rough engine operation.
Cooling System Issues / Overheating
Another common cause of a CEL is the cooling system or overheating. Often, the vehicle will have a different light or indication that there is an overheating problem. However, issues with coolant flow, coolant sensors, or water pump failure may trigger the check engine light.
Cooling system issues can be very serious. If your engine is overheating it's important to pull over in a safe location as soon as possible. Overheating can cause severe, costly issues if the vehicle is allowed to overheat for long enough. Head gasket failures and other internal engine issues are possible.
Are There Different Check Engine Lights?
The check engine light on your dashboard may do different things depending on the brand, year, and model. Some cars may illuminate the check engine light yellow, orange, or red. A yellow check engine light indicates a minor issue while an orange or red CEL points to a more serious issue.
Other cars may have a solid or flashing check engine light. Solid usually means a small issue is at hand while a flashing CEL can point to something serious. Understanding your car's check engine light can go a long way in ensuring you don't put the vehicle at further risk should the engine light turn on.
Is it Safe to Drive With the CEL On?
In most situations, it is safe to continue driving for a short period with the check engine light on. Don't just assume that is the case, though. Is the engine still driving and operating normally? Or is the engine running rough, surging, stalling, etc? Are there any weird sounds coming from the engine?
Even if everything still feels OK there may still be potential safety concerns. It's not a good idea to use a lot of throttle or power when the CEL is illuminated. You might also not have full power available. This could lead to a dangerous situation if you need to avoid someone or something.
Ultimately, use your own judgment but error on the side of caution. If the engine doesn't sound or feel right, it's overheating, or something else seems off then it's best to pull over in a safe location as soon as possible.
Even if the vehicle is safe to continue driving you should diagnose and repair the issue(s) in a timely manner. Certain causes of check engine lights can cause further damage if you continue driving too often.
Does Low Oil Cause a Check Engine Light?
On most engines, low engine oil levels should not trigger the check engine light. There is usually a different dashboard light to indicate low oil or low oil pressure. While they shouldn't cause a check engine light these are still potentially severe problems.
Conclusion
Thank you for reading our blog post on the most common reasons your check engine light might come on. We hope that this information was helpful and will help you to troubleshoot any issues you may be experiencing with your vehicle. If you have any further questions, please do not hesitate to reach out to us.