Car vinyl wrapping has gained massive popularity in recent years because of its ability to completely transform the look of a car without much effort. With a wide range of colors and finishes available, anyone can find just the right fit for their needs.

Wrapping is an easy and cost-efficient option for upgrading the look of a vehicle. With so many styles to choose from, you have the complete freedom to customize your car to fit your personality. Whether you prefer a sleek matte look, polished chrome finish, or a bold camo pattern, you can always find the option that suits your taste.

Considering changing the look of your car and looking for some inspiration? Here is what's trendy these days in Canada and around the world: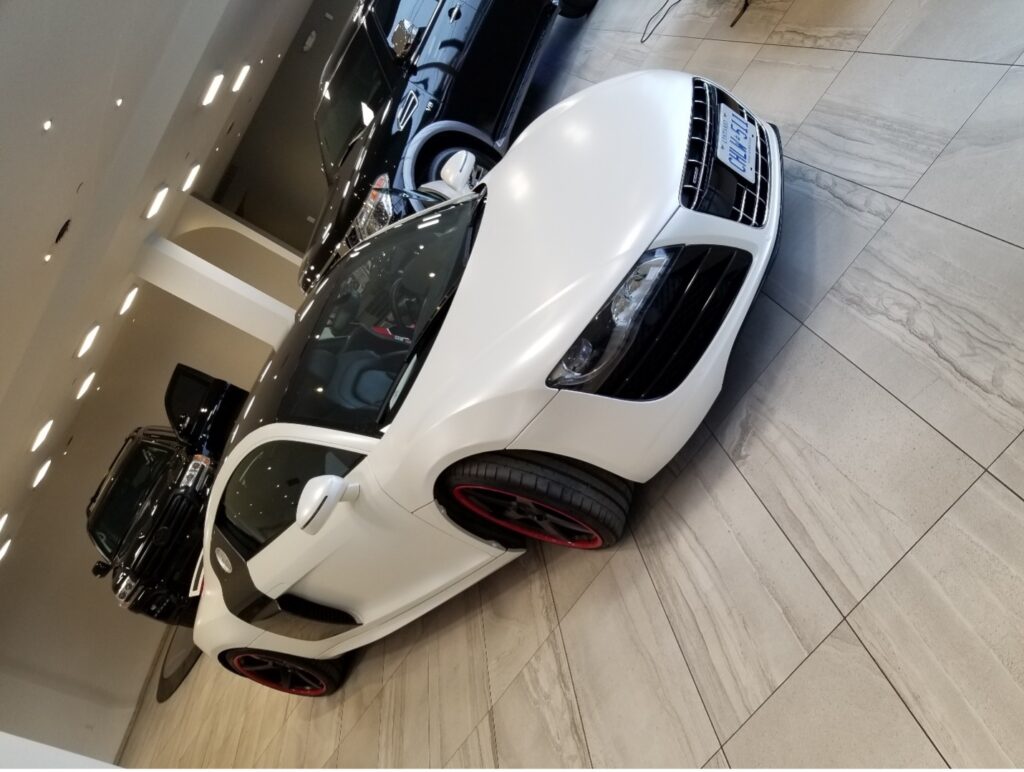 Latest Trends
Car owners like you are looking for ways to make their vehicles stand out. Whether you prefer the powerful iridescent sparkle or the elegant chrome shine, there are plenty of options to choose from. We've reviewed the trends in vinyl car wrapping in Canada and curated a list of the most popular styles.
Iridescent wrap
The iridescent wrap has a sparkly finish with colors that shift when seen from different angles. It is available in different colors so that you can choose the right fit for your taste. Overall, the iridescent wrap is a bold choice that will make your car stand out and turn heads.
Chrome vinyl
This style boasts a quality polished chrome with a reflective surface, delivering a luxurious high-end look and feel. The chrome vinyl wrap has a shiny mirror-like finish that makes a remarkable statement. The wrap is available in different colors, so you don't have to limit yourself when creating the perfect car look.
Itasha wrap
The Itasha wrap will cover your car with your favorite video game, manga, or anime characters. The wrap comes with high-quality graphics and colors, making it easy for you to create your Itasha car.
Camo wrap
The camo wrap will cover your car with a visually appealing camouflage pattern. The pattern is available in various colors, and you can choose whether you prefer a full wrap or a partial wrap to achieve the desired look.
Matte finish
Even though it looks flat, the specific finish has its advantages. While a matte wrap lacks sparkle and shine, this sleek and elegant option will highlight the car's body to accentuate its curves and contours. The matte finish guarantees a distinctive look.
Satin finish
The satin wrap is somewhere between a glossy finish and a matte finish. The difference between a glossy and a satin wrap is that you can't see the reflections of objects on the satin surface. If you like the matte look but think it's too flat, satin will deliver the same vibe with an added touch of shine. Overall, it is a sleek and sophisticated option for customizing your vehicle.
Chrome delete
A chrome delete wrap will conceal the chrome trim on your car. If you think that the chrome trim is outdated and prefer a modern aesthetic, the chrome delete will help you cover it. In addition, it will protect the chrome trim on windows, grilles, and elsewhere from scratches and deterioration.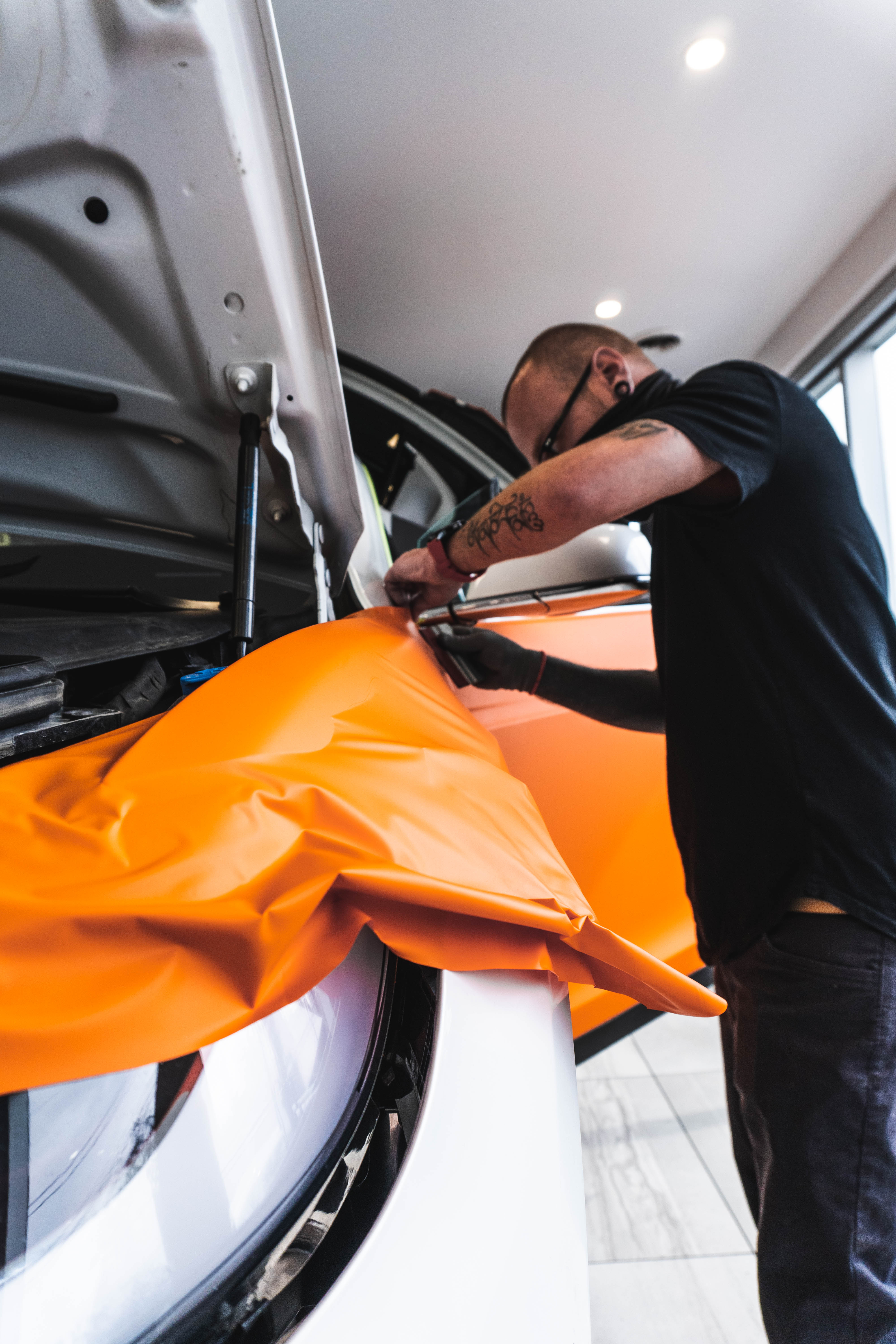 Why Do People Wrap Their Cars?
Paint protection
After a while, your car's paint won't appear as shiny and spotless as it looked before. One of the best advantages of a car vinyl wrap is that it adds a thin vinyl layer to protect your car's surface from direct exposure to sun rays, scratches, rust, and debris. This means less expensive visits to the mechanic. In addition, the spotless surface paint will increase your car's resale value if you plan to sell it.
Outstanding look
You might be tired of your car's appearance but don't have the budget to cover expensive updates. Car wraps provide a cost-efficient solution for updating your car's look to match your preferences. A vinyl wrap offers endless possibilities regarding styles and patterns, so you have plenty of freedom to express your personality. Once you feel like the design is dated, you can update it again with a vinyl wrap.
Commercial usages
Vinyl wrapping is a popular choice when it comes to branding your commercial vehicles. Your provider can create a custom-designed wrap with your logo, website, and company name. You have complete freedom in choosing colors and designs to match your brand identity and aesthetic.
Do You Have To Wrap The Entire Car?
You are not limited to a full-body car wrap. Vehicle owners can choose to either wrap the entire car body or only accent a few key spots. You have the complete freedom to choose how much of the surface you want to cover and which areas.
Full: A full car wrap covers the entire body of the vehicle, along with the bumpers. It provides full-body protection of the paint, and it can also be used to completely change the colour of your entire car. This type of vinyl wrap can also include window graphics for full coverage, which is a common choice when branding company vehicles. The window covers can be made of solid or perforated vinyl to meet your needs.
Partial: The advantage of a partial car wrap is that it can be just as effective as a full wrap, but at a much lower cost. Partial wraps can be used to either create accents by adding different colour sections for a unique design, or they can be used only in highly damage-prone areas to protect your car's surface. When used for protection only, you can create a seamless transition by choosing a wrap that matches the original colour of your car.
Hood: Hood wraps protect the hood of your car while creating a unique look. People often complement their hood wrap with accent wraps across different sections of their vehicles in order to create a more distinct design.
Roof: A roof wrap is one of the most common choices for car wrapping. This popular choice adds a unique style to your car and gives a bold touch of personality to your car's look.
----
Car wrapping is an excellent option to alter your car's appearance and protect your paint from damage. With so many different finishes available, you can find the right fit for your requirements and style.
This article is brought to you by INKAS Design, the leading Toronto car detailing shop.