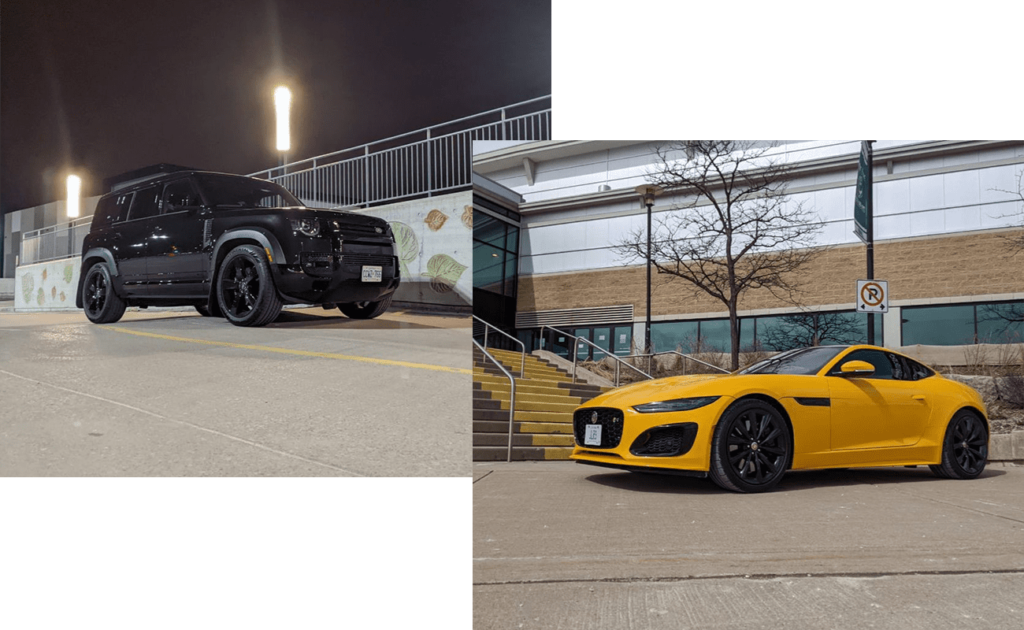 Jaguar Land Rover has made it clear: the transition from connecting rods to battery packs is well underway and by 2025 the entire lineup of these two respective brands will be electrified. Before that happens, we decided to gorge ourselves at the buffet of supercharged horsepower, graciously catered by the two brand's ubiquitous yet fearsome 5.0 litre V8, known internally as the AJ-V8 Gen III. This burly powerplant made its debut in 1996 and has evolved over the years into the powerhouse it is today. It has always been a sweetheart; smooth, potent and eager to serenade drivers and nearby pedestrians alike with its baritone soundtrack, supercharger shriek and cackling exhaust. Before this engine is committed to the annals of internal combustion history, we decided it would be prudent to sample it in as many guises as possible.
Our recent review of the Jag F Pace SVR is the middle child here, its version of the AJ eight banger making horsepower and torque figures that neatly split the difference between the two vehicles you see here, Land Rover's new Defender 110 V8 and the somewhat bonkers Jaguar F Type 575. The only loser here are those who worship at the altar of petroleum power: as unabashed devotees of pistons and gasoline, the next time we talk about these two we'll be comparing battery kilowatt hours instead of horsepower. That's not to say the future is shaping up to be a dystopian wasteland for enthusiasts- cars like the Porsche Taycan Turbo S have proven that is not the case- but this point in time we find ourselves at now marks the biggest change in the history of motoring since Model T Fords began rolling off assembly lines in 1908.
Land Rover Defender 110 V8
A few months ago we had our first encounter with the new Defender, and despite its not terribly efficient or powerful turbocharged four cylinder engine we came away mightily impressed. Since so many things in life are made better simply by adding horsepower, we were very eager to try the Defender recipe kicked up many notches by a 518 horsepower 5.0 V8. With such solid fundamentals that the Defender is blessed with, surely adding 222 horsepower would make for an even more enjoyable experience.
Things get off to an encouraging start as saunter up to the top dog Defender. With every exterior surface painted in Santorini Black, our tester exuded a menace that Darth Vader would be proud of. So that all who encounter this beast know what they're clapping eyes on, there are a few subtle clues that speak to the brawn under the hood. Huge 22" inch wheels framing much larger brake hardware and calipers, quad exhaust tips at the back and small 'V8' badges mounted low on the front doors are much more discreet than the bellowing start up noises this thing makes when you fire it up. Lowkey hints notwithstanding, this SUV overflows with charisma and before we even turn a wheel we find ourselves falling for its delicious overkill factor.
Despite the basso profundo noises it makes when you thumb the start button, the Defender's soundtrack is more muted than the hopped-up Jags with similar AJ power mostly because it lacks the Loud button which opens up baffles within the exhaust system for increased volume. It does, however, have a Dynamic Mode drive setting like its sportier cousins, the first time we've seen that on a Land Rover model. Activating it does not make the Defender feel edgy and frenetic but does sharpen things up appreciably. It also features paddle shifters on the steering wheel, something lesser Defenders don't get. It also has an Eco mode (cute!) which we never used and even if it is activated it won't challenge a Prius for frugality, especially when you consider the aerodynamic deficiencies and hefty curb weight in play here.
The numbers on the scales allude to the robust construction of the Defender which pays dividends in rock solid solidity. The interior is free of squeaks and rattles and even the worst of spring potholes do little to upsets that Landie's composure. Another positive offshoot of such a resolute structure is that the air suspension is calibrated with that in mind so it can do its thing rather than compensate for a wishy-washy chassis, all of which makes for a surprisingly comfortable ride.
The Defender is no sports car, but you will be surprised at how obediently it responds to your inputs. The steering doesn't offer much in the way of feel but is pleasingly accurate, and the brakes scrub off speed with no drama. Similarly, throttle tip in is perfectly judged which is good news for those worried that such a powerful engine would overwhelm the driving experience allowing the driver to dispatch as much or as little of the V8's fury depending on the situation.
This polished on-road behaviour got us thinking about the bandwidth the Defender offers, mostly because this SUV was designed primarily as an off-road conveyance. It has all the heavy-duty running gear and hardware needed to take it far off the grid and make certain that Land Rover's legacy as a constructor of the best off pavement vehicles endures. We did not have the chance to subject our tester to any bushwhacking whatsoever- neither will most of its owners anyhow- but knowing how capable it is in the right hands is eminently satisfying. Its two main competitors are the Jeep Wrangler 392 and Mercedes Benz G63, but the former is an unpleasant handful on the street and the latter would not be able to hang with the Defender while out on the trails, and neither of them are as enjoyable to use in everyday situations where the Defender happily excels.
It didn't take long for us to fall under the Defender V8 spell over a week of driving. This is one of the rare times where something we flog really gets under the skin and causes longing glances over the shoulder after parking it for the day. But all is not perfect in Defender-Land and we encountered some things that elicited grumbles of discontent. The first issue we faced was the V8's incredible thirst, but only so much of that is the Defender's fault- we could not resist giving it generous helpings of throttle to hear the supercharger sing its siren song. We thought the seats were less comfortable than we remembered, and the squiggly lines in the windscreen for the defroster once again could not be unseen. We continue to sing the praises of the much improved Pivi Pro infotainment system, but for some reason the Bluetooth connectivity didn't work as well as it has in the past making for more than a few cuss words uttered in its direction. Just as we would get ready to throw our phones in disgust, we would give the throttle a hearty press and all would be forgotten.
We have no doubt that one day in the not-too-distant future, we'll find ourselves behind the wheel of a Defender that has traded its thirst for gasoline for electrons. If Land Rover sticks to the formula that makes these SUVs as good on tarmac as they are off, we have no doubt that it will be great to drive. Call us cynical and old fashioned, but some of the appeal of piloting such a rip snorting, V8-powererd delight will fall by the wayside. Get yours while you can, folks.
2022 Land Rover Defender 110 V8– Specifications
Price as tested: $134,745
Body Type: 4-door, 5 passenger SUV
Powertrain Layout: Front engine/four-wheel drive
Engine: 5.0-litre Supercharged V8, DOHC, 32 valves
Horsepower: 518 @ 6,500 rpm
Torque (lb-ft.): 461 @ 2,500 rpm
Transmission: 8-speed automatic
Curb weight: 2,678 kg (5,904 lbs)
Observed Fuel Economy: 19.2L/100km (12 mpg)
---
Jaguar F Type R P575 AWD
A quick glance through the Carpages Garage archives will validate what we understand to be universal truths around these parts; that we have driven the F Type and its varying flavours many times over the years, and that this is a very rewarding sports car to drive. Over those years it has not changed much- didn't need to, really. Although the lighting motifs front and back have gotten squinty-er and there's a digital instrument panel instead of analogue gauges, this is pretty much the same F Type that wowed the auto show attending faithful 8 years ago. Not to worry; the sensual styling punctuated by those oh-so swollen hips endure and still looks great today.
Flattering the Jag's physical attributes is its SVO Yellow paintjob. You'd be hard pressed to find a colour that doesn't flatter the F Type's looks but slathered in a hue that can be seen with your eyes closed is in keeping with the drama this car invokes whether it's parked or scything through a sea of boring crossovers. We admit to a highly pedantic and borderline irrelevant complaint with respect to the oversized black brake calipers peering out behind the black wheels. They're reasonably cool and look fine, but we got the feeling it is a missed opportunity to have them finished in a contrasting colour- red would work rather nicely in our estimation- but we think this won't bother most F Type drivers and nearby motorists won't get to dwell on it much because it is the car's rump that they will end up seeing the majority of the time.
Helping to achieve that vantage point is- you guessed it- JLR's supercharged 5.0 litre V8. Under is unique clamshell hood is where you'll find the AJ-V8 at its spiciest, making a potent 575 horsepower and 516 pounds feet of torque. Although it lacks the exceptionally cool titanium and Inconel blended exhaust system found on the old SVR model, this kitty is eager to get all kinds of feral on you when the throttle is given a hearty nudge. In Dynamic mode while cruising the highway we never tired of doing just that and revelled in the gut punch of acceleration that followed. It feels every bit as fast as the SVR but toned down just enough so that your neighbours won't think your street is being peppered by mortar fire when you leave and arrive home from work. Decibel fans, fear not…it is still very, very loud. All-wheel drive is standard so that the torrent of supercharged power always makes it to the tarmac.
Tons of horsepower and AWD helping channel it to the ground make for a car that goes very fast in a straight line. But this is a sports car, and so it needs to rise to the occasion when the road meanders left and right too. Minor chassis upgrades are small but meaningful- the F Type gets new springs, dampers and anti-roll bars. Ride quality is a smidge better over the goat paths that we call roads around these parts than in the past, but steering feel is noticeably better and more precise than before. Throw the F Type into a corner and lateral acceleration north of 1g is yours to consistently enjoy. The lithe Jag could never be described as lazy where handling is concerned, but the upgraded hardware does offer a palpable gain in responsiveness.
Because the basic F Type recipe remains mostly unchanged, so too do some of the nits we've spent the last several years picking. The interior will send a shiver of anxiety through those who are even mildly claustrophobic, and on-board storage and cargo space is pitifully low so make sure that weekend Airbnb rental has laundry facilities because you won't be packing very much. The last gripe we have revolves around the infotainment system. The F Type still uses the last generation screen and interface which serve as a reminder of how inept they used to be, since the Defender V8 has the brand new Privi Pro system, a massive improvement. If the F Type sticks with us for another few years- or, hopefully, through another generation- we have no doubt that this omission will be rectified.
These complaints don't seem to resonate with us as much seeing as driving this sports car powered by one of the great internal combustion V8s feels like a finale of sorts. If Jaguar's mandated timeline is to be believed, it's only a window of three short years until they trade superchargers for supercharging. The ferocious F Type will be remembered as the last great sports car from Coventry and the epic 5.0 litre V8 and its chuffing supercharger will echo through the halls of automotive history. There's a robust level of choice that exists for sports cars at the F Type's price point and you can't go wrong with any of them. Yet none of the Jag's competition have the beguiling combination of knee weakening styling and an intoxicating, supercharged eight-cylinder heart. Before the sun sets for the last time on this incredible engine, perhaps its time you thought about preserving its legacy for years to come by putting one in your garage.
2022 Jaguar F Type R P575 AWD– Specifications
Price as tested: $136,760
Body Type: 2-door, 2 passenger Coupe
Powertrain Layout: Front engine/all-wheel drive
Engine: 5.0-litre Supercharged V8, DOHC, 32 valves
Horsepower: 575 @ 6,500 rpm
Torque (lb-ft.): 516 @ 3,500 rpm
Transmission: 8-speed automatic
Curb weight: 1,862 kg (4,105 lbs)
Observed Fuel Economy: 13.8L/100km (17 mpg)