If you are a student looking for a car, and if you are living on a budget, factors such as fuel economy, reliability, and low maintenance costs are probably important to you. Beyond the money-saving basics, you might be searching for something with style, especially if you plan to use the car for some time after graduation to attend interviews.
You may also have preferences over the size of the car concerning the distances involved. For example, if you live in the city, you may prefer a compact car that's easy to manoeuvre, whereas out of town travel might mean you prefer a more comfortable and spacious interior.
In this guide, we're going to cover the top 13 best cars for students, looking at ticket price, fuel efficiency, and more.
What to Consider When Buying A Student-Friendly Car
Many used vehicles have a low ticket price and a low cost of ownership, making them an attractive prospect for college students. However, while the car's price tag and fuel economy are going to have an impact on whether the vehicle is a financially viable option, there are other considerations that you should bear in mind before deciding on which student car is right for you.
Insurance Costs
Insurance costs should be a priority, especially if you're looking for affordable cars for students in-line with researching how to buy your first car. This is because insurance costs are the biggest expense outside of buying the car - whether you're asking parents or guardians to pick up the bill or whether you'll be paying your own insurance, you'll want to keep costs down.
Insurance premiums are based on a range of factors. For example, inefficient models requiring frequent repairs will likely cost more to insure than reliable models with high safety ratings and low anticipated maintenance costs. Choosing a vehicle based on these factors could help you to save money on insurance.
Efficiency Ratings
A car's efficiency rating refers to the overall effectiveness of turning fuel into energy. This is important to students because the higher the efficiency rating the lower the cost at the gas pump.
You can tell higher ratings from lower ratings by looking at the fuel economy - this is the number of litres needed to move the car 100 km. Generally, cars with a fuel economy of around 10L / 100 km have a good fuel economy, and anything under 5L / 100 km is considered excellent.
Financing Options
If you are a student on a budget, you may not be able to afford the sticker price (or even the typical 10% - 20% down payment) on a new car. Instead, you need financing options on a used car. Try to put down as much cash as possible, as the loan for the remainder of the vehicle's cost will be spread out over several years, gathering interest. The more you pay now, the less interest you will pay later.
Safety Features and Ratings
New cars with new safety features enter the market every year. For example, lane drift detection technology and advanced emergency braking systems are two examples of safety features that save lives. These features are typically available on newer models and can seem out of your price range as a student on a budget.
However, over months and years, these features permeate through to the used car market, meaning you can benefit by shopping around for the best safety features and ratings at budget-friendly prices.
Parking Availability and Costs
While parking availability and the costs of parking cannot be directly influenced by your choice of car, there are two things to keep in mind. First, if university parking is scarce, you may want to consider a more compact model that will allow you to park in small spaces. Second, driving around looking for parking uses more fuel. This means that you should consider the fuel economy of any student car where finding convenient parking is going to be a regular issue.
Let's take The University of Toronto, for example, Canada's top university. More than 60,000 college students are enrolled, meaning student parking can fill up fast. Parking in Toronto starts at $2 - $4 per half-hour in downtown areas. Students who struggle to find free parking may consider the cars that can save on gas with some of the cheapest commuter cars on the market to keep costs down.
Maneuverability and Size
If you attend a city-based campus, the congested roads and tight parking mean you will likely benefit from driving a smaller vehicle such as a compact sedan or hatchback. Although larger vehicles may cope better in snowy conditions, the weather shouldn't affect city driving conditions too much, meaning the weather shouldn't be a concern. However, if you attend a rural campus, and if you take exposed roads to get there, you may wish to consider a slightly larger and heavier vehicle (such as a larger sedan, crossover, or SUV) that can handle the more arduous winter road conditions.
Best Cars for Students
The following list comprises the top 13 best cars for students. Factors such as fuel economy and the original ticket price (known as the manufacturer suggested retail price, or MSRP) have been taken into account to give you an idea of each car's running costs and the maximum amount you could expect to pay (used car prices will be cheaper).
Ford Fiesta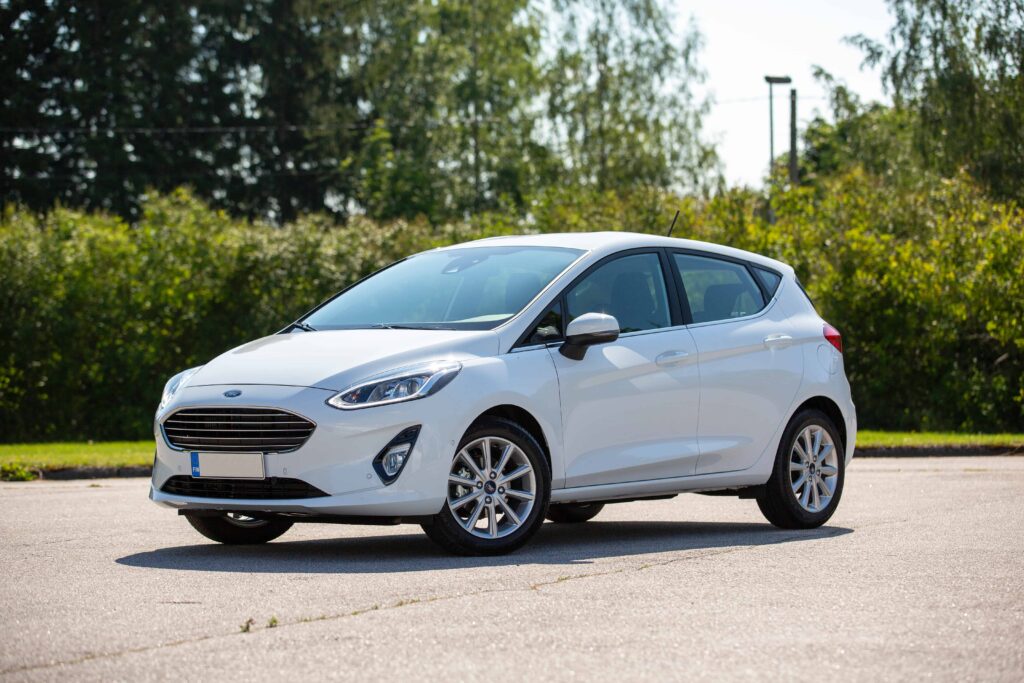 Manufacturer Suggested Retail Price (MSRP): $16,763 to $26,458
Fuel Economy: City - 8.6 L/100 km (Hwy - 6.4 L/100 km)
The Ford Fiesta was launched in 1976 with the rollout of the widely available Fiesta Mk 7 coming in 2008, which remains perhaps the most popular Ford on the used car market (also making it one of the easiest to find used cars for college students). The Fiesta's short length and narrow-body mean this car can squeeze into tight parking spaces, ideal for urban student living.
Over the years, Fiesta's have come equipped with a range of extras (e.g. sunroof, sound systems, etc.), meaning you could benefit from bargain prices on used cars that aren't exactly entry-level. Ford's reliability also means you could stand to benefit from lower insurance premiums.
Ford Mustang
Manufacturer Suggested Retail Price (MSRP): $31,080 to $52,305
Fuel Economy: City - 11.2 L/100 km (Hwy - 7.3 L/100 km)
Known as a 'pony car' thanks to the distinctive badge, the Ford Mustang may not be the first thing that springs to mind when you think about used cars for college students. However, the classic look and sound of the Ford Mustang give this car a sociable appeal, making it one of the most sought-after student cars.
The large trunk offers extra space, meaning you can easily transport sports equipment, tech gear, or other college materials. Overall, the Ford Mustang is relatively cheap to maintain and comes with a high degree of reliability (helping to keep down the cost of ownership).
Mazda 3
Manufacturer Suggested Retail Price (MSRP): $18,000 to $30,400
Fuel Economy: City - 8.5 L/100 km (Hwy - 6.2 L/100 km)
The original Mazda 3 launched in 2013 and was given a significant facelift in 2016. The car's sleek looks, spacious interior, and five-door access translate into a stylish ride ideal for active lifestyles. You can now benefit from second-hand prices on these reliable and fuel-efficient used cars for college.
Average maintenance costs are also generally low. For example, in contrast to the usual two-to-three-year expected lifespan of exhaust systems and heat shields, the exhaust and heat systems on the Mazda 3 typically need to be maintained every five years (or 83,340 kilometres).
Honda Civic
Manufacturer Suggested Retail Price (MSRP): $17,890 to $29,090
Fuel Economy: City - 7.8 L/100 km (Hwy - 6.2 L/100 km)
The first-generation Honda Civic was launched in 1972 and has since seen ten generations enter the market (the tenth generation was released in 2015). More recent models include features such as climate control, 4x electric windows, and central locking.
The Civic has great fuel economy and is easy to handle, representing an excellent all-around urban car - the compact size of the Civic also means that you can squeeze this iconic car into tricky parking spaces. All of this means the Civic is one of the best known front-wheel-drive cars for college students.
Honda CR-V
Manufacturer Suggested Retail Price (MSRP): $27,690 to $39,090
Fuel Economy: City - 8.4 L/100 km (Hwy - 7 L/100 km)
The Honda CR-V is one of Canada's most popular and best-selling crossovers. Since its introduction in 1997, over half a million Honda CR-Vs have been sold, with five generations (and other upgrades) entering the market to date. Auto high beam and rear cross-traffic monitors are two features included on many models, making used Honda CR-Vs a feature-rich bargain for college students.
The CR-V's excellent fuel economy and spacious interior mean you can benefit from a budget-friendly student car with room to spare. The crossover design also means you can still park in tight spaces with relative ease.
Honda Fit
Manufacturer Suggested Retail Price (MSRP): $15,590 to $24,490
Fuel Economy: City - 8.1 L/100 km (Hwy - 6.6 L/100 km)
The Honda Fit debuted in 2001 as an affordable space-saving hatchback. The Fit's low ticket price and more than adequate fuel economy provide one of the cheapest used car options for college students. Also, despite its small size, the Fit offers a practical and relatively high volume of rear cargo space.
The Honda Fit is a straightforward small car that can help you to minimize purchase costs, running costs, and maintenance costs. The car also receives good reliability ratings.
Note: the five-door subcompact Honda Fit hatchback is also marketed as the Honda Jazz.
Toyota Prius
Manufacturer Suggested Retail Price (MSRP): $28,550 to $35,250
Fuel Economy: City - 4.4 L/100 km (Hwy - 4.6 L/100 km)
The Toyota Prius is arguably the world's most well-known front-wheel-drive self-charging car, running on a gasoline-electric engine. The hybrid engine means that students can expect a fuel-efficient ratio of 4 - 5 L per 100km, ideal for limited budgets.
The original Prius entered the market in 1997 and has since been through five generations. This means that the second-hand market for the Toyota Prius is well-stocked with over two decades of ideal pre-owned cars for college students - although the MSRP may be slightly higher than other options, you should be able to locate budget-friendly used options with ease.
Toyota Yaris
Manufacturer Suggested Retail Price (MSRP): $16,790 to $19,450
Fuel Economy: City - 7.3 L/100 km (Hwy - 5.8 L/100 km)
The Toyota Yaris launched in 1999. The idea was to embody everything Toyota had learned about efficient subcompact vehicles. Now in its third generation of lightweight affordable hatchbacks, the Toyota Yaris has become a student car staple.
Offering a mixture of iconic style, fuel efficiency, and a tight turning circle of just 9.1 metres, the Yaris is a subcompact urban car on which you can rely.
Always test drive subcompact vehicles such as the Toyota Yaris to ensure the narrower front seats meet with your desired comfort level.
Hyundai Elantra
Manufacturer Suggested Retail Price (MSRP): $17,149 to $27,599
Fuel Economy: City - 9.1 L/100 km (Hwy - 6.3 L/100 km)
The Hyundai Elantra was launched in 1990. Following a first round of facelifts in 1998/1999 and a second-round in 2003, the Elantra is now in its third generation - even basic models now come with air-con as standard.
Straddling the design boundaries of hatchback and sedan, the Elantra has a mature exterior suited to those who prefer a more professional look.
With three decades of used car options on the market, you can expect to pay rock bottom best prices for pre-owned Elantras.
Volkswagen Jetta
Manufacturer Suggested Retail Price (MSRP): $21,245 to $33,345
Fuel Economy: Overall average of 4.6 L/100km
The Volkswagen Jetta entered the market in 1979. The Jetta has since been through no fewer than seven generations, meaning you can benefit from low-cost pre-owned options that boast a large capacity and increased driver space.
The Volkswagen Jetta sedan may be larger than some other urban compacts typically preferred by college students but the low fuel consumption nevertheless makes this an ideal low-cost student car.
Scion xB
Manufacturer Suggested Retail Price (MSRP): starting at $18,270
Fuel Economy: City - 9.5 L/100 km (Hwy - 7.2 L/100 km)
The Scion xB arrived in Canada in 2010. This five-door hatchback has a boxy appearance, delivering optimum storage space and high visibility.
The Scion xB has a relatively low asking price on the second hand used car market and is perhaps ideal for college students who lead active lifestyles and need extra cargo space. Standard features include air-con, tilt-telescoping steering, Bluetooth, and cruise control, making the Scion xB one of the most feature-packed best student cars.
Chevrolet Sonic
Manufacturer Suggested Retail Price (MSRP): $18,195 to $22,195
Fuel Economy: City - 9.2 L/100 km (Hwy - 6.8 L/100 km)
Since its launch in 2002, the Chevrolet Sonic has been rolled out to 120 countries under seven different brands. The market for students' cars has taken note and for good reason.
Coming in either a four-door sedan or a five-door hatchback, the Chevrolet Sonic delivers a rich list of appealing entry-level standard features such as airbags and Bluetooth. You may also find used Sonic's with 7-inch touchscreens and impressive LED headlights, making the fuel-efficient Sonic a slightly more exciting student option.
Kia Rio
Manufacturer Suggested Retail Price (MSRP): $14,845 to $23,795
Fuel Economy: City - 8.3 L/100 km (Hwy - 6.4 L/100 km)
The Kia Rio was launched in 1999. Known for its fun drivability and innovative fuel-efficiency, the Kia Rio has become a favoured urban vehicle. Now in its fourth generation, newer versions of this responsive car offer students an increased loading capacity. The Kia Rio also provides a high fuel efficiency rating that makes it one of the best affordable cars for college students.