Buying a pre-owned Audi is a great way to enjoy a luxury ride at an affordable price. When choosing a used car, many people opt for brands like Honda and Toyota instead because of their affordability and how long-lasting they are. However, it's absolutely possible to get a gently used Audi that runs well, all at a great cost.
Audis come in many different types: the Audi A4s is the flagship model, the car that put the brand on the map. It's what helped them compete against other luxury vehicles such as Mercedes and BMW.
There are many other Audi models like the A4. Engineered by the Germans, who are known for their excellence, you can be assured that these vehicles are well made. In this guide, we'll outline Audi's models and include any necessary details you need to know when buying used. We'll review the following:
What you should know before buying a used Audi
The pros and cons of purchasing a pre-owned Audi
Common problems with used Audi cars
Five reasons to buy a used Audi
Ready? Let's get into it.  
Audi Cars 101
Audi is a German automobile manufacturer that creates luxury cars — vehicles that are a step above the rest. Known for their supreme reliability and design, Audis are recognized as a world-renowned top brand.
During Canada's last financial year, 34,352 Audis were sold, which demonstrates just how popular they are, despite their price tag.
There are many Audi models available. They range from smaller, family-sized cars to large, powerful SUVs. Below, you'll find a list of 11 different Audis types to suit your purchasing used.
The Audi A3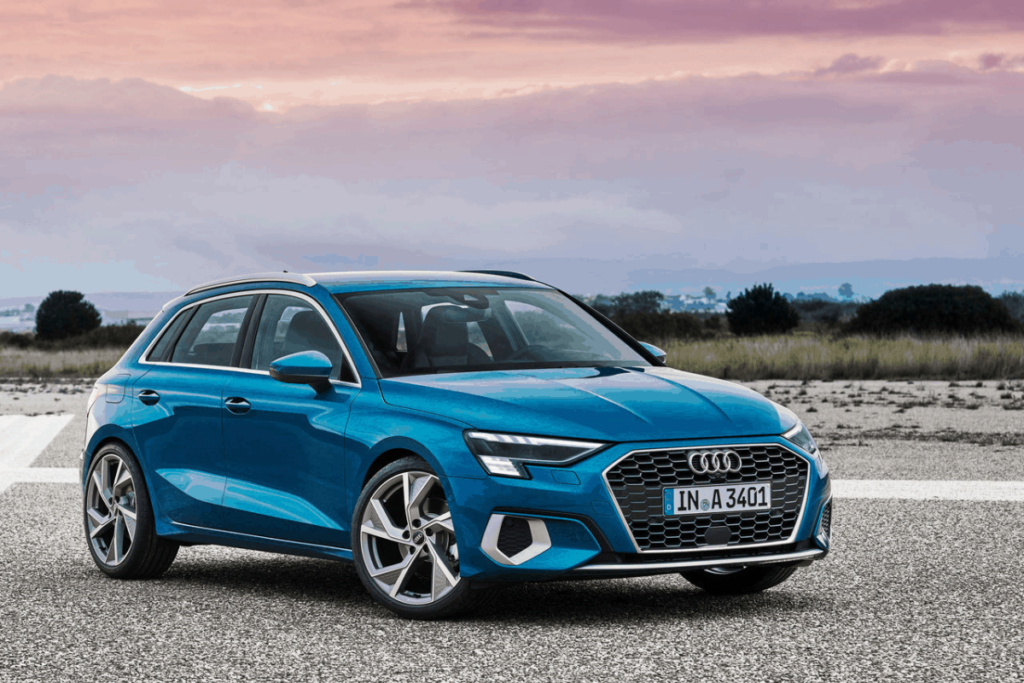 The Audi A3 is a smaller-sized family car that's available as either a sedan or a five-door hatchback. It's exceptionally comfortable for a small car and ideal for those living in the city. It can optionally be outfitted with Quattro AWD, keeping you safe on the roads during wet and windy seasons.
The Audi A4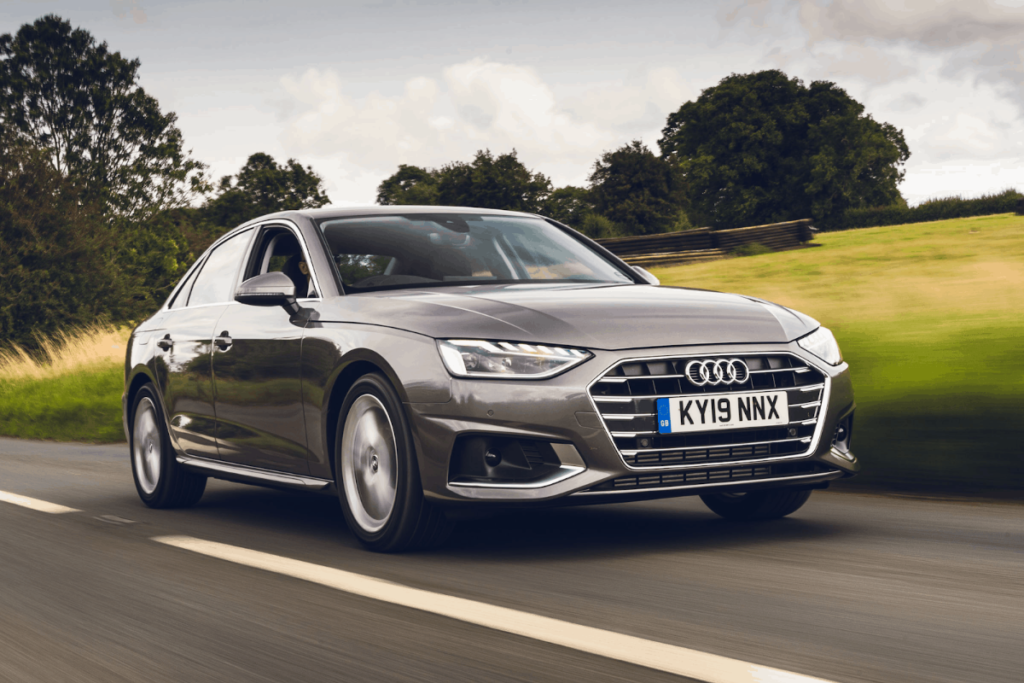 The Audi A4 is a compact executive car that's considered to be the luxury brand's flagship, best-selling model. It comes outfitted with LED running lights and adaptive headlights, available as either a sedan or a station wagon.
The A4 has top safety features such as adaptive cruise control, lane-keeping assist, and a blind-spot monitor. Like other Audi models, it can be outfitted with AWD if needed.
The Audi A5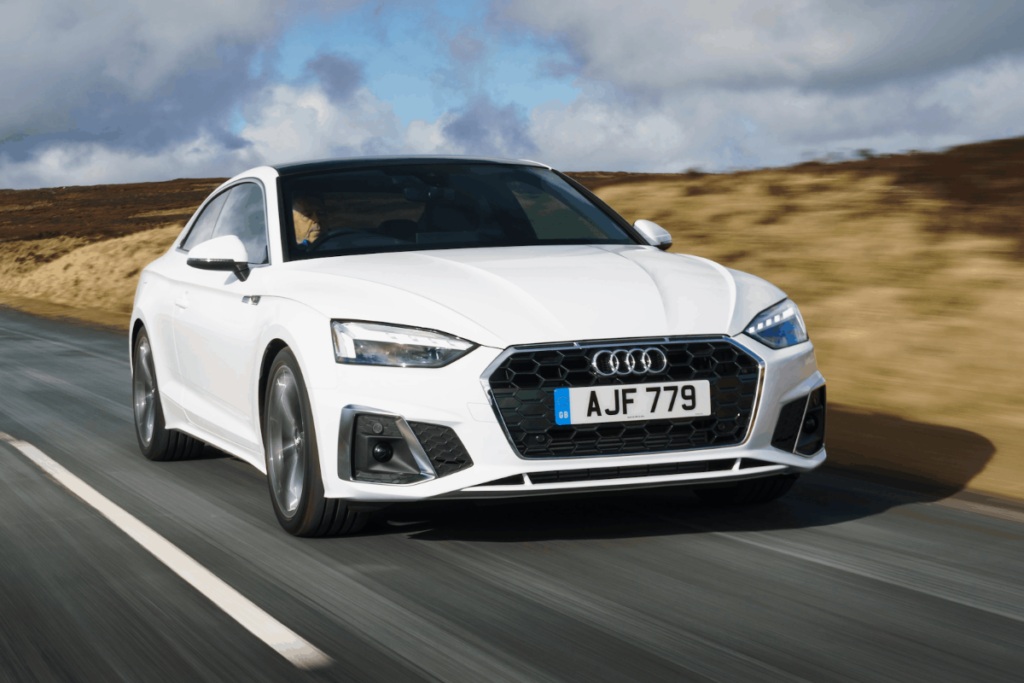 The Audi A5, like the A4, is a compact executive car that comes as either a convertible, hatchback, or coupe. It's a front-engine, front-wheel-drive, but it can be upgraded to Quattro AWD.
With adaptive headlights and LED running lights, the A5 comes as either a 7 or 8 speed automatic or a 6-speed manual. It can also be outfitted with a 505 Watt Bang & Olufsen surround system.
The Audi A6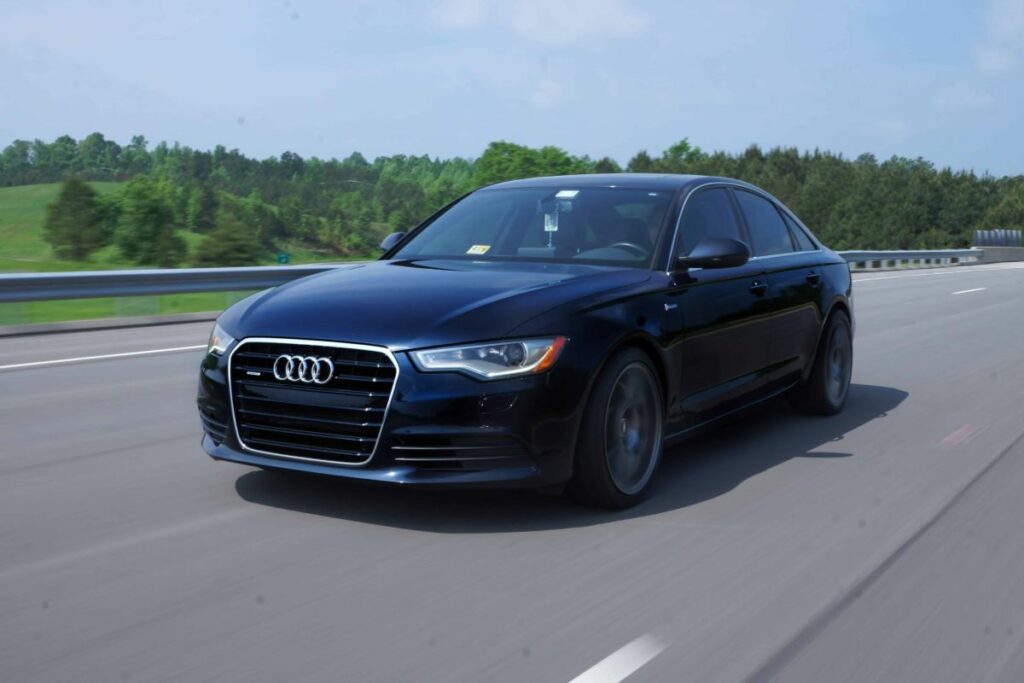 The Audi A6 is an executive car that comes as a medium-sized sedan or a station wagon. With a turbocharged four-cylinder, a TDI diesel, or a V6 supercharged engine, you'll have all the power you need.
This model can come with Quattro AWD, noise cancellation, an advanced sound system, and MMI Navigation Plus.
The Audi A7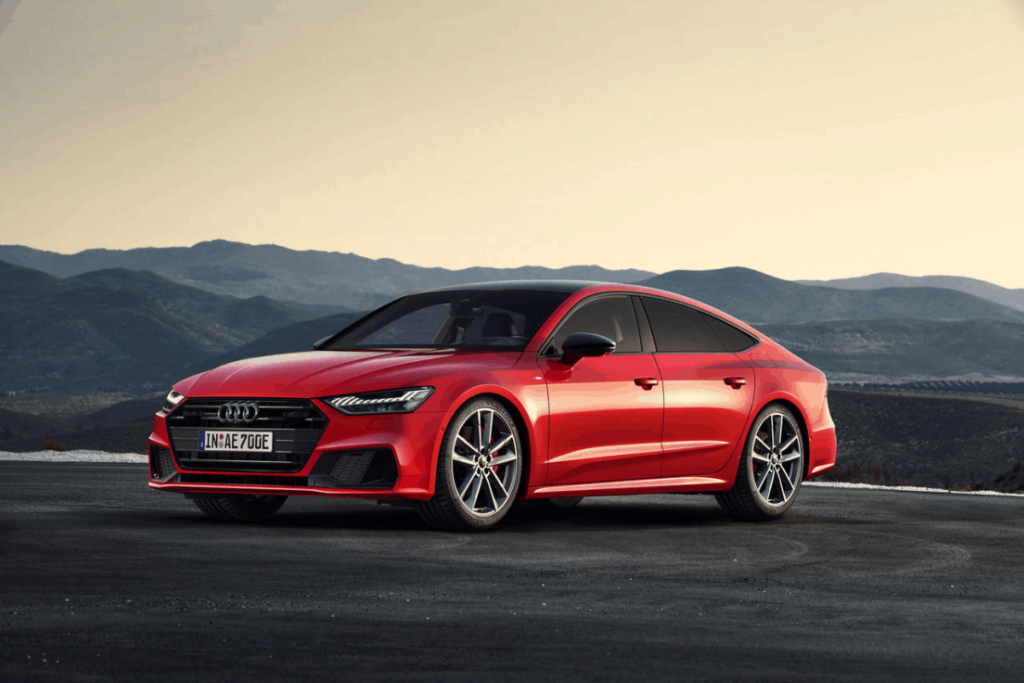 The Audi A7 is a 5-door hatchback with a sloping roofline and a sleek, refined design. The standard engine is a turbocharged V6, so you'll be able to rip around the bends with power. The interior cabin has fantastic ambient lighting and electrically heated front seats.
Like other models, the A7 can be upgraded to Quattro AWD. The transmission is either a 7-speed or 8-speed Tiptronic automatic.
The Audi A8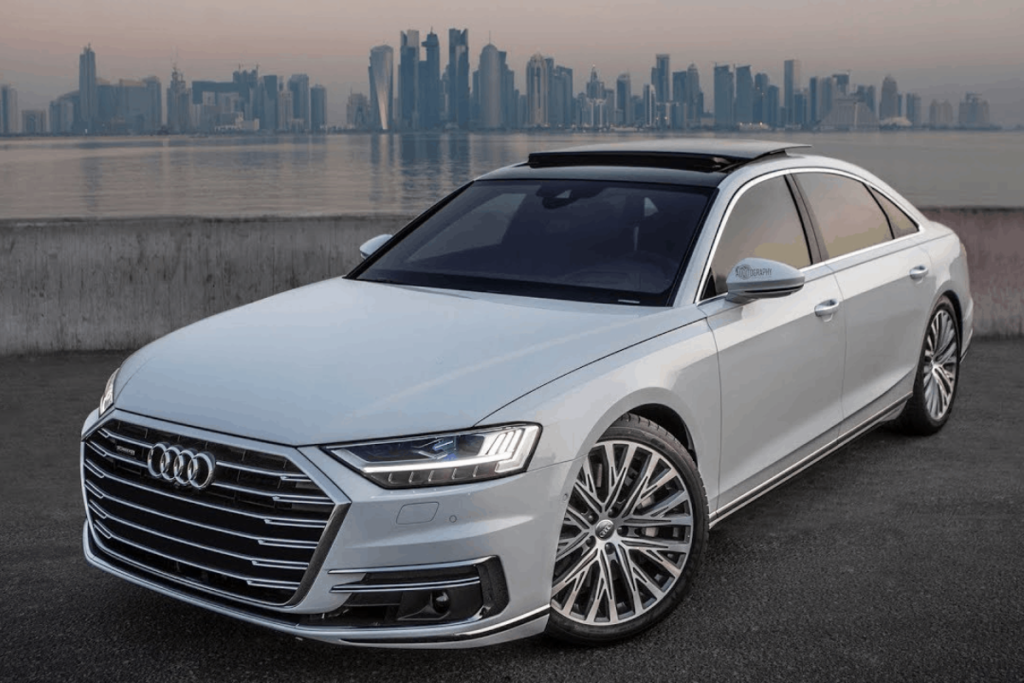 The Audi A8 is a full-size flagship luxury sedan with a powerful V6 engine and an 8-speed automatic transmission. It has a quiet and spacious cabin and impressive passenger space. The cargo space is modest but manageable, making it an excellent choice for many families.
The Audi Q3
The Audi Q3 is a subcompact luxury crossover SUV with a front-mounted engine. It has a dual-clutch automatic gearbox and three Audi drive select system modes: sport, dynamic, and efficiency. The Quattro all-wheel drive is a permanent feature in all Q3 models.
The Audi Q5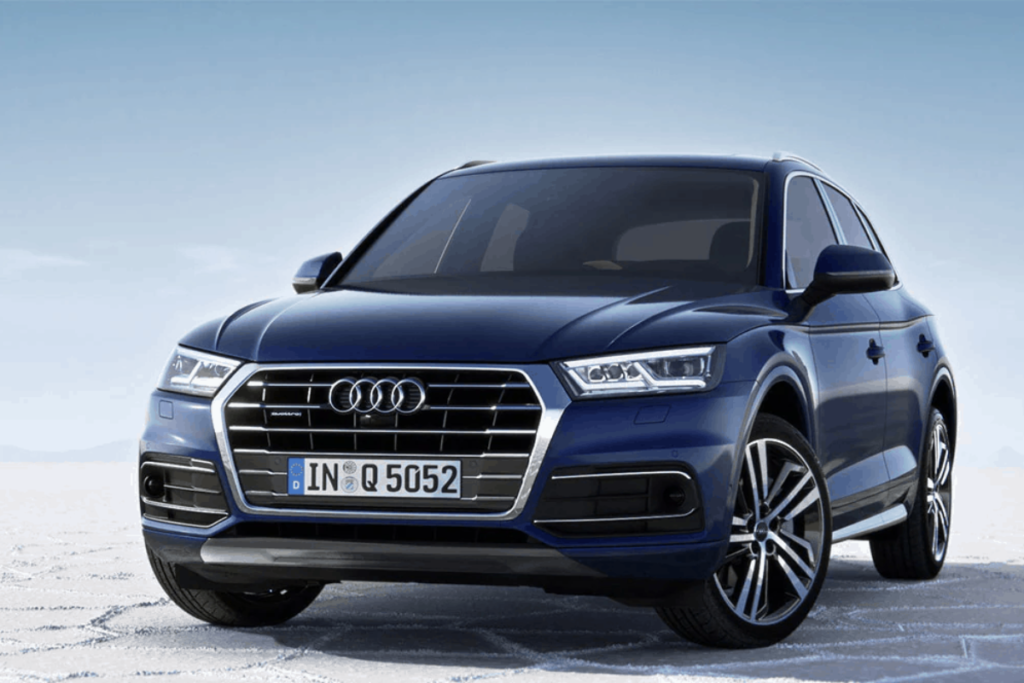 The Audi Q5 is a midsize crossover SUV with a spacious interior. A 6 or 8-speed automatic transmission ensures the engine runs smoothly. It's heavy on technology, looks slick, and has plenty of potential luxury upgrades.
The Audi Q7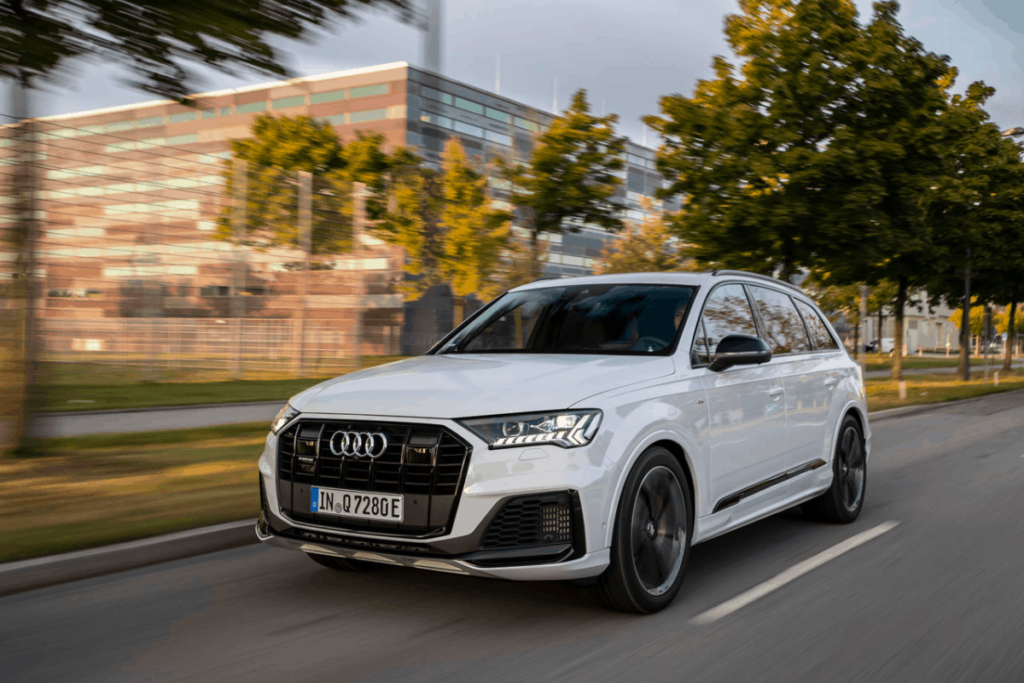 The Audi Q7 is a full-size crossover SUV with standard Quattro AWD, a 4-door body, and a longitudinal layout. The transmission comes as either a 6-speed automatic or an 8-speed AISIN automatic. The ride can be upgraded with a host of extra features.
The Audi TT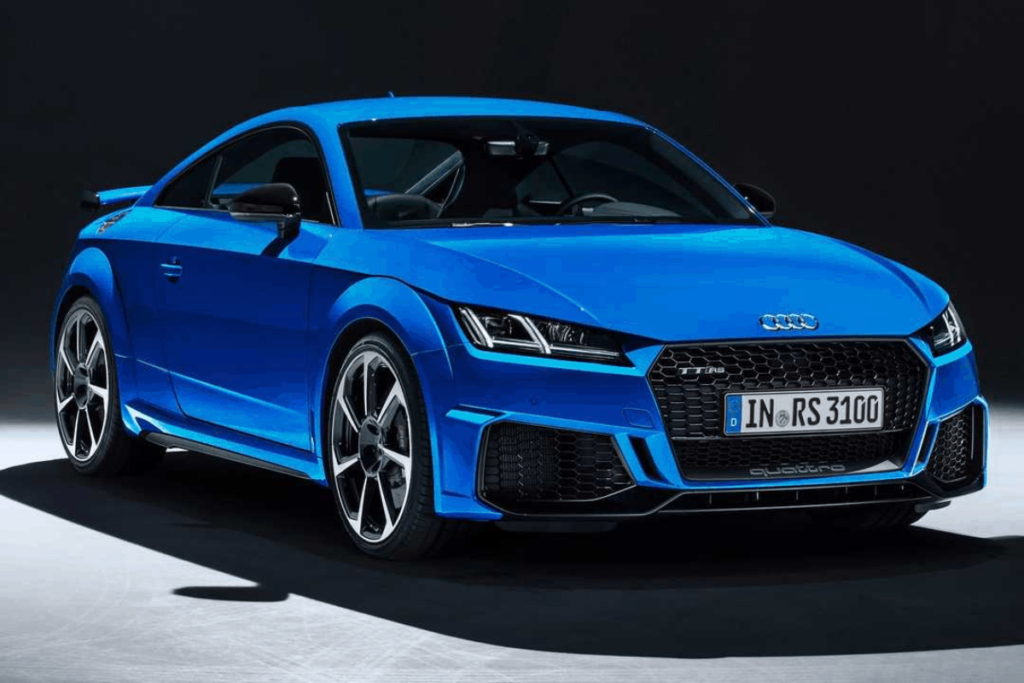 The Audi TT is a compact, 2-door sports car with convertible, coupe, or hatchback options available. The patented Quattro AWD is standard, ensuring maximum traction and control — at all speeds. The transmission comes as either a 6-speed manual or 6-speed automatic.
The Audi R8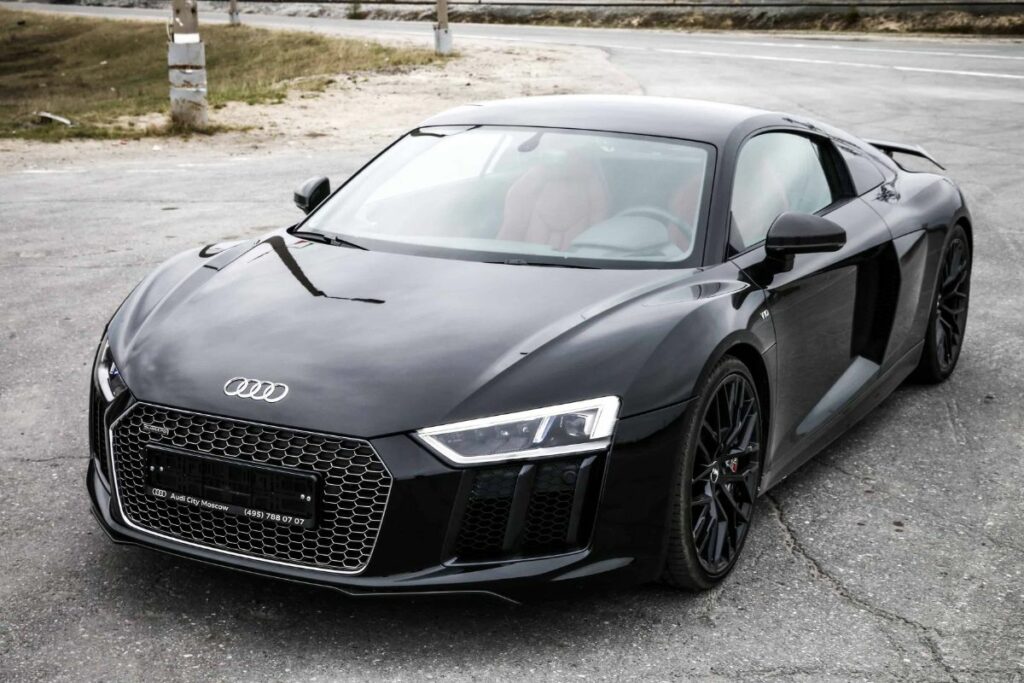 The Audi R8 is a mid-engine sports car with two seats, available in convertible or coupe. Powered by a V8 or V8 engine with Quattro all-wheel drive, you'll burst down the road. The transmission comes as either a 6-speed manual or a 7-speed dual-clutch automatic.
What You Need to Know Before Buying a Pre-Owned Audi
The Audi brand is considered a prestigious and luxury brand, similar to Mercedes and BMW. It is, however, a brand that's affordable, offering supremely crafted, durable, and reliable automobiles to all.
Stacked with top-notch technology and safety features, Audi cars are made to keep you safe and comfortable. The interior and exterior materials are both durable and stylish, ensuring your ride looks good and is built tough.
Audi's handling is slick, smooth, and precise, perfectly responding to your steering wheel maneuvering. Audis are simply a fun and fantastic car to drive, an experience everyone should have.
Even though the cheapest new Audi models are quite costly, a used Audi of an older model is relatively affordable. If you're looking for a luxury ride that won't break the bank, then a used Audi might be the choice for you.
Like any other car brand, Audi comes with its own concerns. Repairs can be costly, but maintenance isn't too bad. If you find a used Audi with solid vehicle history, it might be an opportunity you can't pass up.
When compared to a used Mercedes and BMW, Audi's make for a great option because they have a large range of offerings to choose from. Their affordable pricing makes them a popular choice for those looking to purchase a luxury vehicle at a better price. 
The Benefits of Buying a Pre-Owned Audi
There are many pros to buying a pre-owned Audi. We've listed some of them below.
Pre-Owned Cars Have Significantly Less Depreciation
Unless your car is a classic, it'll likely depreciate in value over time — as soon as you've left the dealership, actually. Unlike houses or businesses, automobiles are primarily known as a "depreciating asset." They lose value when bought new and continue to do so over time.
Buying a used car helps avoid losing money on this initial purchase. When you resell the vehicle, later on, you might be able to come close to breaking even. Its reliability and durability should be assured, given you buy from a legitimate dealer.
A Pre-Owned Audi Is an Affordable Luxury Option
Audi is an excellent option if you're looking for a higher-end, luxury ride at an affordable price. Although you are buying it pre-owned, it may still be nicer — and cheaper — than many new non-luxury automobiles.
Audi vehicles are made with finer quality material like wood interior trim and a sleeker, ergonomic design. The engines are also created for more power output and have superior reliability and lifespan.
Pre-Owned Cars Have Access to Fantastic Dealer Benefits
The great thing about buying a pre-owned car is that you can access dealer benefits. If you purchase an Audi from an official, certified dealership, it will come with a wide array of perks. Some of these include:
24/7 roadside assistance
24-hour customer support service
A potential warranty
Free CARFAX vehicle history report
The Downsides of Buying a Used Audi
This guide wouldn't be fair if we didn't cover the cons of buying a used car. We've listed some common issues below.
Pre-Owned Cars Require More Maintenance
A used car will obviously have more mileage than if it were purchased brand new. The durability and reliability of the automobile will decrease, as wear and tear occur over its lifespan. Naturally, this will mean that the vehicle will require more repairs and maintenance.
However, if you decide to purchase an Audi from a certified dealership, it may come with an extended warranty. The vehicle will also meet a high-quality standard, so you will know you're buying a durable and reliable ride. A CARFAX vehicle history report is also supplied.
Pre-Owned Cars Can Have Minimal Warranty
Depending on where — or whom — you buy a used automobile from, your warranty coverage may be minimal. If you decide to purchase from a private seller, you'll be out of luck. If, however, you go with a certified dealer, you'll most likely be covered.
Official Audi dealerships provide you with a potential extended warranty plus a host of other benefits. If you intend on buying a used Audi, it's highly recommended you purchase it from a certified dealer.
Pre-Owned Cars Have Outdated Technology and Features
Even though a luxury brand like Audi is always futuristic and ahead of the game, an old model simply cannot compete with a new one regarding technology. A 2005 pre-owned Audi will still have a tonne of features, but the 2018 model has merely more firepower. 
Typical Problems With Pre-Owned Audi Cars
The Audi automobile brand is a popular choice for businesses. You'll find that many pre-owned Audi cars were once part of a company fleet. Given this, it's not surprising that they can often come with a host of problems.
Why? Because company cars are driven with less care.
The problems will predominantly relate to the mechanical function of the automobile. Each individual car will have its own issues, or lack thereof, depending on how it was cared for. Here are the main issues you should look out for.
Oil Leakage
Oil could be leaking from the engine, affecting its ability to run. It's most likely that either the valve cover gasket, oil pan drain plug, or camshaft tensioner is the culprit. These are parts that, if compromised, must be replaced.
Electrical Malfunction
A pre-owned Audi could potentially have a faulty electrical system, which can impact the lights, dashboard, and tail lamps of the automobile. This electrical malfunction may be a result of a dead battery, a dysfunctional alternator belt, or loose wires.
Faulty Ignition Coil
One of the most common mechanical issues that a used Audi will face is a faulty ignition coil. Although not overly serious, it can reduce fuel efficiency and cause the engine to malfunction. It is a necessary but easy fix.
Faulty Spark Plug
Like the ignition coil, spark plugs can often be faulty in pre-owned vehicles. The engine can lose power, acceleration, or fail to start. All of this can result in decreased fuel efficiency.
Exhaust Leak
The exhaust of Audi cars features flexible plastic, which can degrade over time, causing gas to leak. This negatively affects fuel efficiency and can pose a health hazard due to carbon monoxide. The only way to fix this is to replace the plastic part.
Why You Should Buy a Pre-Owned Audi (5 Reasons)
Still need some convincing? Here are five reasons why you should buy a used Audi.
1. They Cost Less
Not only does a pre-owned car cost less than a new one, but it also depreciates less. So, when you eventually sell it yourself, you won't lose much money, if any. There's a good chance you could break even. Brand new cars can drop in value by as much as 50% in only a few years.
2. They're a Luxury Brand
Audis are cars that are made to be enjoyed — and not just as a vessel for transport or convenience. Driving around in one is fun as well as stylish. Usually, Audi's excessively expensive, but buying one that's pre-owned makes it a relatively affordable option.
3. They're Reliable
Audis are made by Germans, who ensure the automobiles are engineered with care and attention to detail. German cars are renowned for their long lifespan, mainly due to their reliable engine and overall design.
4. They Have Great Safety Features
Given that Audi is a luxury brand, its cars tend to have the newest and best safety features before others. Even an older, pre-owned model will still match up well against current economy brands.
5. They're Comfortable
Just as with the safety features, Audis tend to have state-of-the-art comfort features. Expect things like electric, heated front seats, lumbar support, and a tilting and telescopic adjustable steering wheel.