Words by: Adam Allen
Maserati's Levante Trofeo will have you trading Ho-ho-ho for Mamma Mia!
You might think our recent winter road test in a rear drive Porsche 911 would have satiated our thirst for flogging a sports car during the throes of a Canadian winter, but you'd be wrong. We make so secret that we have ever been good at ignoring our gluttonous urges for excessively powered vehicles with undeniable sporting bent, so we decided to work the phones and inundate inboxes of an assortment of manufacturers who offer such conveyances. The good people at Maserati graciously responded with an offer for a season appropriate SUV, and would we be interested? Normally the letters 'SUV' send a pang of regret through us- we unabashedly prefer sedans over their higher riding, inferior handling counterparts- but our despair quickly turned to joy when we learned that the SUV in question would be a Levante Trofeo shod with the very best Pirelli winter rubber money can buy. 2020 has been a bit of a dumpster fire, but we figured at least it would end off on a high powered note.
We say high powered because that's exactly what the Trofeo is. Its 3.8 litre twin turbo V8 spins out a bonkers 590 horsepower and a heady 538 lbs./ft of torque which pushes it to the front of the weapons grade SUV class occupied by the likes of the Porsche Cayenne Turbo S and fellow Italian Lamborghini Urus. It boasts 66 more ponies than you get from the Levante GTS, the next rung down the model ladder. With the always excellent ZF 8-speed automatic taking gear shifting orders from two of the best shift paddles in the industry (rendered in beautiful carbon fiber, natch) and shuttling that prodigious power through Maserati's SQ4 all-wheel drive system, the potential for fun would be a forgone conclusion.
Here's what the numbers don't tell you: the emotional part of the driving equation. That can be hard to quantify with cold, hard data and we usually use the size of the goofy grins that spreads across our faces as a good indicator of how special a car is. The Levante Trofeo proved rather good at stretching out the corners of our mouths.
Helping to achieve that ear-to-ear grin is the piece d' resistance of the Levante experience. The 3.8 litre V8 we mentioned earlier is a not so distant cousin the very same magical engine found powering the new Ferrari F8 Tributo. OK, so that particular engine has more displacement, a flat crankshaft and 120 additional horsepower. Yet they're both assembled by the experienced hands of Maranello's engine builders. So while the family resemblance doesn't look to be similar on a spec sheet, firing it up and legging the throttle tells a different story. It exhibits the same voracious appetite for revs- a relatively rare trait in an engine twice turbocharged- and makes a sound that penetrates deep into the pleasure centers of your brain. You don't normally find yourself in an SUV downshifting one, sometimes two gears for no apparent reason just for the fun of it, but you will do just that when driving a Levante Trofeo. And when your done turning gasoline into glorious noise, consider parking it with the hood up. The Trofeo is an exceedingly scarce example of true automotive engine jewelry left in the industry to be beheld. Simply put, the engine is gorgeous.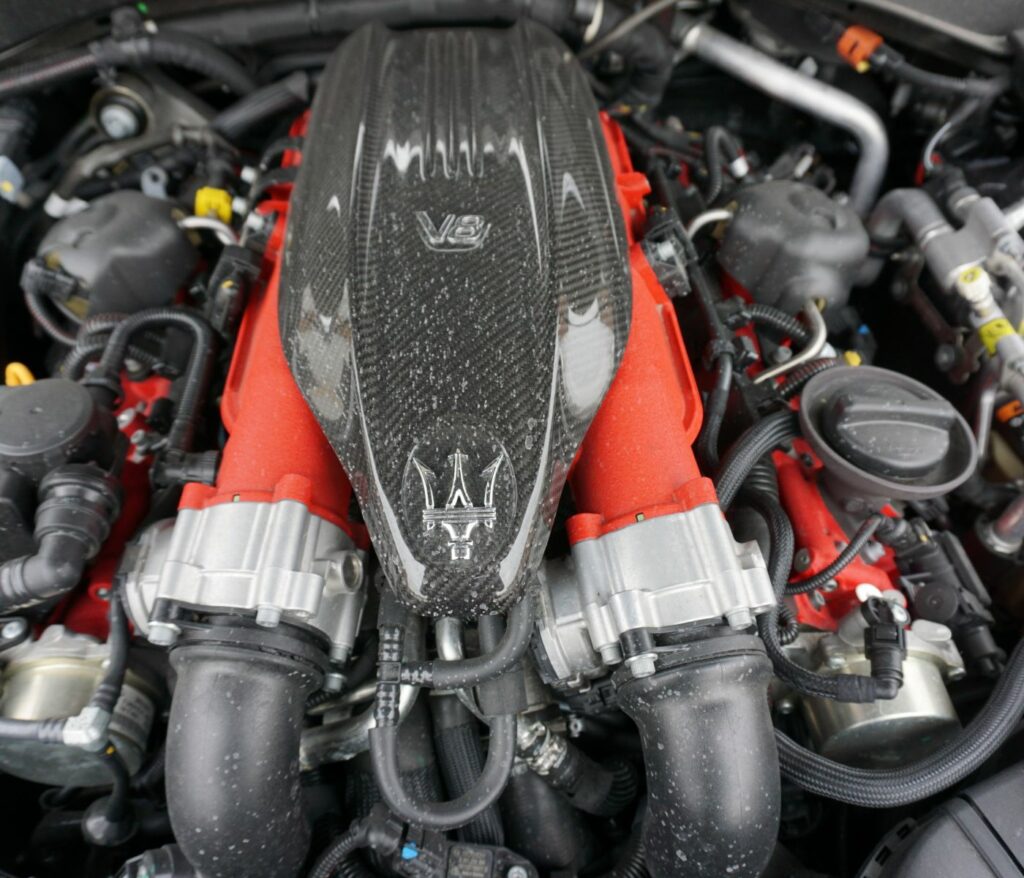 The title of this post would lead you to believe that we subjected the Trofeo to the fury of a winter storm, and so on Christmas Day we did just that. It was a white Christmas this year- very white. We awoke to snowfall totals amongst the highest seen in 2020, which meant a trip up north would be either very terrifying or incredibly fun. In an SUV with nearly 600 horsepower, the prospect for either scenario was real.
Happily, it was the latter. Most of the trip spent heading up the highways was thoroughly uneventful- we found it very lightly travelled and cleared of all snow. It was when we exited the superslab and arrived at the rural two lane routes along the journey that the conditions deteriorated massively; in fact, the snow was not letting up, continuing to fall at a healthy rate. The Trofeo was unfazed. It blasted its way through drifts and remained unflappable on the many slippery bits we encountered. It was on a deserted stretch of a planned curvy detour that we decided to select the exclusive-to-Trofeo Corsa drive mode (the raciest offered) and shut off the stability control to see what's what. This is not something you should be doing if you aren't comfortable with lurid slip angles and if you don't have a large area of runoff available should you run out of talent, a real concern especially in an SUV this powerful- or this expensive. But we have to say, it was an absolute riot. The SQ4 splits power 50:50 in conditions such as these, and it took a few minutes to learn how to work with the system to deliver the most smiles. We'd approach a corner, fire off two downshifts (FaWOOM! FaWOOM!) ease off the throttle to get the weight transfer back onto the front tires, turn in gently and just as we'd hit the apex a good prod of the throttle would kick the rear end out and allow us to relish in a wonderfully controllable four-wheel drift. It's the best way to enjoy the drama of winter driving shenanigans but without the drama.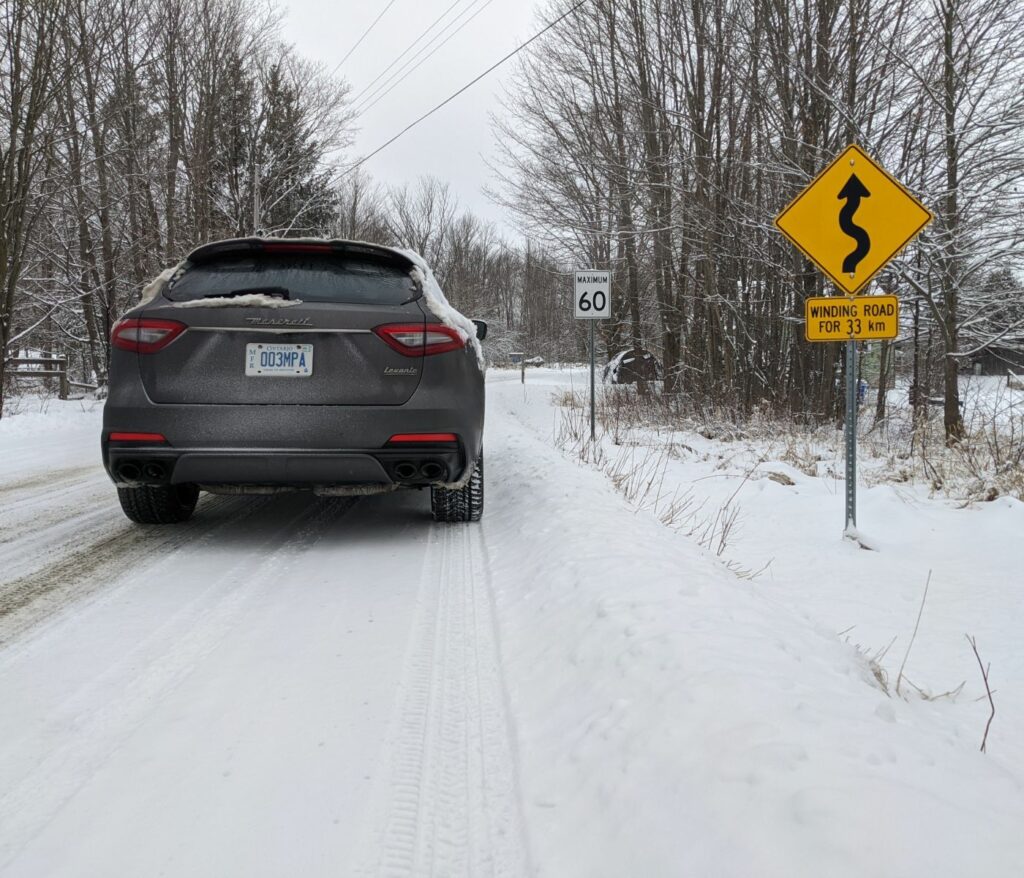 The interior has a flair for the dramatic. Inside the Levante cabin you'll find comfortable yet sporty bucket seats trimmed in fine red leather with contrasting white stitching. There's a smattering of carbon fiber and the Bowers and Wilkins stereo is loud and clear even at obscene volumes. The rear seats and cargo areas aren't the most commodious we've ever encountered but they do allow for you to take three passengers and their gear in comfort.
Like any full bodied Italian car there are some miscues we encountered during the Torfeo's holiday tenure but mercifully nothing like the Biturbos of yesterday. During that winter storm we often needed to summon the high speed setting of the windshield wipers only to find that the infotainment screens dimmed to the point of illegibility when we did so. We were also surprised to learn that the seats lack the seemingly infinite adjustability you'll find in the Levante's competitors (especially at this price threshold) although in all fairness finding a comfortable relationship with the controls is easy. And you can forget about listening to AM radio because all you get is poor reception. Speaking of sound, the unforgettable V8 bawl the engine makes is just not loud enough for our tastes. Sure, things wake up appreciably in Sport and Corsa drive modes but we yearn for the same ear drum assaulting decibels that you get from the Levante's Ferrari cousins. We also wouldn't mind if the redline was raised 1,000 rpm or so either.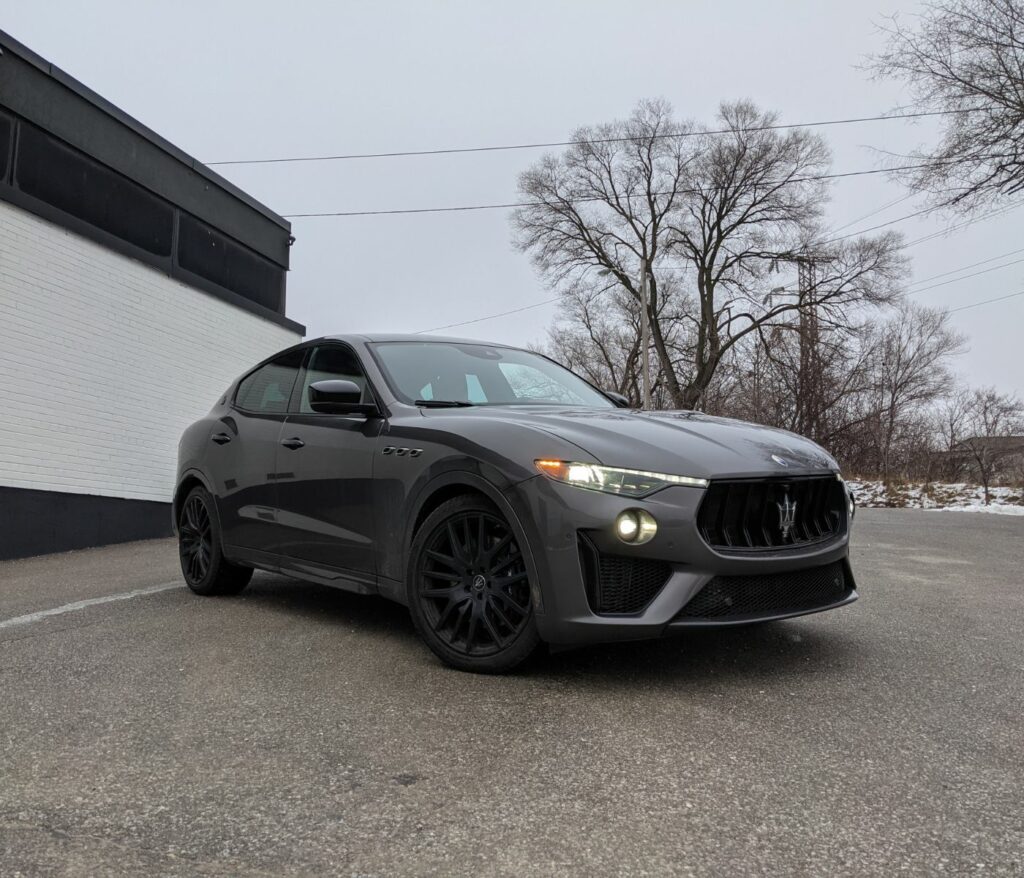 Earlier we talked about numbers not telling the whole story and the Levante Trofeo is one of those cars that if judged solely on its spec sheet alone it is impressive but you may miss out on the bigger picture. You could buy a Mercedes GLE 63, a Porsche Cayenne Turbo, or a Range Rover Sport SVR and they would all make for excellent, ballistically fast choices. We've driven all three and can tell you that they make good on their promise of unbelievable performance for an SUV and offer the prestige shoppers expect in this segment. In some ways they outshine the Trofeo in terms of ergonomics, levels of equipment and even outright speed. But when it comes to the intangibles like emotion and character, the Maserati soundly has them beat. One cycle through the redline in every gear will handily convince you of that. We just wonder how Santa is going to get one down the chimney and into our stocking.
2020 Maserati Levante Trofeo - Specifications
Price as tested: $170,210
Body Type: 5-door, 5 passenger SUV
Powertrain Layout: Front engine/all-wheel drive
Engine: 3.8-litre twin turbo V8, DOHC, 32 valves
Horsepower: 590 @ 6,750 rpm
Torque (lb-ft.): 538 @ 2,500 rpm
Transmission: 8-speed automatic
Curb weight: 2,342 kg (5,163 lbs)
Observed Fuel Consumption: 16.2L/100 km (14.5 mpg)