Words by: Adam Allen
Porsche's 911 Carrera has the chops to expertly navigate the worst of a Canadian winter
The snow was intensifying as we pulled into a gas station on a bleak December morning. Steeling ourselves against the bitter winds, we stepped out of our 2020 Porsche 911 Carrera to fuel up. A gentleman at the adjacent pump scanned the 911's rump for a '4' badge which, as many of you know denotes all-wheel drive. He could not find one because there wasn't one. We're driving a 'base' 911 Carrera meaning the turbocharged flat-six sends its power to the rear wheels only. He gave us a quizzical look and said, "you guys are for sure going to get stuck in that thing. There's no way you can drive that in this mess." We flashed a knowing (perhaps even a little smug) smile in his direction and thanked him for his concern. That's because the Porsche 911- the iconic sports car that has defined the brand since 1963- happens to be a brilliant car for snowy excursions.
What, you might be asking, were we doing with a low slung, lightweight sports car with rear-wheel drive on one of the snowiest mornings since last winter? Good question. For years, we have heard many uh, interesting car myths and decided to debunk some of them. For example, the practice of warming up your car in the driveway for 20 minutes before a frigid commute warms it up faster than simply driving off (it doesn't.) Or that all season tires are just fine for winter driving (they aren't.) And then the most tired, overused and falsely claimed one of them all: you simply cannot use (and even enjoy) a sports car during a Canadian winter.
To those that freely sprout such nonsense, we should first point out a couple of facts. The first is that pretty much all cars sold today have some form of traction control, stability control, or antilock brakes- actually, most cars have all three. These safety systems have made incredible progress since we first saw them debut 20 some-odd years ago and have been proven to save the bacon of even the most hapless motorists. In lockstep with that progress, so too has tire technology made great strides forward, innovating compounds which can not only provide near startling levels of grip on wet, cold surfaces but nowadays offer excellent handling and braking as well.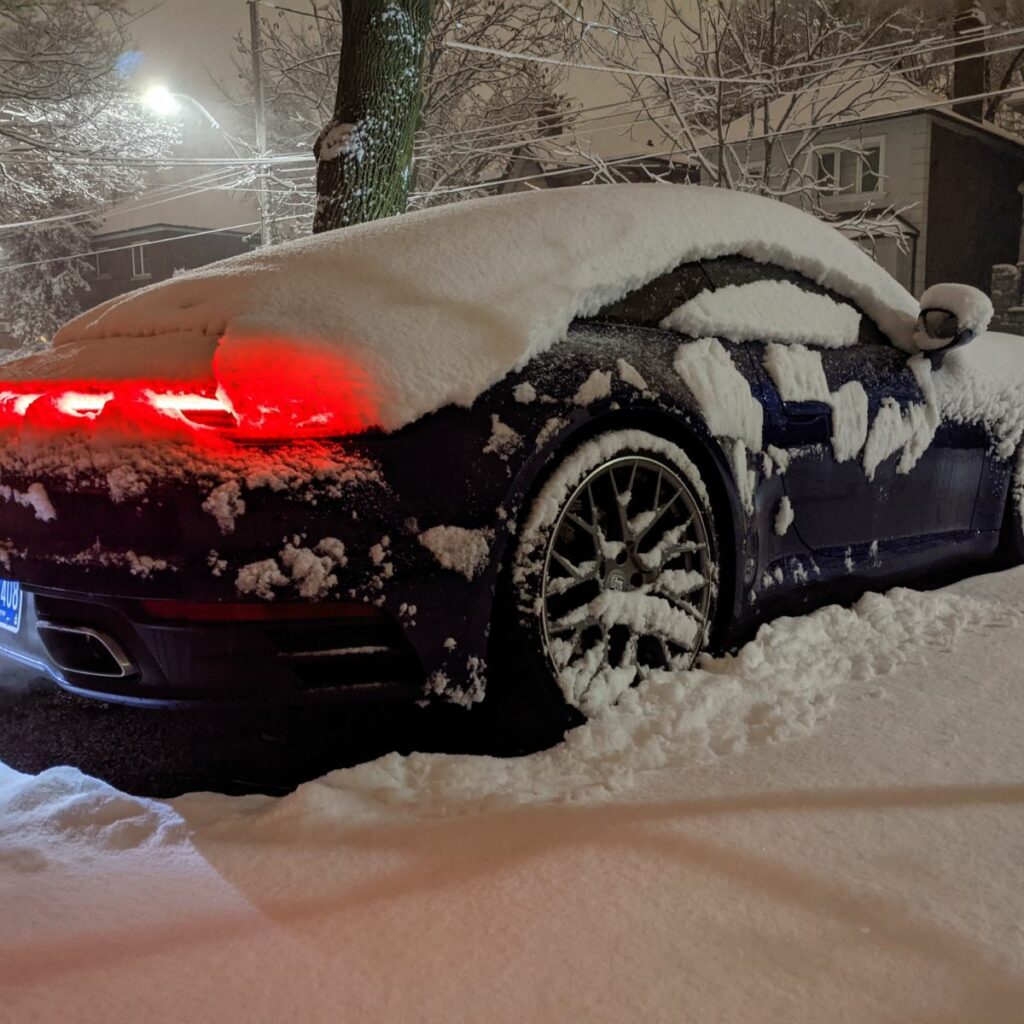 What better way to disprove the mantra that winter and sports cars don't mix than ask for the keys to, say, a Porsche 911? It would certainly be shod with the best Michelin performance snow tires available in the massive dimensions Porsche specifies, but we would insist that it would be rear-drive only. Our experiment was well timed because Porsche had just such a car in its inventory and agreed to throw us the keys.
So there we were, driving around in our Gentian Blue ($950) nearly-a-base model 911 Carrera, looking forward to blemishing our immaculately clean car with the whitish-grey film of winter crud that coated all the vehicles in our midst. Except there was one problem: It was sunny and rather warm for a typical mid-December day. Not exactly the kind of conditions we'd need to test our Porche's mettle in winter conditions. A day passed, and then came excellent news: the forecast was calling for an overnight dumping of snow. While most people complained and moaned- we smiled an ear-to-ear grin to ourselves.
The next morning we awoke to find our 911 Carrera covered under a blanket of snow. Yes! we thought as we headed out into the icy morning to brush it off and head to the office. Driving an SUV through ankle deep powder wouldn't cause anyone to bat an eye, but a rear-drive 911? We headed down the familiar path of questioning some of our life's choices as we readied the 911 for the drive. After a distance of only a scant few meters, we smiled again once more. It was at that point that we knew the 911 would make for an excellent tool to ply the snowy roads, one that we'd choose over an SUV 7 days a week and twice on Sunday.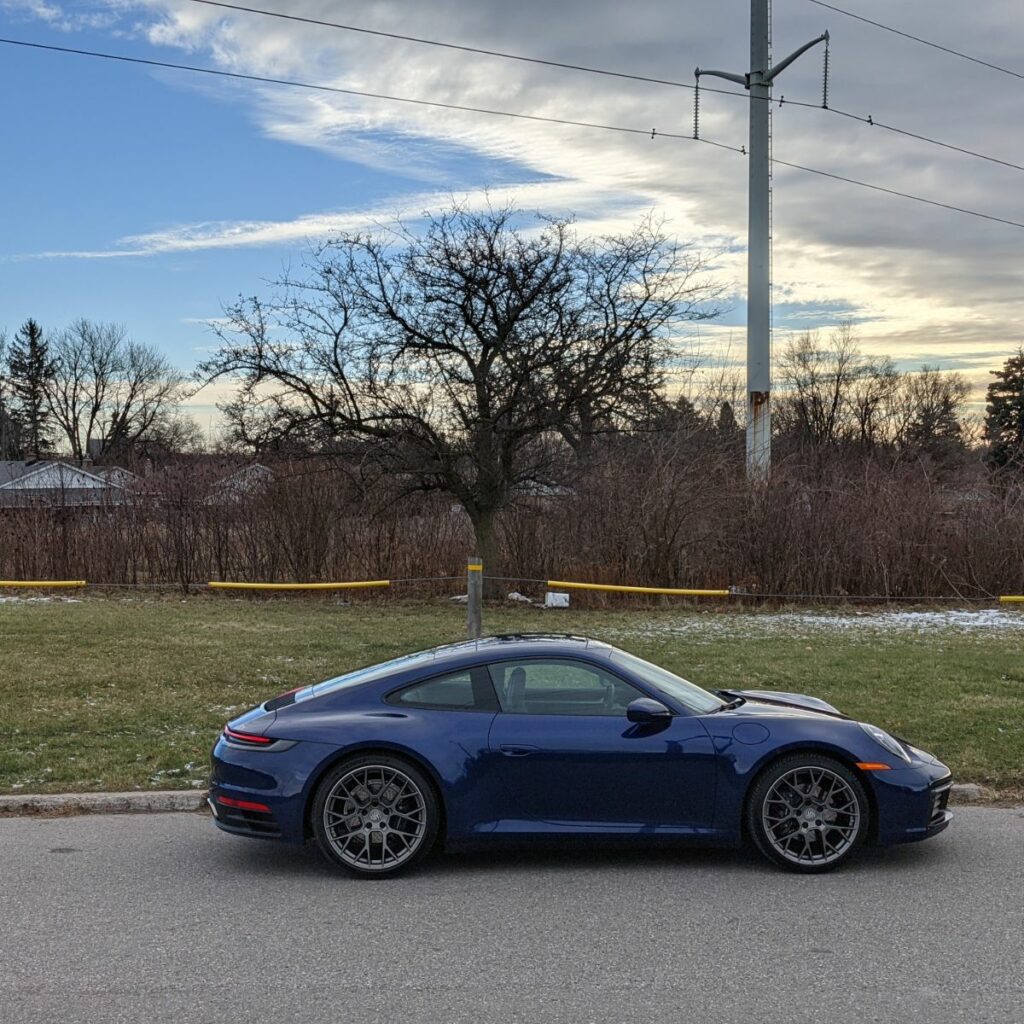 As it has since the beginning, the 911's flat-six engine is slung out way back there behind the rear axle. The critics of such a layout stopped laughing at Porsche's decision to stick with this blueprint a long time ago- they tamed the untamable, to the point where the 911 is mentioned amongst the very best sports cars that money can buy. When you prod the gas pedal in a rear engine car, guess what happens? All that weight gets transferred directly to the rear tires which is exactly what you want when the grip the tarmac you're driving on deteriorates. The car squats in its haunches and the tires make good bite with the road. We had to try really hard to upset the traction from launch, and even then, when the 911 waged its tail it did so in a controlled manner, one that we'd describe as fun.
Which leads us to another myth: that base 911's aren't down to party as much as their higher powered stable mates. Don't get us wrong, more power is always better. But after getting to know our tester intimitely, we can look you straight in the eye and tell you that you don't need an S or a Turbo badge on the rear to have a thoroughly excellent time at Club 911. We freely admit that our tester was slower than the C4S we drove this past summer, but if you honestly say that 0-100 km/h in a reported 3.2 seconds isn't fast enough for you, we suggest that perhaps your Ed Hardy t-shirt is a little too tight. The PDK is whipcrack fast up and down the ratios and is always in the right gear, each and every time. The brakes absolutely never fade and are modulated by a perfectly judged pedal. We're reminded how much Porsche nails the basics of sports car nirvana- perfect driving position, excellently weighted controls and a level of user-friendliness that makes you yearn to drive that car every day, throughout all four seasons.
Before you go rolling your eyes that the typical Porsche fanboys and gals have overrun the Carpages Garage and that the 911 Carrera can do no wrong, you should know that even sports car greats like this are not immune to our eye for things that grind our gears. That perfect driving position we mentioned earlier? Here's the rub- once you find that perfection, you'll lament that most of the instrument panel is obscured by the steering wheel. Then there's the ungainly exhaust tips that don't do a good job at hiding the wimpy looking pipes that retreat into the bumper. There is a workaround for that however, because selecting the Sport Exhaust system not only nets you the much better looking oval exhaust finishers but also raises the volume of the flat six. A side note: of all the options Porsche will tempt you with- and there are many- this is a must have in our books. Finally, we still don't have love for the electronic door handles which seem to be the answer to a question no one asked, and the pricing is still quite dear. While most of the options on our tester are of the aesthetic and comfort variety, when you look at the $142,000 price of admission makes it extremely hard to maintain this is a base 911 with a straight face.
But our stiff upper lip proved hard to maintain after we twisted the ignition and set off for journeys small like running errands or to more far flung destinations. Even wearing a cloak of winter grime, our 911 Carrera remained unphased by the abhorrent conditions we subjected it to and never wavered on delivering the full 911 experience no matter the weather- it is still unflappable and eager to please its driver. That makes it an incredibly special car. And with that said, we have achieved success in proving two crucial points. One is that you don't need to spend crazy money to enjoy the tantalizing driving experience of owning a Porsche 911. The other? That even a toothsome winter storm cannot dull the euphoria enthusiasts seek when driving one of these - actually, it may even enhance it. The 911 is a formidable car no matter the season.
Since this will be our final review of 2020, we think this is a fitting send off to a year many would like to forget. We're just grateful that we can end a tumultuous annum on such a high note. We're already looking forward to 2021, and we wish each and every one of you all the absolute best in the coming year.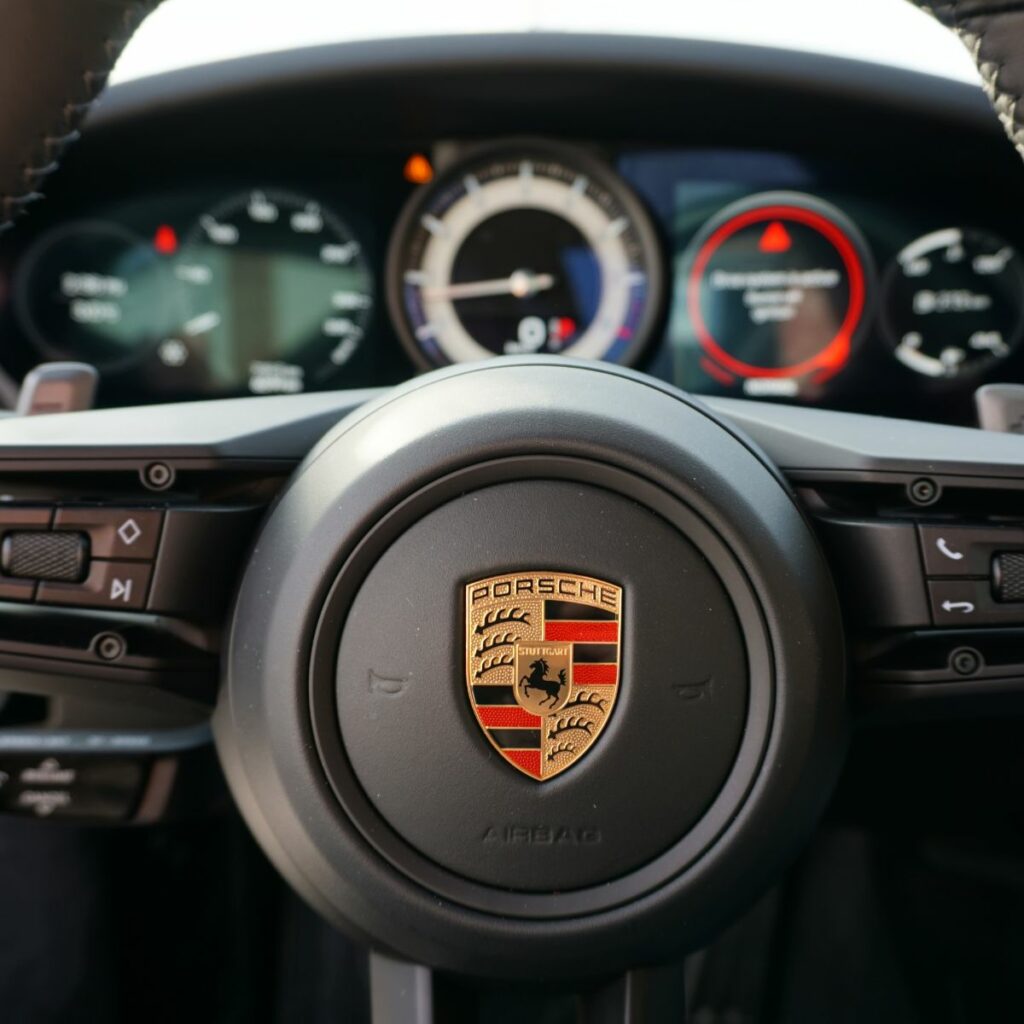 2020 Porsche 911 Carrera 4S – Specifications
Price as tested: $142,810
Body Type: 2+2 4 passenger coupe
Powertrain Layout: Rear engine/rear-wheel drive
Engine: 3.0 litre twin turbo horizontally opposed 6-cylinder, DOHC, 24 valves
Horsepower: 379 @ 6,500 rpm
Torque (lb-ft.): 331 @ 1,950 rpm
Transmission: 8-speed PDK automatic
Curb weight: 1,575 kg (3,472 lbs)
Observed Fuel Economy: 14.2/100km (17 mpg)