It's a grueling, frustrating affair when you put your key in the ignition and start your car only to realize you have a dead battery. Having a useless battery is one thing, but how do you even begin to shop for a new one that will meet your needs and last a full life? The best time to shop for a new battery is long before your old one is ready to die.
For the duration of your vehicle's life, you will probably only have to replace the battery once or twice. The reasons can be many: age, wear, exposure to heat or cold, and repeated charging or discharging. Dead batteries are certainly a hassle, and we don't always have jumper cables or AAA.
In order to get the best service from your battery, you need to give it proper care. Remaining attentive to its condition and age is a good way to know when you need to shop for a replacement and trust us, you don't want to get stranded because of something like a dead battery!
In order to make things easier for you, we've put together a comprehensive guide for the best batteries out there.
Optima Batteries RedTop 35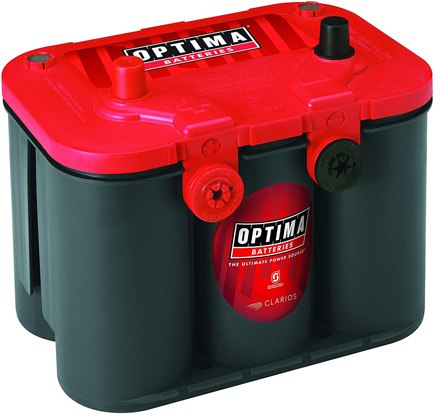 Optima is a tried-and-true brand, and easily in the top 3 of best batteries you can buy. This RedTop 35 starting battery is great for a balance of both price and performance, boasting 720 cold-cranking amps (CCA) and a C20 capacity of 44 Ah, along with a reserve capacity of 90 minutes for constant performance.
Optima claims this battery has more than 15 times the vibration resistance of a standard battery and is maintenance-free with up to 3 times longer life. It's spill-proof and mountable in virtually any position.
Pros: Perfect for hot rods, streetcars, SUVs, trucks, and other vehicles that are looking for good power but don't have a lot of power-draining accessories.
Cons: Potentially lower battery life with too much accessory drain.
Motorcraft Tested Tough Max Battery
With the only parts recommended by Ford Motor Company, this battery's inter-cell welds reduce resistance for improved cold crank performance. Optimized grid design maximized current flow, and premium alloy grid helps to maximize battery life in high-heat environments. Tested Tough Max batteries are the original equipment replacement battery for all Ford vehicles, and all Motorcraft are family priced for a simple selection. Motorcraft batteries come in sizes that fit 94 percent of all automotive applications.
Pros: Good battery, especially for Ford vehicles, and a 3-year warranty to boot.
Cons: Other batteries might be a better fit for you at this price.
Optima Batteries YellowTop D34/78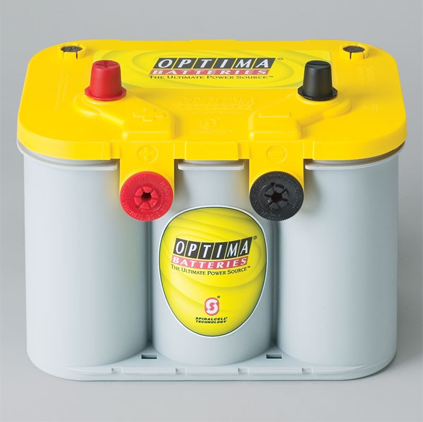 For the car that's packed to the gills with accessories (such as aftermarket sound systems), this Optima battery is a great investment as a high-performance battery. The YellowTop D34/78 offers 750 CCA and its C20 capacity is 55 Ah. Measuring 10″ by 6-7/8″ by 7-13/16″, this battery weighs 43.5 lbs and boasts dual SAE and GM posts. Along with a polypropylene case like the RedTop 35, the YellowTop D34/78 has a reserve capacity of 120 minutes (versus 90 on the RedTop 35). This battery also claims to be 15 times more resistant to vibration for enhanced durability.
The YellowTop offers a deep cycle and cranking power, and boasts much faster charging over 300 discharge/recharge cycles before it needs replacement. It has a spill-proof design and can be mounted in virtually any position.
Pros: Reliable, good performance, easy to maintain.
Cons: Customers attest it having a shorter battery life and possibly failing under a year of ownership.
ODYSSEY 65-PC1750T Automotive and LTV Battery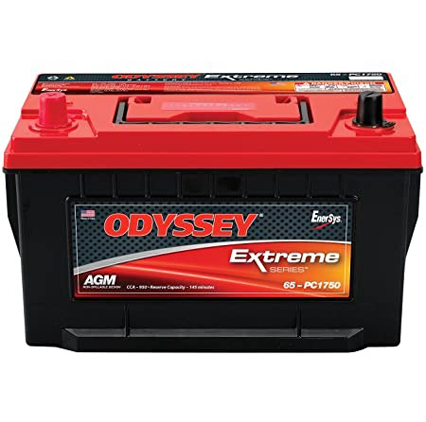 This Odyssey battery delivers massive starting power, fast recovery, and deep cycling capability. It's great for both everyday or emergency use, especially those vehicles that are loaded down with electronics. Twice the power and three times the life of other conventional batteries, with up to 400 cycles at 80 percentage depth of discharge. These Odyssey batteries are built for performance and travel, with the construction that consists of pure virgin lead plates for maximum surface area and optimized recycling. 
This design eliminates acid spills, promotes high conductivity, and is corrosion resistant using a sealed design that also prevents vibration damage.
Pros: Good for off-road vehicles and high-performance cars, or if you just need a high-performance battery.
Cons: A bit more expensive than other comparable batteries.
ACDelco 94RAGM Professional Automotive Battery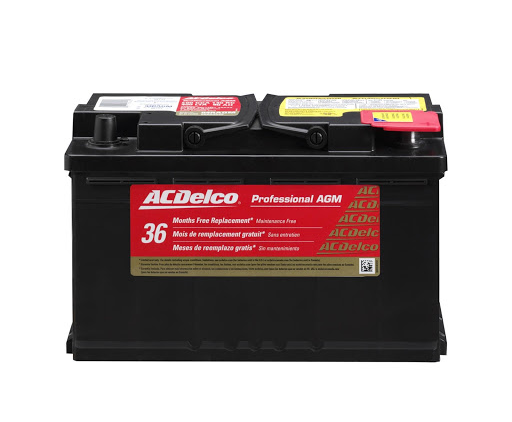 ACDelco is one of the most popular brands in batteries and for good reason. This 94RAGM battery features a leak-proof pressurized valve system engineered for long life and optimized safety, which helps prevent dry-out and terminal acid damage. This 94R has high cycling and is impressively charge receptive, meaning they're great for vehicles with start/stop systems.
A standout feature of this battery is its use of high-density negative paste, which both improves performance and increases overall battery life. In addition, its enhanced Silver Calcium stamped alloy increases the life cycle while also contributing to performance. The case is precision manufactured and pressure tested to help avoid future leaks.
ACDelco's Professional Automotive AGM batteries come with a 36-month free replacement period.
Pros: Improved battery life and maximum performance.
Cons: It is only supported by AGM vehicles.
XS Power D5600 Series High Output Battery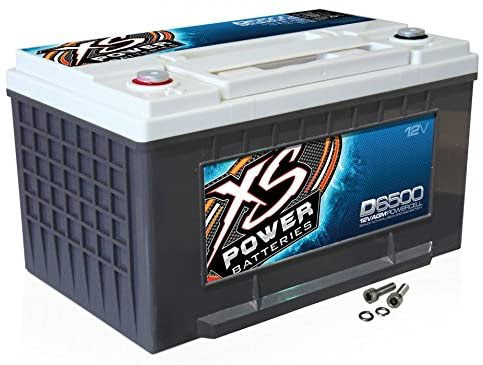 This battery is a little on the pricier side but is ideal if you need maximum power for those performance vehicles. It's ideal for cars with 3000 or 4000 W car audio sound systems or those that need extra supply power for aftermarket systems.
Its ability to crank out 1070 amps with a maximum output of 3900 amps makes it a beast. It comes fully sealed in a heavy-duty reinforced ABS plastic case, and can resist physical impact and extremely high temperatures. The 3-year manufacturer's warranty is additional proof that this battery is extremely durable.
Pros: A high-power battery that's easy to mount.
Cons: The high amount of amps are probably not necessary for all driver's needs.
VMAX857 AGM Battery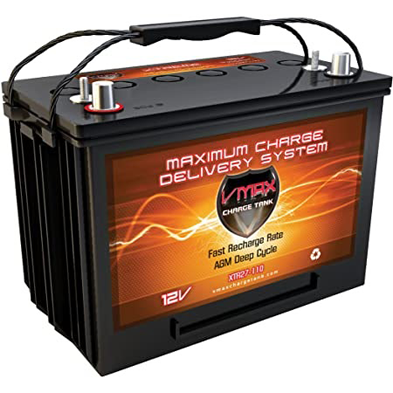 This battery is probably the best bang for your buck and consistently rated as both a reliable deep cycle battery and one that continues to function well after its repeated deep discharges. This makes them very suitable for camping applications, recreational vehicles, and small boats. It is definitely among the best car batteries for both value and cost.
In addition to its leak-free design and heavy-duty VMAX grids (which allows for a longer lifespan), its small dimensions and weight of under 25 pounds make it compact and easy to transport.
Pros: Higher power output and lower charge time.
Cons: Sensitive to overcharging and they will gradually lose their charge over time.
Batteries are only one aspect of your car that needs healthy maintenance and constant care. There is a myriad of accessories on your vehicle that demand your attention, and it can honestly get overwhelming. You need a comprehensive resource with thousands of parts for all of your automotive needs. PartsAvatar is one of the best places to get vehicle parts and accessories in Canada.
It's important that regardless of what issue your car might be having that you head these problems off early by making sure your vehicle is only running with the highest quality parts and accessories.
Whichever battery you decide to go with, whether you're looking for value, power, or life, or simply pursuing a better vehicle, we know that you'll be able to find something in this list.
About the Author: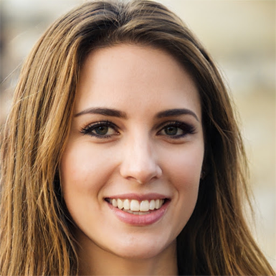 Kathryn Fowler
Kathryn Fowler is the Marketing Manager at PartsAvatar. She's been passionate about cars since childhood. She loves examining different components of cars to understand their operation. Kathryn started writing blogs on automobile parts to share her love for cars and educate automobile enthusiasts worldwide.